TRANSFORM YOUR PIPE LABELING FOR
SIMPLICITY ​​AND SAFETY
Do you know what's inside your industrial pipes? Various regulatory agencies provide helpful guidelines about pipe labeling, based on contents, their direction of flow and pipe size. And we make it easy to spread the knowledge, with a revolutionary new pipe-labeling system and personal label library that you can access ​​from anywhere!

There's nothing to install – it's all stored in the cloud, always updated and ready for you because we've made it open architecture that anyone can use! Access our user-friendly Pipewriting software from any computer platform and create a safer working environment in three ​​easy steps.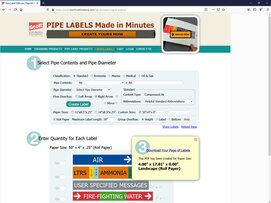 1. UPLOAD YOUR PIPE INFO – DOWNLOAD
YOUR ​PDF LABEL
Pipe labeling rules may seem complex, but Scott Machine makes them available to you via our create-your-own label website, accessed with a simple subscription for a short-term project or for several months. Using either a hand-held device or your desktop browser, describe your pipe to be labeled and its contents. Then instantly download an Adobe pdf label with the software-recommended description and print it out or e-mail to associates. Any pipe. ​Any time!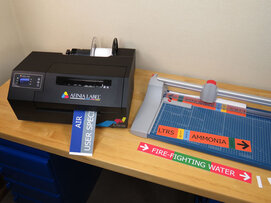 2. PRINT,
CUT ​AND DISPLAY!
Need a device to print those bold bands of color? Consider our versatile four-color, roll-fed inkjet printer. This desktop workhorse swiftly delivers HP pigment inks onto our white polyolefin film, for beautiful results. Costing only about $2,750, the printer features a straight paper path for jam-free color printing on thick labels and safety signs up to 8½" by 52". After printing, just cut the film into labels, then peel away the paper liner to expose a tenacious, conformable adhesive surface that you can press into place on your pipe. Now the inside story is there for everyone ​to see!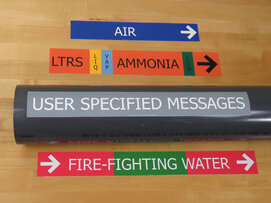 3. Identify Your Pipes
For ​Mere Pennies
See how clear and concisely color-coded your finished pipe labels appear? And because they're printed on certified BS5609 film, you know they're ready for all types of environmental conditions. Without the need for vinyl spools, ink ribbons or a single-purpose printer, Scott Machine's novel label printing approach not only saves you hassles, but also money. For example, your cost for a 2½"x 14" label? About $1 each. There's no subscription necessary for the first 20 labels, so why not take this industry-changing Scott-Writer® system for a spin and Create Labels of ​your own!
THE REWARDS OF SHARED TECHNOLOGY
The open source Scott-PipeWriter™ system has everything you need to run your own pipe labeling operation, right at your benchtop. From our cloud-based software and all- purpose inkjet printer, to our adhesive-backed BS5609-certified polyolefin film and versatile cutter trimmer, every component leads to quality results for lower cost. And because open architecture means shared technology among industry experts, new ideas are ​​always flowing!