REG AMMONIA BULLETIN 114 – SAFETY
TO ​THE LETTER
Providing uniform identification guidelines for ammonia refrigeration piping is essential for the safety of workers and emergency service personnel, as well as for more efficient maintenance of the pipes and their contents. To that end, Bulletin 114 was written and published in 1991, then widely adopted as the recommended practices for pipe marking. The basis for the bulletin's guidelines was ANSI Standard A13.1-1981, since revised ​in 2007.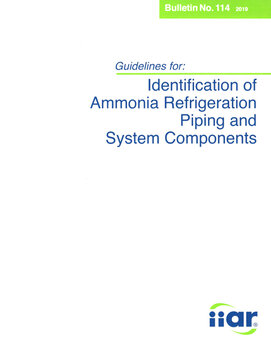 BE SMART – IDENTIFY AND
CODIFY ​AMMONIA PIPING
Known as the Scheme for Identification of Piping Systems, Bulletin 114 changed the label background for ammonia and other toxic and corrosive fluids from yellow to orange, which it remains today. Text is to be printed in black. Additional identifying information should be as follows: an abbreviated LIQ for liquid ammonia, in black on a yellow band; and an abbreviated VAP for ammonia vapor, printed in black on a sky blue band. Descriptions such as arrows displaying flow direction should be printed black ​on orange.

When marking your pipe description, follow the ammonia pipe marking guidelines, which stipulate that the label should be at least 3½ inches in height, with lettering at least 2½ inches high. The label marker length will vary, depending upon the length of your messaging. If you follow these guidelines, regarding size, legend and color, this should provide adequate information to ensure improved worker safety around ​ammonia-filled pipes.

For the full story, purchase a copy from the authors at the International Institute of ​Ammonia Refrigeration:
IIAR Bulleten 114.