REG ISO 14726 – MARITIME MARKINGS FOR
CONFIDENCE ​AT SEA
The labeling of piping systems on board vessels and other marine structures is governed by the International Organization for Standardization (ISO) 14726 publication. In order for an international standard to be published, it requires at least 75% approval from members casting a vote. More specifically, ISO 14726 designates certain colors for the labels, as well as size and placement. The colors can also be used for piping systems on drawings ​and diagrams.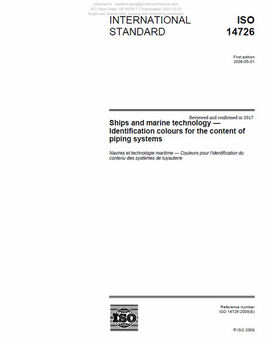 PROPER LABELING,
FORE ​AND AFT
According to this ship board labeling system, markings should be easily visible. And every pipe should be marked at least once in each separate compartment of the vessel, close to objects such as valves or filters. The markings should also be placed at the various penetration points in bulkheads, decks, walls and ceilings, as well as near ​door entrances.

Among the more common colors designated by ISO 14726 are: Waste Media-Black; Fresh Water-Blue; Fuel-Brown; Sea Water-Green; Non-Flammable Gases-Gray; Flammable Gases-Yellow; Oils other than Fuels-Brown; Steam-Silver; and Acids-Violet. Secondary colors, marked in conjunction with the main colors, can signify more specific contents. This ISO specification does not apply to piping systems for industrial and medical gases or ​for cargo.

Since piping systems located at sea can present their own complex set of challenges, it is vital to properly mark the contents. For a full review of ISO 14726 and its specified color markings, individually and in combination, please visit the International Organization for Standardization to purchase a ​copy of
ISO 14726:2008.