Printing That
"Opens" ​New Possibilities
Meet our popular Scott-PipeWriter™ mid-level printer, incorporating advanced HP thermal inkjet printing technology using aqueous pigment inks. A product of HP's innovative reseach and visionary thinking, this printer offers incredible versatility for a wide range of your label printing needs. Designed for long-term use, the printhead will print approximately 15,000 2"x12" labels before any need ​for replacement.

Featuring a Windows-based driver via USB or Ethernet, the Scott-PipeWriter™ offers "open source" technology, an industry collaboration for design and manufacturing that harnesses the very best of our clients, vendors and staff to build a better whole. Open source is the concept of the future, allowing innovation to be shared and produced at a higher volume to improve quality and lower costs to you, our ​valued customer.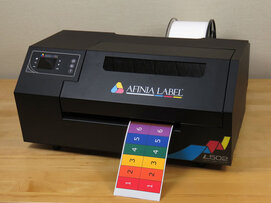 Benchmark Printing
for ​Your Benchtop
The Scott-PipeWriter™ pipe label printer is widely used for industrial labeling tasks of many types. Its rugged design, robust driver functionality and superior printing speed combine with durable pigment inks to deliver consistently reliable performance. The printer's all-steel industrial cover features a window for print bed visibility and status monitoring…including ink consumption…for each job. Improved sensors ensure greater compatibility with specialty media, making this workhorse ideal for everything from drum labels, to safety signs and more. Detailed specifications ​appear below.

Shop Now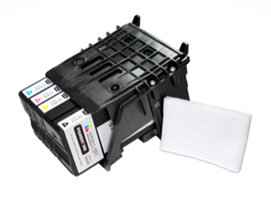 PUT HP's PRINTHEAD & PIGMENT INKSET
TO ​THE TEST
Label your pipes clearly and legibly with the reliable HP printhead and pigment inkset, a key component of our all-purpose Scott-PipeWriter™ printer. Fade-resistant pigment inks assure crisp lettering and vibrant hues that pass the test of time with flying colors! When the time comes, replace only the cartridge that needs it and print to the last drop of ink. Though easy to replace, the printhead assembly is built for superior long-lasting performance that reflects HP's long, successful history as a ​print innovator.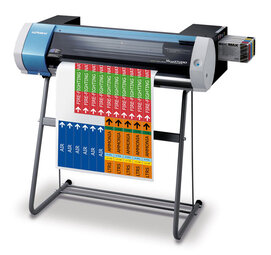 integrated print-&-cut
for ​high volumes
Need hundreds -- thousands? -- of labels? Consider the benefits of hardware that combines printing and cutting in a single, ​standalone unit.


The Scott-Pipewriter™ software produces files containing images that are bordered by cut lines, and automatically arranged for fastest production times and

minimal ​film waste.



The images are 4-color inkjet printed on durable, adhesive-backed vinyl film on

a ​lay-flat carrier.



When the printing is complete, the film and adhesive layers are cut through while the paper liner remains intact. Printing and cutting require no operator; start the job

and ​walk away.



Simply carry the finished roll of peel-&-apply labels to your job site, or slide the roll into a tube for delivery

to ​your associates.



Just like the other elements in our "open source" system, this hardware is a global best-in-class device. At $6500 (as shown, complete with stand) your investment

is ​quickly returned.
Size Up Our Benchtop Roll-fed Printer Specs
Technology: HP Thermal Inkjet

Print Resolution: Up to 4800 dpi

Print Speed: Approximately 5.2 in/sec (13.2 cm/sec) printing a 2.2 in (56 mm) wide image in plain paper normal mode

Inks: Option of Dye or Pigment — Individual Cyan, Magenta, Yellow (26 mL), Individual Black (78.4 mL)

Core Size 3" (76.2 mm)

Media Types: Compatible with wide range of paper, polyester, polypropylene, and vinyl label stocks.

Supports gap, black mark, and continuous media

Media Sensing: Auto calibration and auto detection of gap and black marks

Label Width: 1.0" – 8.5" (25.4 mm – 215.9 mm)

Label Length: 0.75" – 48" (19 mm – 1219.2 mm) Inter

Label Gap Size: 0.125" – 0.3" (3.175 mm – 7.62 mm)

Media/Liner Width: 1.5" - 8.65" (38.1 mm – 219.7 mm)

Black Mark Size: 0.125" – 0.3"

Label Thickness: 0.004" – 0.01" (0.1 mm – 0.3 mm)

Cutter: Powered cutter

Unwinder: 8.5" (219.7 mm) max width, 8" (203 mm) OD on a 3" core (76.2 mm)

Display: 2" mono display with buttons

Operating Systems: Windows 7, 8, and 10 (32 and 64 bit)

Data Interface: USB 2.0 connection and 10/100 Base-Tx Ethernet

Operating Temperature: 59 – 90°F (15 – 32°C)

Operating Humidity: 20 – 80% RH

Overall Dimensions: 20" (511 mm) W, 23.5" (596 mm) D, 9.75" (248 mm) H

Weight: 40 lb (18.2kg)

Warranty: ​1 year