Pipe label Film That's Easy to Apply,
Hard ​to Damage
Scott pipe labeling film, in conjunction with pigmented ink, is designed to excel in applications where exceptional durability and optimum chemical resistance are required. Applications include pipe and drum labeling, industrial labeling, workplace hazard communications, logistics and ​healthcare labeling.

We've collaborated with the global leader in the development and manufacturing of multi-purpose rough-service films. A second collaboration with a premier adhesives manufacturer completes the product. If you've ever purchased a plastic quart container of motor oil with a printed label you've likely handled our film. Our Scott open source concept gathers the best-in-class films, adhesives, printers and inks. Therefore the products you purchase from us tomorrow will be the same as or better ​than today's.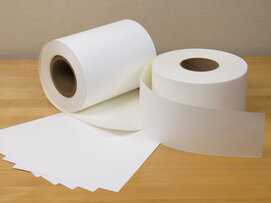 Versatile Film
rolls ​& sheets
We offer two sizes of white film rolls and sheets that enable you to print legibly and cleanly in any number of ​color combinations.

Our material rolls are 100 feet long, on 3-inch diameter cardboard cores, in widths of 4 inches and 8 1/2 inches. We also have sheets of material 8 1/2" x 14", available in 25 per package. If you already have a printer capable of producing durable images using pigment inks, consider purchasing a package of sheet stock and begin a simple pipe labeling program ​right away.

Shop Now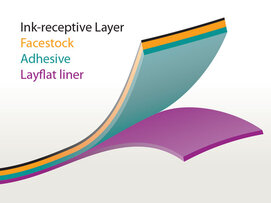 Durability at Every
Level, ​Every Layer
Scott Machine's adhesive polyolefin film features all of the vital components of a durable film, able to handle tough industrial jobs. ​For example...

Ink-receptive layer: Our film includes a layer specifically engineered to perform with aqueous pigment inkjet ​printing applications.

Facestock: This polypropylene blend provides excellent resistance to chemicals and moisture in ​harsh environments.

Adhesive: The ultra-aggressive permanent adhesive is uniquely designed for difficult-to-label surfaces. It offers excellent initial tack and dependable adhesion to a variety of substrates. The adhesive is UV resistant, water resistant, and offers considerable ​solvent resistance.

Layflat liner: Our film possesses a calendered and bleached kraft liner designed to prevent curling and re-rolling, for ​roll-to-flat applications.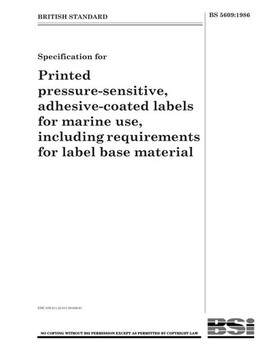 BS 5609
Level ​2 certification
BS 5609 certification, which our film is designated, sets durability standards for printed pressure sensitive labels applied to hazardous goods that are transported by sea. Labels affixed to chemical drums and barrels traveling overseas must be BS 5609-certified. These labels must hold up under harsh marine conditions, so if a lost or damaged chemical container is found, the description of its contents can be properly communicated for safe handling by those who found it. Among the durability criteria set forth by the BS 5609 standard are adhesive performance, print permanence and abrasion resistance that is reliable enough for labeling in ​marine environments.

Section 2 - Adhesion Performance of the Base Material

Section 2 tests the durability of the label material and adhesive undermarine exposure. Testing entails three months of salt water submersion in the English Channel. When a label is Section 2 compliant, as ours are, it refers specifically to the blank label (facestock ​and adhesive).
Scott-PipeWriter™ label facestock resists a wide range of chemicals and solvents, from hydrochloric acid (HCl) and methyl ethyl ketone (MEK), to xylene, iodine and kerosene. It also resists agents such as caustic soda, methanol, isopropyl alcohol, 409 all-purpose cleaner, Zep Fast 505 cleaner, Purell hand sanitizer, epsom salt and warm, soapy water...even anti-freeze, brake fluid and ​hydraulic oil.