TAKE THE OPEN ROAD TO LOWER
PIPE ​LABEL COSTS
If you produce many industrial pipe labels, costs could quickly get out of hand. But they don't have to. Now before you start bracing yourself for the typical "cheapest price in town" message, what would you say if someone promised you quality pipe labels for five, six, 10 times less than most popular brands are now offering? As a smart person, you'd say, ​"Prove it."

At Scott Machine, we prove it every day with something called Open Source architecture that lets us share technology with others – for Free! This technology utilizes global best-in-class components because our collaborators bring their specific strengths to the table. That enables us to pursue innovative advancements and pass them along to you at lower costs because the components are produced in high volumes. Let's see how it ​all works.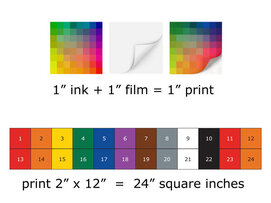 THESE NUMBERS
TELL ​THE STORY
With Scott Machine's open architecture approach, you're never locked in (or locked out) to only one rigid way of printing ​pipe labels.

Using a 4-color inkjet printer, rotary trimmer and our BS5609-certified polyolefin film, your cost to make a label is:
Ink – less than 1¢ per ​square inch
Film – 1¼¢ per ​square inch
Sum of just 2¢ per square inch.

Let's compute the cost of the color chart shown to the left, which represents the size of a common ​pipe label:
2" x 12" x 2¢ per square inch = 48¢

That same size label supplied by other leading label manufacturers is typically $2 ​to $4!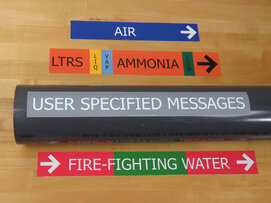 HIGHER
PRODUCTION, ​LOWER PRICES
What's the sum of our logic? Our open architecture equipment and materials are produced in higher quantities than others who, because of their closed architecture single-purpose printers and system, have much higher unit production costs – with limited flexibility. For instance, our printer uses open-branded HP pigment ink, offering durable performance and low costs that are always decreasing. And because it offers colors all along the CMYK spectrum, there's no need to store numerous expensive ribbons and papers. With Scott Machine, you pay less for the equipment, less for the accessories – less for the labels! And look at the ​beautiful results!

[ Air ]
2" x 12" x 2¢/sq inch ​= 48¢

[ Ammonia ] [ User Specified ] [ Water ]
2" x 15 1/2" x 2¢/sq inch ​= 62¢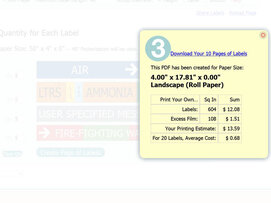 COMPUTE
YOUR ​COST AUTOMATICALLY
We make it easy for you to see exactly what your cost will be. When you fill in your various dimensions and quantities, our online batch calculator automatically computes the cost for printing your labels. The example to your left reflects the batch cost for five units each of the four labels displayed above…just $13.59 total. That's only about 68¢ per label! We want to make your pipe labeling experience better than ever. If we haven't thought of everything, give us time. Through open source, everything's possible!