Engrave Smarter and Faster
with ​Scott SignGraver
Simplify your engraving efforts with the versatile Scott Machine SignGraver, designed to instill confidence and enhance competency for every sign you make. From the moment you receive your quality engraver in its easy-to-lift box, you'll begin to understand the practical aspects of this great machine, reflecting 60 years of design experience. Your SignGraver is delivered with a cutter already installed in the spindle and a sign partially made so you can easily understand the mechanics. Numerous plastic selections, unattended operation and almost no debris cleanup help to speed up and streamline ​every step.
Step 1 - Choose Any Material, Color,
Size ​or Shape
Scott Machine has all the engraving surfaces you need to get started, including full sheets, ready-made sign-sized panels and even custom-shaped pieces. Need to burnish or scribe something? Our various metals suit the Scott SignGraver machine perfectly! Order any of these items and more, right from our Web Store, and save yourself time and effort searching all over ​the Internet.
Step 2 - Design Exactly
What ​You Need
Your versatile Scott SignGraver machine enables you to craft the message or statement you want, with a variety of font choices conveying bold to soft, and everything in between. A self-paced tutorial takes you through the machine's operation for a clear understanding and explains the various options available to you. With Scott Machine, making signs easily has never been ​so, well…easy.
Step 3 -
Engrave ​with Confidence
We've taken the guesswork out of engraving. With the machine's cutter already inserted and a sample sign partially engraved as a quality control test, all you have to do is install the software – and you're ready to go! Multi-task or even take a break while engraving since the SignGraver operates efficiently without your supervision. And it's also conveniently quiet. Best of all, every SignGraver is fully supported by the pros at ​Scott Machine.
Our new GripNGraver nano-technology engraving mat ensures slip-free engraving every time – so you can achieve more consistent lettering. This reusable and residue-free mat holds plastics and metals equally well. Put GripNGraver on your engraving bed, and produce higher quality signs with more precision and ​less effort.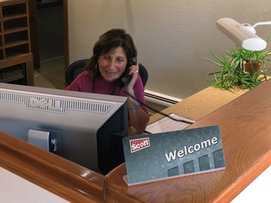 Real
People, ​Real Service
Our job is to make your job more productive, so we manufacture and ship every week day, for ​your convenience.

We also answer most phone calls in person and reply to your emails within several hours or less. If you reach our voice mail, please leave a voice message and we will call you back as promptly as possible. No need to call or write twice, thanks to our 100% response rate to all phone and email inquiries. Today – more than ever – we believe in delivering the highest level of personal service, free of waiting ​and wondering.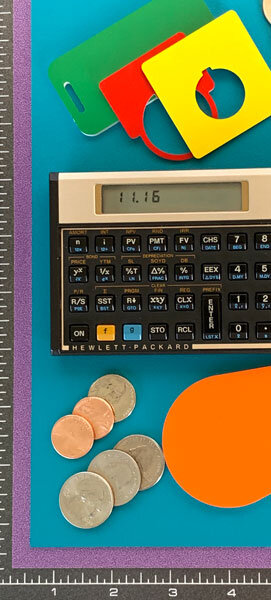 The Cost Is
In ​The Details
Purchasing a benchtop engraving system to create signs can be a great investment, if you evaluate all of the cost factors involved. Some may be obvious, others not ​as much.

Training Cost – The Scott SignGraver® engraving machine is easy to understand and operate. Along with its intuitive design, we offer a variety of short, informative videos on our How It Works web page. So training time, even for new staff members, is greatly reduced, which translates into ​long-term savings.

Operating Cost – Rotary engravers like the Scott SignGraver® machine are so reliable that you don't even need a service contract. All of the components are well-established parts with long histories of dependability. And if you ever do need a replacement part, it's easy and economical ​to install.

Materials Cost – Weather-resistant Scott-Ply™ and similar engraving plastics that we manufacture for our rotary engraving machines are often half the cost of materials for other styles of engraving machines. This is a huge factor to consider, especially since, over time, the total cost of engraving plastic usually adds up to far more than the cost of ​the machine.

In short, when you consider the costs of producing your signs over the next several years, and you factor in the "big three" of capital equipment, materials and labor, rotary engraving makes real economic sense. And the American-made Scott SignGraver® machine delivers the quality and consistency you need to create signs of every size ​and shape.
The Scott SignGraver engraving machine is designed for speed, efficiency and stress-relieving convenience. And good news…our professional team at Scott Machine is built that same way! Never an afterthought, our tech support embodies our philosophy of simplicity, with solutions that are always front and center. Try us out and let that winning combination of intuitive design and personal diligence take the worry out of your ​work day.