SHARPEN YOUR
PIPE ​LABEL MESSAGING
Look to the Scott-PipeWriting™ system for cutting-edge innovation. Featuring world-class German engineering and American ingenuity, our versatile rotary cutter/trimmer takes accuracy and reliability to another level. Ensure clean, exacting edges for your pipe labels and other materials, thanks to the cutter's 26" precision blade and easy handling. The blade is never exposed during the cut, adding an extra measure ​of safety.

Our popular cutter/trimmer is the product of open source technology, where the leading minds of our company and others share innovative ideas for design and manufacturing. This leads not only to better quality, but also higher production, which keeps prices affordable ​for you.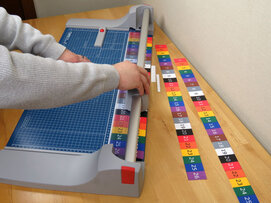 Safe, ​Industrial-Grade Performance
Get the perfect cut for your pipe labels every time, with this premium rotary trimmer featuring a self-sharpening blade that cuts in both directions. An extruded aluminum dual-cylinder guide bar provides extra strength for trimming thicker material, while an automatic clamp secures your cut and prevents shifting. For added safety, the ground steel blade is encased in a protective cover. You'll also like the stabilizing metal base that keeps you on solid footing, no matter ​the job.

Shop Now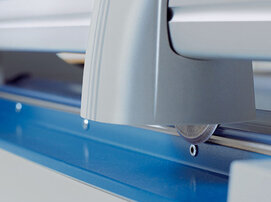 All-Purpose Precision for Pipe
Labels ​and More
This durable performer is up for any job. Cut up to 25 sheets of paper simultaneously and use screened inch, metric and angle guides to simplify alignment and enhance repetitive cutting. Precision German engineering is on display at every stage of your ​cutting cycle.

Best of all, you're never locked in with our Scott-PipeWriting™ system. Unlike single-purpose machines, this versatile cutter/trimmer also provides beautiful results when trimming blueprints, floorplan drawings, thin plastic safety signs, matte board, card stock and more. It all comes back to resourceful open source design, a collaboration of skilled technology partners who make best-in-class available to you without proprietary constraints, for ​lower prices.
Specifications

Bed

Material: ​All Steel



Cutting ​Length: 26"
Dimensions: 34.25" x

15.13" ​x 4"



Weight: ​16 Pounds
Paper

Capacity: ​25 Sheets



Blade ​Edge: ​Self-sharpening
Warranty: Lifetime

(excludes ​cutting blade)