OPTIMIZE WITH "OPEN
SOURCE" ​INDUSTRIAL DESIGN
"Open Source" industrial design is a collaboration, open to all, for developing and manufacturing a product. In this case, it's a way to harness the innovative piecework of our clients, vendors and staff to build a better whole. Much like an ant colony, the collective intelligence of the group supersedes any single contributor, allowing for continuing shared improvements and enhancements. All of this is accomplished without anyone in the group retaining intellectual property rights – thus, there are no limits ​on creativity.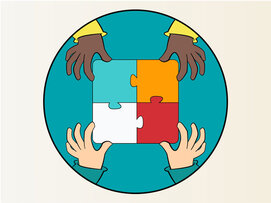 COMBINING AND
COMPLEMENTING ​EACH COMPONENT
Pipe labeling requires a wide array of technologies that no single company can master. Some ​examples include:

Durable films with a facing that accepts ink and rejects water


and ​damaging chemicals



Conformable adhesives that perform on metal and plastic surfaces and can be applied in both hot and cold environments

Pigmented inksets that, once dried, resist

solvents ​and abrasion



Website programming that operates on innumerable browsers while securely

storing ​user files



The "Maker" or "Open Source" culture has gained momentum in the industrial world, with all sorts of new consumer, medical and assorted products and processes emerging from university labs, garages, high school STEM programs and ​multi-national entities.

For you, "Open Source" means that the products you purchase from us feature global best-in-class components, with an emphasis on maintaining the highest level of quality. And it means you can expect the lowest possible cost because those components are produced in high volumes. So don't lock yourself in, or out…pursue pipe labeling that's flexible, adaptable ​and universal.