NFPA 99 2021
healthcare ​pipe labels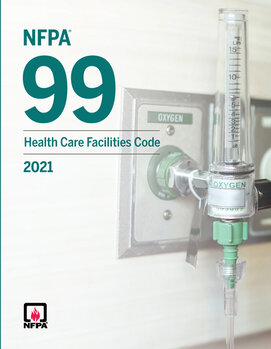 CONSISTENT COLOR MARKINGS
KEEP ​ACCIDENTS AWAY
Certain gases used in medical procedures and facilities have the potential to cause fire, explosion or electrical shock, if not handled properly. This puts both medical personnel and patients in potential danger. So the NFPA 99C/CGA C-9 standards serve a valuable purpose. The color guidelines vary, depending on the gases, but all labels should include the color, legend and flow direction on one pressure-sensitive marker. Some of the more common gases and their corresponding color combinations are as follows: Oxygen – white lettering on green, or green on white; Nitrous Oxide – white on blue; Medical Air – black ​on yellow.

Labels should be designed to accommodate pipes of 1" in diameter, with ¼" high lettering. The labels themselves must fully wrap around the pipe. In some instances, piping systems operate at pressures that are not considered standard gauge. For these, the labeling should also feature pressure markings, in addition to identifying ​the gas.

In an industry where piping systems can actually carry life-sustaining elements to patients reliant on medical care, it's reassuring to know that standards are in place for proper identification. Knowing the proper labeling and color coding helps to maintain safety ​and clarity.

The NFPA 99 Health Care Facilities Code is available at the NFPA documents and ​handbooks store.