Simplify Your Pipe Labeling with Software
in ​the Cloud
The Scott-PipeWriter™ system brings a whole new dimension to pipe labeling for better safety in your facility. Based on a uniquely designed software program that securely stores all of your valuable data in a convenient cloud, this revolutionary new pipe-labeling system gives you total labeling flexibility, without constraints or confusion. The entire system…from software, to printer, film, inks and more…utilizes open source architecture that shares technology advancements among our clients, vendors and staff for innovation unhindered by constricting intellectual property rights. The results are amazing, so let's see how this software works ​for you!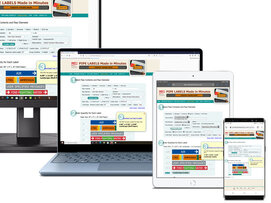 Design Away, Let Our Software
Do ​the Rest
You can quickly utilize our system – there's nothing to install! All labels that you assemble are stored in the cloud, and everything you produce is immediately updated and ready for you. Because the system is based upon open architecture, you can even share your data with other members of your team and access the software from any computer platform. Log in from anywhere – it's that simple! Best of all, you only use our system when you need it. Subscribe for 10 days, by the month, by the year…you decide, and you can cancel whenever ​you like!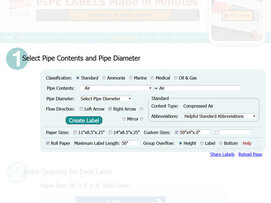 Follow the Steps to
Better ​Pipe Labeling
Using our innovative software, you can create regulation-compliant labels more quickly and less expensively than with your current system. All it takes is just four easy steps to produce a highly legible and accurate label. Once you've clicked our "Create Labels" section, here's what ​you do:

One – Select your ​label classification
Two – Choose the ​label content
Three – Select the ​pipe diameter
Four – Click ​"Create Label"

After creating a few labels, enter your printer parameters, which are the measurements for the sheet size and the margin size of your film. Setting the maximum label length allows longer labels to wrap if they will not fit on your ​sheet size.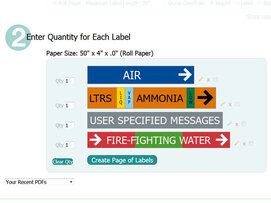 Now you can list the quantity for each label that you want to print. The labels are grouped to fit your printer's paper or film sizes. For example, if you have a printer that will use 11" x 8.5" sheets in a quantity of 25, you would enter 10.5" for your ​"Longest Label."

Once you quantify each label, "cut" lines will display on any label that exceeds your "Longest Label" length. You can adjust where the break will be by using the arrows or clicking on the label. A pencil on the right of the label allows you to edit the label, while clicking the red x ​deletes it.

For advanced feature users, a checkbox allows you to conveniently share this ​label design.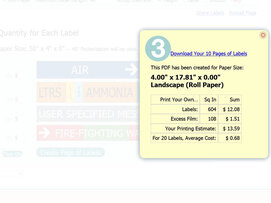 Creative Collaboration
at ​Its Best
Our Scott-PipeWriter™ software is highly intuitive, making each step a natural progression. For instance, once you click "Create Page of Labels", a pop-up invites you to print or save the group of labels on which you're working. At the bottom of the design page, a dropdown box shows your most ​recent PDFs.

The example shown is for a 4" roll feed printer. This particular label selection will use 17.81" sections of the ​roll film.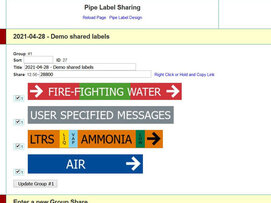 One of the most resourceful aspects of this flexible, cloud-based software system is your ability to share your pipe label designs with associates. To do this, return to Step 2 once you have created your labels. Select the label or labels that you want to share, click the empty box to the right of the displayed label and then click "Share Labels." This will take you to the Shared Pipe Labels page where you can simply copy the link and e-mail it to your sharing partner. This is pipe labeling of a whole different level – up in the cloud – and so versatile and simple ​to use!