BS5609 – PIPE LABELS
WITH ​CERTIFIED STRENGTH
We offer polyolefin pipe labeling film that is BS5609-certified for rugged, durable performance under a variety of challenging conditions. So how does this resilient material earn that designation? Take ​a look.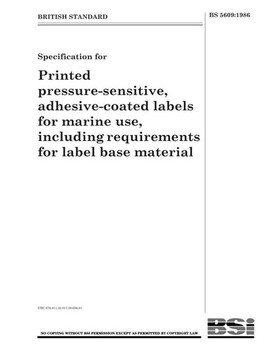 TOUGH ENOUGH
FOR ​OVERSEAS TRANSPORT
When pipe labeling film is certified BS5609, this means that it meets the durability requirements for printed pressure-sensitive labels affixed to hazardous goods shipped via the sea lanes. All chemical drums, barrels and other containers transported overseas must be tagged with a BS5609-certified label so that, should they be lost or damaged at sea, they can be readily identified for proper handling. This certification spells out specific marine environment durability standards, per print permanence, abrasion resistance and overall ​adhesive capacity.

Section 2 – To test for adhesion performance, the label material undergoes 3-month submersion in salt water in the English Channel. A Section 2-compliant material refers to the blank facestock and adhesive. Our films are Section ​2 certified.

Section 3 – This test is performed to establish print durability, which encompasses the inks, ribbons and printing systems used to inscribe on the base material. The material is exposed to salt spray and sunlight, to check for print permanence, and rubbed against a mixture of artificial seawater and sand to gauge resistance to abrasion. In order to be fully compliant, the printed label must pass the required durability tests for both Section 2 and Section 3. Though our printed labels are not Section 3 certified, it is reasonable to expect HP pigment inks on our films to ​perform well.

To learn more about BS5609 certification in its entirety, visit Smithers Testing Laboratories.