C2-125-090K
carbide ​engraver cutter
These precision carbide C2-125-090K engraving cutters feature our special Scott Omni-Grind™ geometry, a sharpening technology that delivers the perfect relief angle for clean-edged, swirl-free lettering across the full spectrum of engraving plastics, machines ​and speeds.

Why not place your cutter order today, by phone. We answer in person, by the 4th ring. You're also invited to visit our product-packed Engraving Cutters Store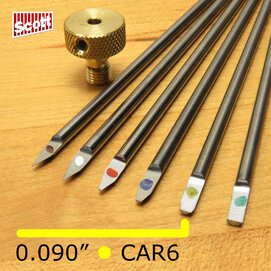 See How Our
C2-125-090K ​Measures Up
Cutter Dimensions:

Length: ​4 1/2"
Diameter: 1/8"
Tip ​Width: 0.090"

Material and Geometry: Made of fine-ground solid micrograin carbide (not ​simply ​carbide-tipped)

Application: Excellent choice for single-line 3/4" lettering or for multi-line or TrueType letters of approx. 1 1/2" in height. Because this tip works well for less detailed or larger logo fill work, it is ideal for ​medium-size signs.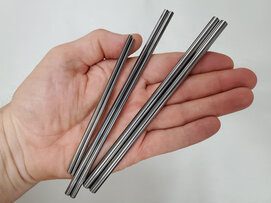 Put Solid Carbide
to ​the Test
We use only solid carbide, the most stable cutter material and one of the hardest components in existence, for our micrograin carbide cutters. Measuring 4 1/2" long with 1/8", 11/64" and 1/4" diameters, these engraving cutters will consequently remain free of blemishes and rust through all kinds of usage. And, because the rods never bend, you can look forward to a "like new" cutting edge with every re-sharpening. Carbide also consumes heat very rapidly, which allows it to reliably hold tight tolerances from tool to tool ​during manufacturing.
Why did Scott Machine develop Omni-Grind™ cutter geometry?

Recognizing the inconvenience of repeatedly changing cutters, we developed this unique cutter-tip geometry for precision cutting across our entire range of engraving plastics. So now our versatile C2-125-090K cutter gives you solid performance on many different plastics, which consequently eliminates ​"cutter clutter".


Is it true that solid carbide cutters are stronger than carbide "tipped" ones?

There's no doubt that carbide is one of the hardest materials in the world. So clearly, nothing's quite like a solid carbide cutter, which remains blemish-free even after long-term contact with the set-screw that holds the cutter in the engraving machine spindle knob. A solid carbide cutter won't bend or rust, either, ensuring problem-free performance day in, ​day out.


Did you know that Scott Machine Development Corp is a proud American manufacturer?

For more than 57 years, we've supplied our loyal customers with custom-cut plastic pieces in a variety of consistent colors, replacement cutters, spare parts and sign-making materials – right from our upstate New York factory. People love not only our fine craftsmanship, but also buying direct from the source. So if you need custom cutters, just email us your specs and quantities for a fast, ​affordable quote.

Because we sell factory direct, answers to your questions are only a phone call away. We answer in person by the 4th ring, at 607-865-6511, weekdays between ​8:30am-5:00pm ET.