Print Custom Valve Tags
On ​the Spot
Create more targeted, informative valve tags by printing your own custom message on our blank tags, available in a variety of eye-catching colors. Tags that stand out, like those made with our valve tag printer, simplify identification and promote ​better safety!
10 seconds - 2 cents
- ​Any Text
In 10 seconds, using just 2 cents worth of film, print any text in crisp, durable black or white lettering. Simply break away the lettered tag from its frame, add a beaded chain or an S-hook, and install. It's the best way yet to avoid the delays and costs of ordering custom valve tags. By the time you say, "Tag, you're it", you've produced another ​instant creation.

Install the printer driver in the usual manner on your PC. Use any common Windows software, e.g., Word, Adobe, Corel, etc., to design a "page" that's 2 1/8" x 3 3/8". Watch how quickly your "page" is printed! Expand the video to full-screen for a ​closer view.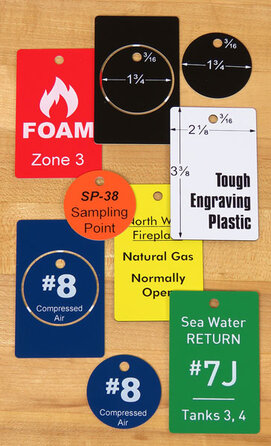 Custom Valve tags that aren't
just ​another number
We all know the power of words. And with our simple valve tag printing system, now you can go beyond cryptic two-digit numerals and create more specific and informative word messaging. Use our rectangular tags when you need to ​say more.

See how simple it is and try a pop-out valve tag yourself; request free samples by noon and we'll mail them today. Close-up view of samples

#451-PRN
Assorted ​Valve ​Tag ​Samples
Qty:
ASME Standards provide guidance for the colors of pipe markings based on the contents; read more about these regulations at the bottom
of ​the page.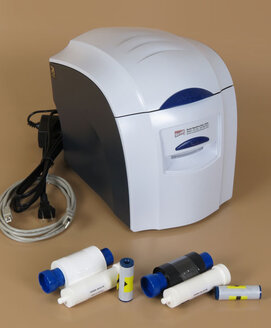 Valve Tag Printer -
Quiet, ​Compact, Affordable
This attractive, compact valve tag printer fits comfortably on the corner of your desk or bench and provides whisper quiet performance. Some printers require costly ink cartridges, but this solid performer uses ink ribbons designed for thrift, yielding about 2,000 tags per roll. Swap the black and white ink ribbon cartridges ​in seconds.

Talk about easy…talk about economical! With this reliable printer, look at your total production cost to make your own custom valve tags, including the price of the blank engravable ​plastic tag:

Blank ​Tag $.97
Film $.02
That's less than a dollar for a completed tag! Order your materials today, and get started making custom valve tags ​right away.

#VPM ​Printer $850.00 Qty:
#VPB ​Black ​ink ​ribbon $25.00
Qty:
#VPW ​White ​ink ​ribbon $35.00
Qty: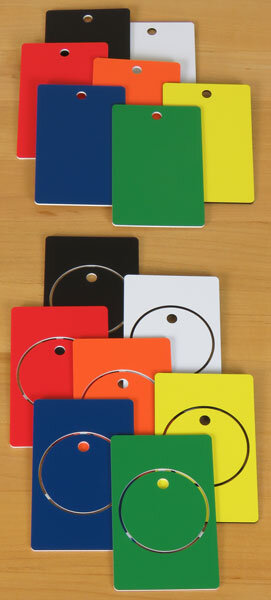 Industry-Standard Colors
That ​Stand Out
Choose from our wide assortment of popular valve tag colors, to display and differentiate clearly. Rectangles 2 1/8" x 3 3/8" and pop-out discs discs 1 3/4", sold ​25 tags/package.

#VRBLACK ​25 ​Black ​Rectangles $24.75
Qty:
#VRWHITE ​25 ​White ​Rectangles $24.75
Qty:
#VRRED ​25 ​Red ​Rectangles $24.75
Qty:
#VRORANGE ​25 ​Orang ​Rectangles $24.75
Qty:
#VRYELLOW ​25 ​Yellow ​Rectangles $24.75
Qty:
#VRBLUE ​25 ​Blue ​Rectangles $24.75
Qty:
#VRGREEN ​25 ​Green ​Rectangles $24.75
Qty:
#VDBLACK ​25 ​Black ​Discs $24.75
Qty:
#VDWHITE ​25 ​White ​Discs $24.75
Qty:
#VDRED ​25 ​Red ​Discs $24.75
Qty:
#VDORANGE ​25 ​Orange ​Discs $24.75
Qty:
#VDYELLOW ​25 ​Yellow ​Discs $24.75
Qty:
#VDBLUE ​25 ​Blue ​Discs $24.75
Qty:
#VDGREEN ​25 ​Green ​Discs $24.75
Qty: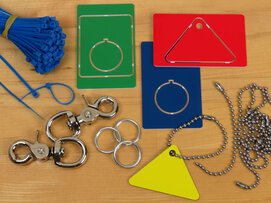 Latch on
to ​Some Attachments
You can easily attach your printed valve tags, using items commonly found in most maintenance departments, such as cable ties, s-hooks, wire ties, beaded chains and more. We offer basic fasteners, and your maintenance department likely already uses assorted short beaded chains, ​hooks, etc.
Color Guidelines (OSHA Colors) based on ​pipe contents
Flammable; oxidizing ​- black/yellow
Toxic; corrosive ​- black/orange
Fire quenching ​- white/red
Other water ​- white/green
Compressed air ​- white/blue
User defined ​- white/black
User defined ​- black/white

Pipe Marking Guidelines
It's no accident that certain pipe markers and valve tags are featured in specific colors. Several laws and regulations exist, regarding their color coding. The most prominent of these laws are the Occupational Safety and Health Act, or OSHA Act, of 1970, and the Federal Mine Safety and Health Act ​of 1977.

ANSI/ASME A.13.1 is the pipe identification standard most commonly used in the United States. It specifies the primary and secondary means of identifying pipe contents, as well as the size, color and even placement of the identifying device. The first means of identification are the name of the pipe content and the ​directional arrow.

A secondary means of pipe marker identification is the color of the marker. Color coding offers easy-to-understand visual communication. Proper markings of this type enable workers and employees to correctly identify the different liquids or gases flowing through various pipes, before ​opening them.

As of 2007, flammable fluids and oxidizing fluids now bear a Yellow/Black combination color coding from ANSI/ASME. Green/White pipe markers identify potable, cooling, boiler feed and other water-related substances. As such, hot water, cold water and steam would fall into the ​Green/White category.

Other current color designations for printed valve tags and other markers include Brown/White for combustible fluids and Orange/Black for toxic or corrosive fluids. Because specific colors are deemed as standard identifiers for flammable liquids, combustible fluids and toxic or corrosive fluids, it's important to use valve tags and other indicators that match Safety Data Sheet recommendations. Should the pipe being labeled contain multiple hazardous liquids or fumes, it's especially critical to pay close attention to the proper markings. If chilling or heating systems contain toxic treatments, for example, the color combination should ​be Orange/Black.

The 2007 standard also identified four additional "defined by user" color combinations that invite the creation of custom valve tags as non-standard markers. The exact recommended colors are displayed in the ANSI Z535.1 standard. Updates to ANSI/ASME A13.1 did not add any new colors to ​the standard.

With these color code protocols in mind, the importance of having custom printed, engraving plastic valve tags that are current and correct can't be overstated. It's a simple matter of safety ​and convenience.