Stainless Steel Engraving - other metals
and ​plastics too!
You've been telling us: "I need to engrave metal ID plates and valve tags for harsh environments, and the lettering must withstand ocean spray, high temperatures and strong chemicals." Well, we can help with that and much more…like creating custom lamp bezels and equipment dials, plus the usual array of plastic OSHA signs and warehouse signs too. And you say you'd like the whole metal engraving system, with training, for less than $10,000? Well, let's see what we can do for ​you today.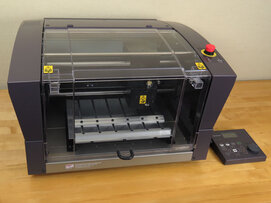 Great Things Come
in ​Small Packages
This is our smallest high-production machine…and what a package! The 5,000-20,000 rpm spindle hums along for lettering and for profiling custom shapes in plastic. With a workplace footprint of 12" by 9" x 1.6", see where this stainless steel rotary engraver fits in our lineup ​of all
Scott Engraving Machines

Engraving machine, professional 3D software and 1-year warranty ​all included.
#SMG-12x9 $8,100.00
Learn more about Training & Support

Detailed specs appear at the bottom of ​this page.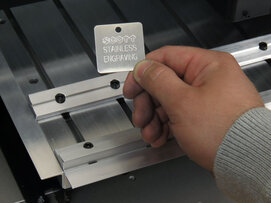 Tough materials
for ​tough jobs
This is likely your toughest stainless steel engraving challenge - stainless steel valve tags. Here's how we equip you to engrave these types of ​metal items:

1. Rugged, small-footprint ​desktop engraver
2. T-slot bed and clamps to grasp ​assorted shapes
3. Carbide cutters, precisely shaped and coated ​for metal
4. Software to control the spindle rpm and ​feed rate

Lettering shown: 0.180" toolpath height yields 0.200" ​overall height



Click for a ​closer look.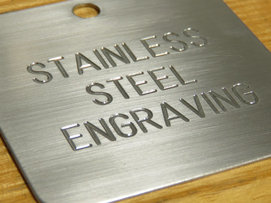 Tips
for ​legible lettering
For the ultimate in clarity when lettering stainless steel, choose one of our basic single-line fonts; use just a few words and a ​simple layout.

Most grades of stainless steel are too hard for engraving and their surfaces can turn brown over time. Our tags are made of 0.025"-thick premium stainless steel #316, yielding the cleanest letter groove. For hostile environments having high temperatures and caustic materials, or even less hostile conditions, we always use stainless ​steel #316.

For more about our special cutters for stainless steel engravers, read on at the bottom of ​the page.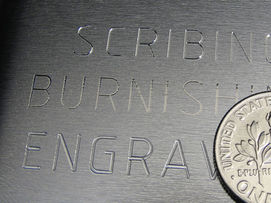 Scribe, burnish or
engrave ​most metals
Scribing is something like scratching, but at a controlled depth using a non-spinning, diamond-tipped tool. It creates the most detail for marking stainless steel, e.g., a metal award plaque with "line art" images – for ​approximately $30.

Burnishing has no depth; it's merely a surface effect, created by a blunt spinning tool that scuffs the surface to produce a lustrous letter. Burnishing is ideal for softer metals, e.g., aluminum serial number plates – for ​approximately $35.

Lettering minimum recommended height: 0.125" (use only capital letters ​for legibility)

Learn more about cutting patterns and cutter ​care below.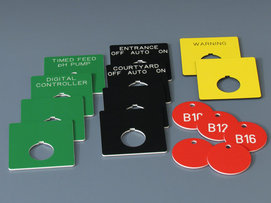 We manufacture our own engraving plastic, supply sheets, custom-cut blanks, lamp bezels and OSHA sign blanks. Scott Machine is a one-stop shop for all of your signage and identification projects, with all the materials you'll ever need! Beyond just our stainless steel engravers, check out our full line of plastic engraving machines and Scott Engraving Plastics

And how's this for balancing ​your budget?
Various blank legend plates: about ​$1.00 ea.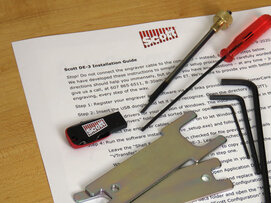 An Expert Tandem of
Software ​& Training
Our custom software helps you lay out tags and signs in minutes. Responsible for signage and identification in a large facility? Create your own template library, then enter fresh text – individually or from a data file – into your templates for a consistent signage program. Once layouts are complete, set up the stainless steel engraving machine for optimal spindle rpm, feed rates and two-pass engraving at two different depths for crisp, ​clean-edged lettering.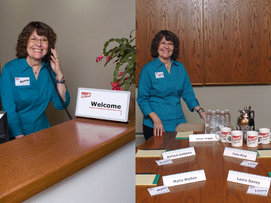 Sample our
signs ​and service
Call us…we'll answer in person by the fourth ring. Then tell us about your signage and I.D. program, especially the number of items you plan to make each month. Generally, monthly volume determines the correct stainless steel rotary engraving machine for you. Whether your volume is a handful, or thousands, you can also ask for a quote for ​finished parts.

Seek samples…it's much easier to be confident of your purchase when you can hang actual samples on a valve or attach one to a machine. If your materials are unique, send us a sample, which we will gladly engrave and return to you with our own unique brand ​of service.

Mulling over sign engraving machines or building a budget, ask for our help, at 607-865-6511, 8:30am-5:00pm ​ET, weekdays.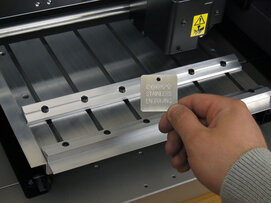 Get a grip with
a ​T-slot table
Engraving metal is simple when you secure unusual objects up to 12" x 9" with these multi-function clamps and t-head screws from Scott Machine, known for our American ​manufacturing prowess.

Do you need to engrave an object with an unusual shape? Just send us a photo and if our standard clamps won't do the job, we'll propose a custom fixture. Because we're a manufacturer of engraving machines, from quality entry level engravers to versatile high-end worhorses, our skills become your skills. When working with our clients to solve novel engraving problems, we ​learn too!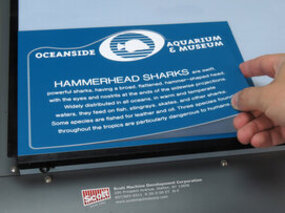 Place, press & produce...on
a ​multi-mat bed
Here's an idea to free up your non-stainless steel operations. Adhesive-free, vacuum-free and clamp-free, these 1/8"-thick mats are tacky on both sides. Place one on the bed of your engraver, press the engraving sign blank on top, then profile cut for perfect results. No residue left behind, easy cleaning with water and a ​lint-free cloth.

12" x 9" long-life ​multi-mat: $155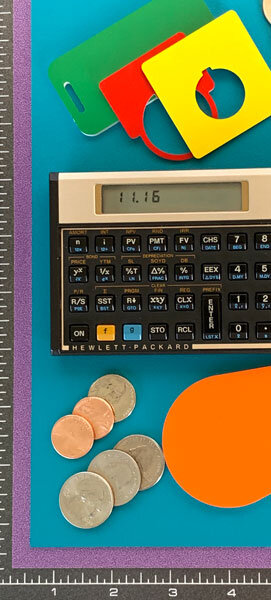 Knowing how to perform stainless steel engraving most efficiently begins with finding the right items for the right price. And with the right timing...all items are available for ​immediate shipment.

Engraver and software:
Rotary engraving machine: ​#SMG-12x9 $8,100
3-D engraving software - three ​licenses: included
Budget for engraver and ​software: $9,150

Items for engraving metals:
Start-up Kit:
1 - ​T-Slot table
1 - Set of ​clamping bars
1 - 11/64" ​Solid Collet
1 - Scott Kool ​2 oz.
1 - U-29 Tool Holder ​Spline Wrench
1 - 5/32" Allen Wrench
Complete Kit: #TT-350 Start ​Up $1,050
Budget for engraving ​metals: $9,150

Items for engraving plastics:
Multi-mat 9" x 12": ​#HDM-350 $155
Vacuum (optional, but highly recommended): ​#SAG-VAC $945
Budget for engraving ​plastics: $9,200

Budget for engraving metals and plastics: $10,250

Training: One hour scheduled in advance, via WebEx or phone: ​#TF $175

Tools for Lettering on Plastics or Metals
See our cutters, burnishing tools and scribe in the Cutters Store.
Budget about $60 for ​spare tools.

Wide Range of Engraving Plastics
We make our own Scott-Ply universal engraving plastic. Consider your options in our Plastics Store.

Consumable Items
This machine is reliable and requires no spare parts and no maintenance, other than vacuuming to remove stray bits of plastic. We recommend that you keep a spare cutter on-hand and ample pre-cut engraving ​plastic blanks.
Compare your
Computerized ​Engraver Choices
Which engraver is best for you? Just answer these two questions and you'll be on the ​right track.

(1) What material are you engraving? Plastic, soft metal, ​hard metal?

(2) Next, think about the sizes of the items you typically engrave -- what's the largest size you ​engrave often?

Visit our Compare & Choose page.



Click to pop-up ​the chart.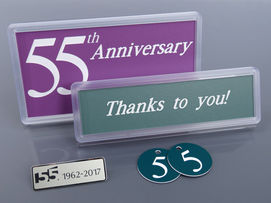 Your Trusted Sign-Making Source
for ​62 Years
At Scott Machine, we know that purchasing engraving equipment and materials, as well as training your staff, can be a significant investment. For 62 years, we've helped make that outlay pay off for customers with a wide assortment of quality engravers, engraving plastics, metals and accessory supplies produced right here in our upstate New York plant. And we'll continue to be here to support you in the years ​that follow.

By the way, a real person cheerfully answers our phone, normally by the 4th ring: 607-865-6511. We're reliably open weekdays, ​8:30am-5:00pm ET.
Guidelines for Engraving Stainless Steel
Our basic single-line fonts are a good choice because simplicity is important for ​maximum legibility.

Unlike many stainless steel objects that prove difficult to engrave, our tags are made of the most easily engraved steel, which results in a sharp, ​clean groove.

Keep in mind that in a single pass of engraving using a 45-degree cutter, the letter groove is about 0.004" deep, 0.028" wide at the surface, and 0.020" wide at ​the bottom.

For best results engraving stainless steel, use a carbide cutter with a tough coating, spinning at a high rpm. Apply a few drops of Scott Kool cutting oil to the metal's surface to lubricate the cutter, and use our special cutters. Always keep extra cutters on hand, and change them as soon as the edge of the letter is no longer smooth ​and bright.

Steel cutter: ​About $60
Assorted cutters for plastics & Braille: ​about $20-30

Detailed Engraver Specifications
Table Size: 12"(X) x 9.1"(Y) [305 mm x 230 mm]
Max. Cutting Area: 12"(X) x 9.1"(Y) x 1.6" [305 mm(X) x 230 mm (Y)] x 40mm(Z)
Feed Rate X, Y-axis: Up to 2.4 ips (60mm/sec). Z-axis : Up to 1.2 ips (30mm/sec)
Software Resolution: 0.004" (0.01 mm) /step or 0.001" (0.025 mm ) /step (XY axis only)
Mechanical Resolution: X, Y-axis: 0.0001 in. (0.0025 mm) /step
Spindle Motor: Brushless DC motor, max. 50 W
Revolution Speed: 5,000 to 20,000 rpm
Tool Chuck: Cutter holder ​and collet

Interface: Ethernet, USB
Instruction System: RML-1
Power Requirements: AC 100 to 120 V ±10%, 1.3 A, 50/60 Hz (overvoltage category II, IEC 60664-1); or AC 220 to 240 V ±10%, 0.6 A, 50/60 Hz (overvoltage category II, IEC 60664-1)
Acoustic Noise Level during operation: 60 dB (A) or less (when not cutting); during standby: 40 dB(A) or less (as specified by ​ISO 7779)

External Dimensions: 15.5" (W) x 24.3" (D) x 23.3" (H) [393 (W) x 616 (D) x 591 (H) mm] When cover is open: 23.56" x 21.5" x 27" [598 mm (W) x 545 mm (D) x 685 mm]
Weight: 75 lb. (34 kg)
Operating Temperature: 41 to 104 °F(5 to 40 °C )
Operating Humidity: 35 to 80 % ​(no condensation)

Accessories: Power cord, depth regulator nose (nose unit), nose-unit retainer (retaining screw, spring), spare mounting screw (for the cutter holder), character cutter (diameter 3.175 mm), flat cutter (diameter 3.175 mm), wrench, solid collet (diameter 3.175 mm), solid collet (diameter 4.36 mm), hexagonal wrench, hexagonal screwdriver, handy panel, adhesive sheet, vacuum adapter for chip cleaning, and ​User's Manual

Prices shown above for all 2022 shipments; modest price increase effective January 1, 2023