Keep your cool in hot places with
Scott-Rigid ​engraving plastic
Scott-Rigid™ engraving plastic sheets and custom-cut pieces do great work in tough places. They don't melt like thermoplastic engraving materials – an important attribute for fire safety in public buildings – and offer superior ​arc resistance.

This rugged 3-ply material is available in thicknesses of 1/8" and 1/16". Buy in full 18"x 38" full sheets or 18"x 19" half-sheets. We can also saw to your specs as sign blanks or profile cut for pushbutton labels, equipment panel I.D.'s and more. The material may be rigid, but we're ​very flexible!

Download a Colorchart of Rigid Phenolic Engraving Plastic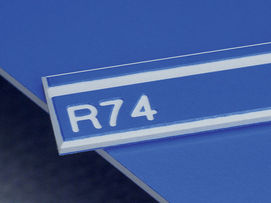 Rigid Engraving Plastic
Strenthens ​Your Message
Have a hot application? This rigid phenolic engraving material withstands high heat environments, which makes it ideal for electrical control panels and areas where temperature is an issue. Use rigid engraving plastic for pipe markers, valve tags and instrument panels in boiler rooms, engine rooms and on heavy equipment exposed to scuffing ​and abrasives.

Our 3-ply, 1/16" thick, 18"x 38" sheet is just $51.80. As little as 1 or as many as you need, we can fill ​your order.

Click the image for a close-up view of the engraved ​plastic material.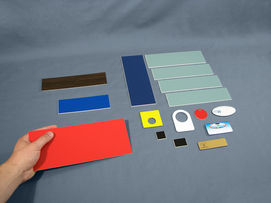 Get your signage
into ​custom shape
If you want your sign blanks ready to engrave, we'll pre-cut them as rectangles or in any custom profile for push-button labels, valve tags or even as professional-looking name tags. We cut our blanks at a slightly beveled angle, to provide an attractive core color line along the edge. Our Engraving Plastics Store can help you make the choice that's best ​for you!
Buy rigid engraving plastics by the sheet or purchase to size – like a 2" x 8" blank, only $2.62. For a more complete cost breakdown, please review our Engraving Plastics Color Charts and Prices

Keep in mind that this rotary engraving material – also known as Norplex or phenolic engraving plastic – is excellent as a substrate for vinyl letters. With so many different uses, here's your chance to be creative and put your sign engraving machine to work! We have lots of helpful suggestions for you; just click "How We Help" at the top of this screen. And check out all of our Engraving Plastic choices.

At Scott Machine, we're all about helping you find your engraving comfort zone. And that means, besides a wide array of different Engraving Machines and accessories, we can also provide you with an engraving surface that's perfectely suited for your application. For fine, detailed work with a sleek look, we suggest Scott Ply™ Metallic Engraving Plastic or our ultra-thin, mar-resistant Scott-Ply™ Microsurface Engraving Plastic. Want something extra durable, to withstand consistent traffic? Then check out our Scott-Spectrum® Textured Engraving Plastic. We even feature Scott Spectrum® Reverse Engraving Plastic for a clean, crisp reverse ​lettering effect.

Need more ideas? We can also provide inspiration for your Stainless Steel Engraving and other types of different Engraving Examples. Sure, we offer a best-in-class rigid plastic stock, but we're amazingly flexible in meeting all of your ​engraving needs.