Compare and
Purchase ​Tacky Mats
We Have an Adhesive Mat for You

Avoid costly vacuum beds, time-consuming small clamps and all the nuisances of other cumbersome hold-down hardware. Our tape-free, vacuum-free and clamp-free tacky mats secure your engraving material in place…simply ​and reliably.

Our mats are identical on both sides, for your convenience. When one side has become worn from engraving, just flip the mat over and keep working! Most of our clients use one mat for ​many years.

To use, place one on your engraver bed, press the engraving sign blank on top, then engrave or profile-cut for ​perfect results.

And dirty mats are never a problem…simply clean with warm water and a wet cloth, then ​air dry.

Choose between our new GripNGraver nanotechnology mat, or our traditional releasable adhesive hold ​down mat.
NEW GRIPNGRAVER™ NANOTAC MAT PUTS BIG GRIP
ON ​SMALL PARTS
Enjoy residue-free, reusable performance with the GripNGraver™ mat, featuring advanced nano-technology that ensures slip-free engraving for consistent lettering every time! The washable GripNGraver mat holds plastics and metals equally well and is especially suited for gripping small parts like serial number plates and ​name tags.

About 0.125" thick, this all-new mat more than justifies its extra cost, by allowing you to work smarter, engrave faster. Put GripNGraver on your engraving bed, and produce higher quality signs with more precision and ​less effort.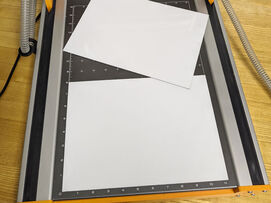 RELEASABLE ADHESIVE HOLD-DOWN MAT
SECURES ​LARGER SIGNS
This economical, double-sided, long-lasting multi-mat is a traditional favorite, especially for securing larger signs. Use one of these 11¼" x 8" mats if that's your maximum sign size. For bigger jobs, simply place two adjacently to cover the entire 11 ¼" x 16" bed. If one eventually becomes worn, just turn over that single mat and keep on engraving. Mat thickness is about 0.100", making it both durable and easy ​to handle.
Engraver Hold-Down Mats Store


AutoGraver 8/6 (required for this machine)
SignGraver 11/16
SignGraver 11/16 (two to cover complete bed)
MetalGraver 12/9
Legacy SAG & SAGK
These mats can tolerate shallow cuts created by tools when you're profile cutting through engraving plastics, and these mats have a modest tendency to self-heal overnight. Most importantly, the tip of the tool will not break when it
encounters ​the mat.
Most of our customers use one mat for many years -- remember, both
sides ​are useful.