Easy-to-Use Scott® Name Tag Engraving Machines Make
the ​Engraveable Enjoyable
Engrave your own distinctive name tags quickly and efficiently with these easy-to-use Scott name tag rotary engraving machines and ready-made name tag blanks. Pre-attached magnets or pins keep the tags conveniently – and securely ​– fastened.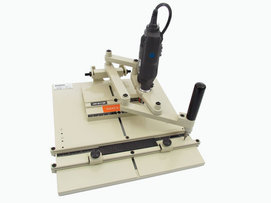 Engraving Minimal Text
with ​Minimal Effort
This compact fixed ratio, entry level engraving machine reliably creates "first name only" name tags, valve tags, pushbutton I.D. plates and other small items with minimal text. It's also handy for variable text of similar lengths (e.g., Mark, Sara, #15-4A, Circuit 7B). Fonts and cutters are color coded so that even novices can engrave ​with confidence.

For the simple facts about this hard-working name tag engraving machine that sits conveniently on the corner of your desk or benchtop, read our handy Manual Engraving Machine Priced Catalog

#SM100B ​- $1,945
Purchase any font with your SM100B ​- $50
Ready to engrave, right out of the box ​- $1,995
#SM100BK - four fonts; 2 cutters ​- $2,195
Delivery: begins shipping ​November 1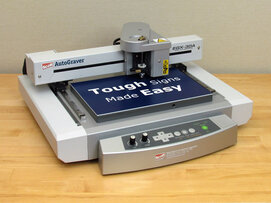 Engraving That's
Computerized ​and Compatible
The Scott AutoGraver® computerized engraving machine is the ultimate in versatility, featuring hundreds of font styles and an almost limitless number of sizes. Use this flexible machine to engrave logos, floor plans, schematic drawings and more for professional-looking results. We've also bundled user-friendly Engravelab software with the machine for trouble-free startup, design and production that even novices find simple ​to follow.

For quality badge engraving that's automatic, visit our ​dedicated site:
Computerized Name Tag Engravers

#SAGK - includes software ​- $4,514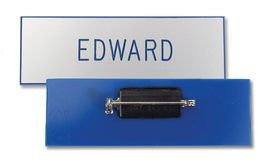 Welcome New Staff with an
Engraved ​Name Tag
When a new person joins your staff, make the first welcome sign an attractive, personalized badge that you can engrave within moments of their arrival. Not just any old type-on-tape badge, but an engraved name tag that accents their ​professional attire.

Here's our popular brushed aluminum surface with crisp ​blue lettering.

Need to look good on a budget? Ready-to-engrave 1" x 3" badge with pin ​attached: $0.90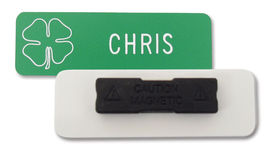 Engrave Logos for
a ​Uniform Look
Put your company on a first name basis! We can convert most logos into a single-line, engraveable "master" that's perfectly fitted alongside your engraved lettering. We'll talk you through every step, so do-it-yourself doesn't ​mean do-it-alone.

And the details --- our 1" x 3" textured, spring green-on-white, rounded corner name tag blank, with a pre-attached magnet, is just $1.95…available with ​quantity discounts.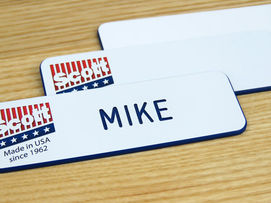 Let's add
your ​full-color logo
Let's share the work. We can provide blank, ready-to-engrave tags. Or let us print your full-color logo and you can engrave the name. Our engraving plastics for name tags are versatile in so ​many ways!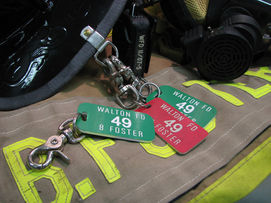 Fire
Department ​Accountability Tags
Sound the alarm for true creative teamwork. We provide the blank, custom-shaped profiles, then you engrave the names and numbers. Simple, efficient and perfect for even spur-of-the-moment rotary ​engraving jobs.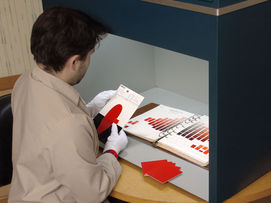 Setting New Standards
for ​Custom Color
Need something beyond our many dozens of standard colors, to match your corporate or university palette? Send us your specifications, and our sign professionals can provide custom-colored name tag blanks in your color and design of choice. We're here to help, in a friendly and ​timely manner.
Because there are so many different kinds of name tags, we offer a variety of textures and surfaces to suit everyone's unique needs. Customers love our Scott Ply™ Metallic Engraving Plastic, with its brushed, ultra-thin surface…for the fine detailing of name badges. Another popular choice? Our Scott Spectrum Brites® Reverse Engraving Plastic that enables you to engrave your letters in reverse, then fill the impressions with your selected colors for a look that always ​draws attention.

And talk about making a good name even better…that's our mar-resistant Scott-Ply Microsurface Engraving Plastic, one of our most versatile plastic surfaces! For added help, we also provide Examples of Engraving to stimulate your imagination. Check us out – you'll find that our reputation for creative name tag solutions is built on more than ​name alone.

Prefer to design your name tags online and have us make them for you? You won't find a better tag team partner. Please visit our name tag ​design site:
Online Name Tag Design & Ordering

See…our service is as versatile as ​our signs!