Scott SignGraver® Engraving Machines - For all signs, labels
& ​name tags
Engraving machines come in many different sizes and designs, for a variety of useful sign-making applications. To make sure you select the right one for your needs, let's compare your ​various choices: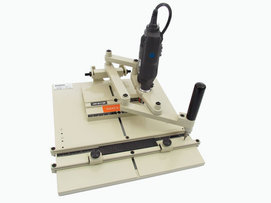 Fixed Ratio
Small ​Engraving Machines
This compact, entry level engraving machine is ideal for creating "first name only" name tags, valve tags, pushbutton I.D. plates and other small items with text of minimal length. It's also handy for changing text of similar lengths (e.g., Mark, Sara; #15-4A, Circuit 7B). Fonts and cutters are color coded so that even novices can engrave with consistency. For the simple facts about this hard-working fixed ratio small engraver that sits comfortably on the corner of your benchtop or desk, see our handy
Priced Engraving Machine Catalog

#SM100B - choose font separately ​- $965
#SM100B1 - includes 3/8" font ​- $1,071
#SM100BK - four fonts; 2 cutters ​- $1,445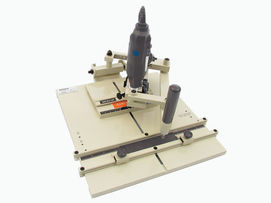 Variable Ratio
Small ​Engraving Equipment
Though almost identical to the fixed ratio model, this variable ratio small entry level engraving machine features a variable ratio arm. It can nicely handle name tags with first and last names, squeeze in extra letters with a smaller font to fit longer words in tight spaces (e.g., James Wollensky) and accommodate extended messaging, such as "Valve 14, ​Pump 3G".

Take a closer look at this ​affordable flexibility.
#SM400 - choose font separately ​- $1,218
#SM400K - four fonts, 2 cutters ​- $1,692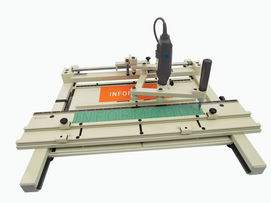 Fixed
Ratio ​Large Engravers
This versatile fixed ratio large engraving performer delivers smooth, consistent results that even newcomers to the process can master. Use this machine when you want to engrave on larger door signs, desk plates, shelf signs in warehouses and other large scale signage up to 10" high x ​18" wide.

#SM300 - choose font separately ​- $1,485
#SM300K - four fonts, 2 cutters ​- $1,960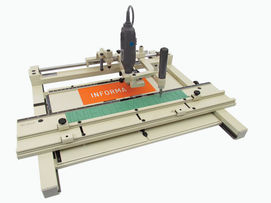 Variable Ratio
Large ​Engraving Machines
The variable ratio arm gives this engraving powerhouse added capabilities for work on large sign blanks and safety signs with technical terms that require some compression (e.g., Low Pressure Return #3). Size up your next engraving job with confidence…and with this smart choice for sign lettering that requires no added space or manipulation. Go ahead...ramp it up for quality ​large-scale engraving.

#SM500 - choose font separately ​- $1,887
#SM500K - four fonts, 2 cutters ​- $2,295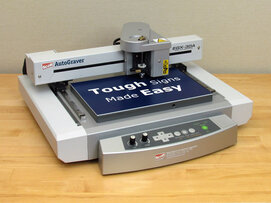 Desktop ​computerized engraver
The Scott AutoGraver® computerized engraving machine is the ultimate in versatility, featuring hundreds of font styles and an almost limitless number of sizes. Use this flexible workhorse to engrave logos, floor plans, schematic drawings and more for professional-looking results. We've even bundled user-friendly Engravelab software with the machine for trouble-free startup, design and production that even novices find simple to follow. For sign engraving quality that's automatic, visit our ​dedicated site:
Scott Computerized Engraving Machines

#SAGK - includes software ​- $4,514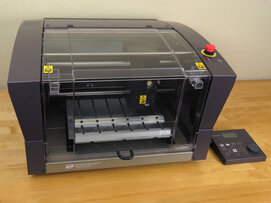 Great Things Come
in ​Small Packages
This is our smallest high-production machine…and what a package! The 5,000-20,000 rpm spindle hums along for lettering and for profiling custom shapes in plastic. With a workplace footprint of 12" by 9" x 1.6", all your tags - even stainless steel engraving metals! - and instruction signs are sure to fit. Learn more about what you can create with hard-working engraving machines such ​as this.
Metals and Plastics Desktop Engraver

Engraving machine and 1-year ​warranty: $6,395
Professional ​software: $299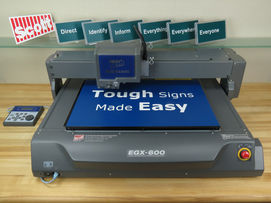 Top-of-the-Line ​High-Volume Engravers
Here's the top end of the Scott-TriPoint® engraving machine lineup. These high-speed EGX-400 and EGX-600 engraving machines can create durable signs, identification panels, warning labels, and instruction panels for any large industrial facility, college campus or hospital. We offer two versions of our straightforward, professional engraving software with a large symbol library. Add in the weather-resistant engraving plastics that we manufacture and fulfill our slogan "Tough Signs ​Made Easy".

#EGX-400 - $10,995
#EGX-600 ​- $13,995
Call about offers for free software & ​engraving plastics.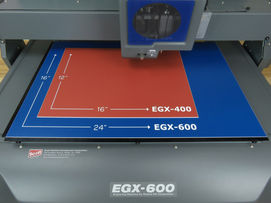 High-output ​engraver comparison
These sign engraving machines differ only in bed size - click the image for a ​closer view.

The other key productivity features are identical on both engravers: high-torque servo motors to swiftly move the head across the work-piece, durable carbide cutters in a high-rpm spindle, and software to layout the entire bed. Low complications, ​high output.

#EGX-400 - $10,995
#EGX-600 ​- $13,995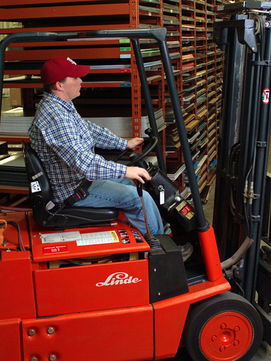 Ready-to-Ship Solutions
Because we manufacture most of what we sell, all of our engraving machines and equipment are always in stock, ready to go. And while you're at it, pick up some engravable ​plastics too!
We have an engraver for every budget and every application -- with all the materials and friendly tech support to ensure perfect results. So engrave- ​and save-today!