SCOTT SIGN-MATE® Plastic Engraved Sign Frames
Enhance ​Facility Signage
Scott Sign-Mate® plastic engraved sign frames add a stylish, professional touch to engraved signs, making it easy to mount them throughout ​your facility.

Engrave your signs on one of our colorful Scott-Spectrum engraving materials, then choose a Sign-Mate frame that perfectly accents ​your message.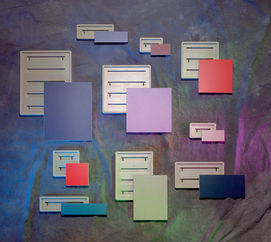 Plastic Sign Frame Colors
That ​Mean Business
Our quality engraved sign frames offer stylish hues that are bold, beautiful…and businesslike. Choose from white, gray, putty, brown, black and – new this year – textured clear mist. The many eye-catching colors in our Scott-Spectrum® line of engraving materials feature a texture and gloss to match the attractive frames. We created them that way so you could create a sharp, uniform look to support your ​company image.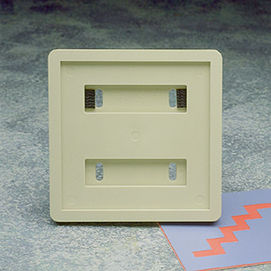 Count the Ways to
Mount ​Sign-Mate Frames
These durable engraved sign frames dress up all your spaces – from walls and doors, to fabric surfaces, metal panels or even ​textured concrete.

We offer a range of easy-to-apply, double-sided tapes for temporary or semi-permanent mounting. Or use screws for permanent installation of your professional-looking frames. Note the slotted screw holes, which allow you to keep your sign square ​and level.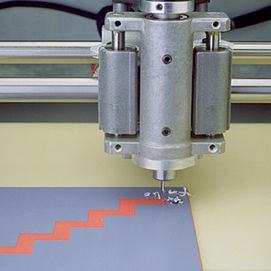 Square-Corner
Panels, ​Round-Corner Frames
Go ahead and engrave your versatile sign panel from 1/16" or 1/18" Scott® engraving materials; either size fits the ​frame, ​picture-perfect.

It's easiest and most economical to prepare sign panels with square corners, so we manufactured these durable office sign frames with square corners inside and round corners outside. The perfect marriage of form ​and function!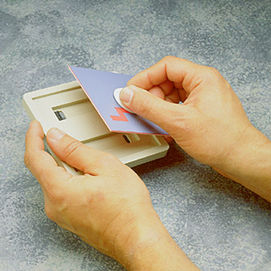 Need a quick change? Install the engraved panel with hook-&-loop fasteners or semi-permanent double-sided tape, and move or replace your wall sign whenever ​you like.

For a more permanent, tamper-resistant sign, attach it with permanent double-sided tape and secure a ​lasting message.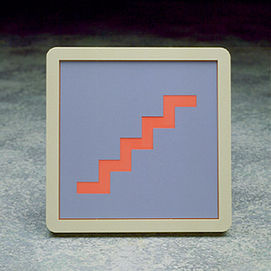 Economical office signs that are
a ​step above
Combine colors and fresh designs, then highlight them in one of our affordable plastic frames, to brighten your facility and heighten ​your message.

Try this ​Budget Balancer
4" x 4" putty ​frame: $5.10
Scott-Spectrum ​panel: $1.26
Total: $7.36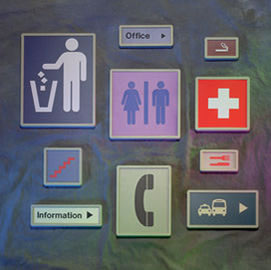 Frames lend
a ​finishing touch
Engraved signs look good, but stylish Sign-Mate frames make them look even better. From numerals to text, colored frames complement them so they stand out and leave an impression. Use engraved sign frames for all of your facilities messaging. You can even color code them by rooms and sections, with five different frame colors and Scott-Spectrum materials in a wide range ​of hues.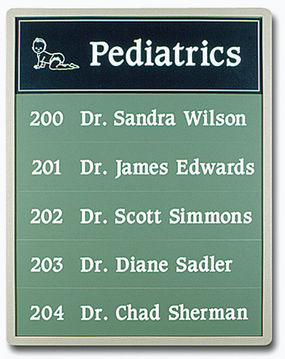 Sign frames make
everyone ​say "Ahhh"
From doctor's directories to factory caution signs, Sign-Mate engraved sign frames are the prescription for quality building-wide signage. They provide a degree of sign protection, too, and attach ​virtually anywhere.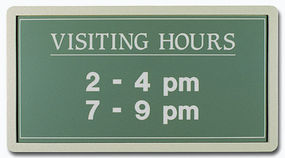 Anytime's the right time
to ​frame it
Simple assembly enables you to put your frame and sign together in seconds, not hours. Give the job to anyone and watch walls, desks and cubicles perk up in a smart, professional way. The handsome neutral colors match ​any environment.

Visit us by phone, 8:30am ​- 5:00pm.

Cost guidance:
Scott Spectrum® textured sign blank, ​4"x8": $2.61
Scott Sign-Mate® textured putty ​holder: $6.30