Make a Sign Statement with
Microsurface ​Engraving Plastic
Scott-Ply™ Microsurface Engraving Plastic is an important member of the versatile Scott-Ply family, the most universally-applicable rotary engraving plastic. Featuring a mar-resistant, ultra-thin surface, microsurface engraving plastic is offered as a 1/16" thick 2-ply sheet or 1/18" thick 3-ply. It's available in a 21" x 50" full sheet – just $42.20 – or a 21" x 25" half-sheet. We also offer popular 2" x 8" blanks and custom shapes. For complete pricing and color selections, please visit or download here our Engraving Plastics Color Charts and Prices.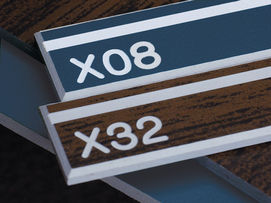 Microsurface Engraving Plastic Edges
Out ​the Others
Especially favored for detail work, microsurface engraving plastic ensures bright white or rich black letters with crisp edges that really stand out. The fade-resistant top colors set over a substrate that doesn't crack or chalk make it a great choice for outdoor use. This popular engravable plastic, available in a wide array of matte colors, handles all machining methods, from beveling and shearing, to punching and corner-rounding. Talk about an all-around performer! For more, ​get the
Complete Engraving Plastics Story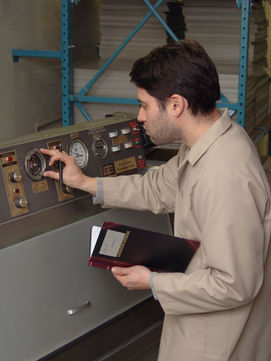 Unconditional Performance
No matter the weather conditions, microsurface rotary engraving plastic passes every test. In fact, we run a series of weather tests for this durable material to make sure it makes the grade. Not surprisingly, it's one of our most popular outdoor ​engraving plastics.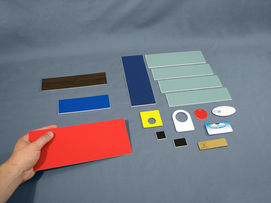 Some clients prefer to purchase their sign blanks ready-to-engrave, whether pre-cut as rectangles or shaped into a custom form. Our profiled shapes run the gamut of uses, from oval name tags, to push-button labels, valve tags, instrument panels or any number of signs and messages. Standard 2" x 8" blanks for your rotary engraver are popular too, especially at just ​$1.13 each.
Microsurface engraving plastic, also known as "hot-stamped engraving plastic," gives you plenty of great sign-making options. Call us for suggestions, and we'll answer in person by the ​fourth ring.