Make a Sign Statement with
Microsurface ​Engraving Plastic
Scott-Ply™ Microsurface Engraving Plastic is an important member of the versatile Scott-Ply family, the most universally-applicable rotary engraving plastic. Featuring a mar-resistant, ultra-thin surface, microsurface engraving plastic is offered as a 1/16" thick 2-ply sheet or 1/18" thick 3-ply. It's available in a 21" x 50" full sheet – just $42.20 – or a 21" x 25" half-sheet. We also offer popular 2" x 8" blanks and custom shapes. For complete pricing and color selections, please visit or download here our Engraving Plastics Color Charts and Prices.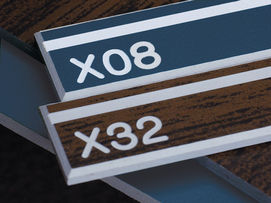 Microsurface Engraving Plastic Edges
Out ​the Others
Especially favored for detail work, microsurface engraving plastic ensures bright white or rich black letters with crisp edges that really stand out. The fade-resistant top colors set over a substrate that doesn't crack or chalk make it a great choice for outdoor use. This popular engravable plastic, available in a wide array of matte colors, handles all machining methods, from beveling and shearing, to punching and corner-rounding. Talk about an all-around performer! For more, ​get the
Complete Engraving Plastics Story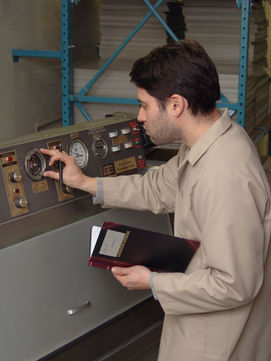 Unconditional Performance
No matter the weather conditions, microsurface rotary engraving plastic passes every test. In fact, we run a series of weather tests for this durable material to make sure it makes the grade. Not surprisingly, it's one of our most popular outdoor ​engraving plastics.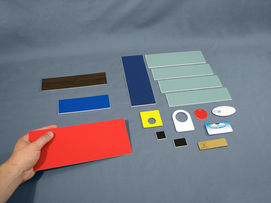 Some clients prefer to purchase their sign blanks ready-to-engrave, whether pre-cut as rectangles or shaped into a custom form. Our profiled shapes run the gamut of uses, from oval name tags, to push-button labels, valve tags, instrument panels or any number of signs and messages. Standard 2" x 8" blanks for your rotary engraver are popular too, especially at just $1.13 each. Our online Engraving Plastics Store can assist with your ordering and ​purchasing decisions.
Scott Machine is your most resourceful source – with our versatile selection of sign shapes, surfaces and assorted accessories. Besides our popular microsurface engraving plastic, we offer many other appealing options such as Scott Ply™ Metallic Engraving Plastic for fine detail and drawing, Scott-Spectrum® Textured Engraving Plastic for durability in high-traffic areas, or easy-to-clean Scott-Grave® Satin Engraving Plastic for all types of uses and environments. We even feature Scott Spectrum® Reverse Engraving Plastic for an entirely different side of the ​engraving story.

Our economical pricing ensures that sign engraving doesn't have to mean big dollar signs. Why not check out Scott Machine's Engraving Plastics Color Charts & Prices to see how we can meet your needs and budget. And if you think Engraving Examples could help spark new ideas, we can supply ​those, too!


Factory Direct Pricing Sheets & ​custom-cut pieces

An overview of some of our most popular engraving materials and prices appear below. For more information, download our priced color chart that explains your choices and includes tips and tricks to make your ​engraving easier.

Scott-Ply Colors - 2 ply, 1/16" ​thick $42.20
X01KS-2P16 Scott-Ply Black/White 1/16 2Ply
X02KS-2P16 Scott-Ply White/Black
X03KS-2P16 Scott-Ply Red/White
X06KS-2P16 Scott-Ply Yellow/Black
X08KS-2P16 Scott-Ply Sapphire Blue/White
X17KS-2P16 Scott-Ply Smoke Gray/White
X18KS-2P16 Scott-Ply Smoke Gray/Black
X25KS-2P16 Scott-Ply White/Red
X26KS-2P16 Scott-Ply White/Blue
X70KS-2P16 Scott-Ply Apple Green/White

Scott-Ply Woodgrains - 2 ply, 1/16" ​thick $45.00
X31KS-2P16 Scott-Ply Walnut/White
X32KS-2P16 Scott-Ply Oak/White
X33KS-2P16 Scott-Ply Presidential Birch/White
X01KS-2P16-A Scott-Ply Black/White With Adhesive
X02KS-2P16-A Scott-Ply White/Black With Adhesive
X03KS-2P16-A Scott-Ply Red/White With Adhesive
X06KS-2P16-A Scott-Ply Yellow/Black With Adhesive
X08KS-2P16-A Scott-Ply Sapphire Blue/White With Adhesive
X17KS-2P16-A Scott-Ply Smoke Gray/White With Adhesive

Scott-Ply Metallics - 2 ply, 1/16" ​thick $61.00
X43KS-2P16 Scott-Ply Brushed Brass/Black
X44KS-2P16 Scott-Ply Brushed Aluminum/Black
X45KS-2P16 Scott-Ply Brushed Aluminum/Blue
X46KS-2P16 Scott-Ply Polished Gold/Black
X47KS-2P16 Scott-Ply Polished Silver/Black
X52KS-2P16 Scott-Ply Granite/White

Scott-Ply - 3 ply, 1/8" ​thick $68.90
X01KS-3P08 Scott-Ply Black/White
X02KS-3P08 Scott-Ply White/Black
X03KS-3P08 Scott-Ply Red/White
X06KS-3P08 Scott-Ply Yellow/Black
X08KS-3P08 Scott-Ply Sapphire Blue/White
X17KS-3P08 Scott-Ply ​Smoke Gray/White


Microsurface engraving plastic, also known as "hot-stamped engraving plastic," gives you plenty of great sign-making options. Call us for suggestions, and we'll answer in person by the ​fourth ring.