C2-125-030K solid
carbide ​engraving cutter
These C2-125-030K engraving cutters, with Scott Machine's own Omni-Grind™ geometry, provide a precision relief angle that ensures clean-edged, swirl-free letters in all engraving plastics, for virtually all types of engraving machines and ​cutting speeds.

Call us – yes, a real person will answer – and place your plastics order today with cutters. To buy this and other cutters, you can also visit our Engraving Cutters Store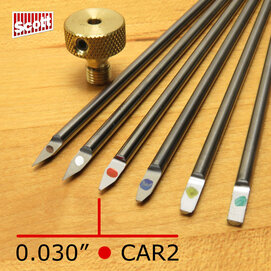 Engraving ​Cutter Specs:

Regular Price - $20…Free with custom-cut plastics purchase of at ​least $50

Length: ​4 1/2"
Diameter: 1/8"
Tip ​Width: 0.030"

Material and Geometry: Precision-ground solid micrograin carbide (superior to ​carbide ​"tipped")

Application: Excellent choice for single-line 1/4" lettering, or for multi-line "filled" or TrueType letters measuring approx. 1/2" height. Great for less detailed or larger logo fills, as well as single-line name tags and ​small signs.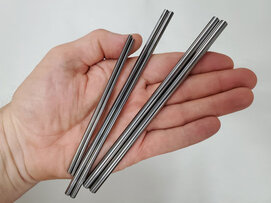 Solid Carbide
Means ​Steady Performance
Made of solid carbide, Scott Machine C2-125-030K engraving cutters offer several key advantages. One of the hardest materials in existence, carbide is known for its impact resistance, overall toughness and resistance to abrasions and rust. In similar conditions, it can last many times longer than steel. As such, it is the most stable and reliable cutter material available. While some cutters are carbide-tipped, Scott Machine engraving cutters, such as the C2-125-030K, feature carbide rods that never bend, so that sharpening them produces a "like new" cutting edge ​every time.
What is Scott Omni-Grind™ cutter geometry?

Scott Omni-Grind™ geometry is our own cutter-tip technology, which provides the C2-125-030K with a cutting edge that performs reliably, and precisely, across the full line of Scott engraving plastics and many others. As a result, you require fewer cutters when cutting different types of plastics and avoid dealing with an abundance of ​cutter geometries.


Why are solid carbide cutters superior to carbide "tipped" cutters?

It's simple: Carbide-tipped cutters are primarily made of steel, while solid carbide cutters like our C2-125-030K feature a carbide rod that is immune to bending. Also, set-screws that hold the cutter in the engraving machine spindle knob can eventually scar a steel-shank cutter, making it more difficult to slip into and out of the spindle. Additionally, standard steel cutters can develop a fine coating of rust if left unused for awhile, whereas solid carbide cutters are susceptible to neither of ​these problems.


American-made quality from Scott Machine Development Corp.

For nearly 60 years, Scott Machine has proudly manufactured products from our upstate New York factory. You can rely on us for replacement cutters, consistent colors of plastics, spare parts and technical expertise with American know-how. Our factory-direct sales policy ensures that you are always dealing with one ​reliable source.

We welcome your inquiries and quote requests. Just email us or, better yet, call us at 607-865-6511, between 8:30am-5:00pm ET, weekdays. We answer in person with a friendly voice, by the ​4th ring.