Showcase your logo beneath an
eye-catching ​clear dome.
Don't just greet new friends or customers...dazzle them with Scott ColorDome® name tags that blend color and congeniality into the perfect introduction. Our powerful website puts you in control, allowing you to review thousands of vibrant selections or design a custom domed name badge that lets your people and your company shine. In fact, turn our site into your own private workshop, then order as many as you like. Again ​and again.

Go ahead - get started by choosing from our almost limitless designs online: Online Design for ColorDome Name Tags

Or send us your logo and we'll create a secure, custom web page where you can order - and re-order - in just a ​few clicks.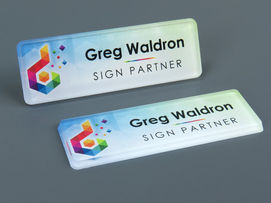 Give Your
Image ​More Impact
Consider this approach to manufacturing an eye-catching domed name tag - where less is actually more. Less distraction from busy borders leads to more image space, and ultimately more impact for that initial introduction. We print your design beneath a water-clear acrylic panel, then machine a flawless, round-corner beveled edge to create a soft ​visual frame.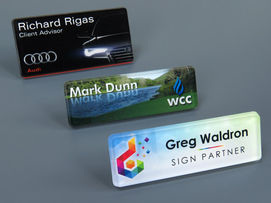 Room to
make ​an impression
Great names are made, not born. For yours, start with these popular rectangular, domed name badge sizes. Our most popular 1" x 3" presents your logo with room for a name and title too. To distinguish your staff from your guests, the 1 1/2" x 3" tag adds just enough size to gain attention without detracting from ​professional attire.

Budget guidance (call for ​volume discounts):
1" x 3": $12, ​with magnet
1 1/2" x 3": $13 ​with magnet

Design and ​order online:
Online Design for ColorDome Tags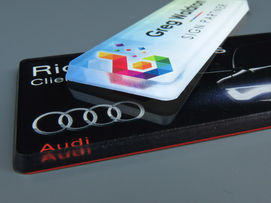 Cutting edge
name ​tag design
For these name tags, the message is innovation! We machine a flawless, beveled edge along the sides and around the corners, enhancing but never intruding on the design. Add a fabric-friendly magnet to hold your domed name tag flat against the fabric - it's the ​perfect look.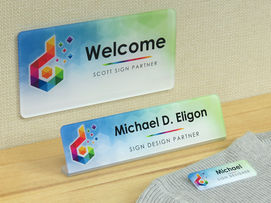 Expand
That ​Personal Touch
Continue your creativity from name tags to domed desk name plates, door signs and wall signs. Personal and corporate identity can be artfully blended in spaces where both are essential. See more vibrant ColorDome® ​examples here:
Examples of Reverse-Printed Acrylic Signs

Learn how our sign partnership can stretch your designs from tags to signage, and discover more about how we make the bright, contemporary nameplate shown to ​the left:
ScottSignPartner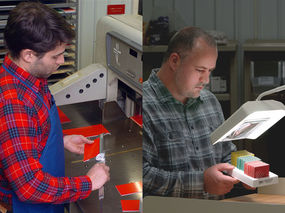 Examine us in the light - we
make ​it right!
Scott Machine is your complete sign partner, featuring our modern machine shop, color-matching capabilities and a solid business reputation that extends ​55 years!

Need to reach us? Call us, and we'll answer in person - by the 4th ring. We think you deserve that kind ​of respect.
Our secure e-Badge Design client pages enable you to design and re-order simply, reliably and consistently. In fact, any staff member of yours who has your password can order badges in just a few easy clicks. So don't just consider the cost of the name tag itself; factor in the cost of ordering and re-ordering, and you'll see that Scott Machine gives you more selection, more control – all at ​less cost.

Start choosing today from thousands of ​designs online:
Online Design for ColorDome Tags