Custom color engraving plastic - Another brilliant
sign ​idea! ...
Don't idle along with neutral colors for signs when you can rev up your signpower with custom color engraving plastics. Custom cut to size, they're instantly ready to rotary engrave on even entry ​level engravers.

Speak in more colorful language with Scott-Spectrum Match® engraving plastics that add a pleasant accent to your offices ​and workstations.

We've been manufacturing Spectrum™ engraving materials since 1988 - and they keep getting better. See for yourself in our informative Engraving Plastics Store.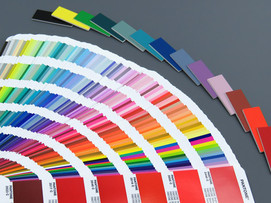 Unlimited colors as
easy ​as 1-2-3
Want bright, bold colors? Just follow these simple steps to create Scott Spectrum Brites® ​engraving plastics:

(1) Pick your colors from a Pantone swatch book printed CMYK on "glossy coated stock." Usually your engraved lettering will be white, so avoid pastels and select ​strong colors.
(2) Tell us your choices and sizes for your sign blanks; we'll create samples of Scott-Spectrum Match® engraving plastic, just $50 ​per match.
(3) After you approve your color samples of engraving plastic, we'll even cut and bevel your Spectrum™ sign blanks to size, at merely 50% above our ​usual prices.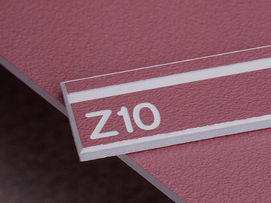 Get a Feel for Our
Textured ​Engraving Plastic
Talk about resourceful…our Scott Spectrum® textured engraving material touches all the right buttons for non-glare, fingerprint-resistant performance. Its micro-thin engraveable plastic surface makes it suitable for rotary engraving small letters and ​fine lines.

Available in a wide range of standard colors - and now custom too - this flexible textured engraving material likes to spend time outdoors as well ​as in.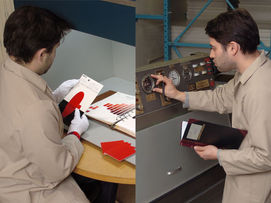 Make a match - look over the shoulder of one of our color-matching technicians as he compares a sample to a book of standards, in a light-booth that can simulate office and ​outdoor lighting.

Make it last - our Spectrum™ engraving plastics are exposed to ultra-violet light, heat and water. It's our way of ensuring that a match that looks good today on your office walls will look just as vibrant years ​from now.
To get your perfect color, start by printing color charts of our many standard engraving materials and see if we already have the color you need. If not, then use your Pantone "coated stock" swatch book to select a CMYK custom color. Download our priced color charts: Engraving Plastics Color Charts & Prices

Pricing example for 100 (minimum) pieces, 2" ​x 8":
Standard Z61 Ocean Blue/White: $1.26 each x 100 ​= $126.00
Custom Blue/White: $1.26 + 50% = $1.89 x 100 ​= $189.00
One-time match ​price: $50.00

At Scott Machine, we're about more than great color selections. You can also choose many great sign surfaces to suit your application and environment. For instance, if you're displaying your signage in high temperature areas, check out our heat-resistant Scott-Rigid™ Engraving Plastic. And fine, detailed lettering will look extra nice on Scott Ply™ Metallic Engraving Plastic. Installing signs in well-traveled, high-traffic areas? Then you'll like the results on Scott-Spectrum® Textured Engraving Plastic.

We have it all for you. So why not view our Engraving Examples for other suggestions and imaginative ideas...and make your sign color and content easy to see, hard ​to forget.