Engrave Durable, Legible Signs with
Rigid ​Engraving Stock
Norplex-Micarta engraving stock, comprised of fire-resistant melamine and phenolic resins, is a high-pressure composite material popular for engraved signage in combustible, high heat environments. The material's surface is matched to a contrasting color core to enable sharp, easy-to-read lettering. Scott Machine offers this durable engraving stock in numerous combinations differentiated through five decorative surface colors, white or black core colors and a Lamicoid ​matte finish.

This rugged 3-ply material is available in thicknesses of 1/8" and 1/16", in full 18"x 38" full sheets or 18"x 19" half-sheets. We can also saw to your specs as sign blanks or profile cut it for use as pushbutton labels, equipment panel I.D.'s and ​other applications.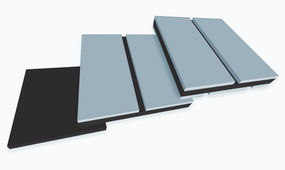 Meeting the Standards
of ​ASTM D709
Reliable Norplex-Micarta stock meets ASTM D709 specifications for laminated thermosetting materials that feature two or more plies of reinforcing material bonded by a thermosetting synthetic resin. Because it does not melt like thermoplastic materials, you can use this melamine laminate to produce attractive multi-colored signs, plaques and nameplates in areas like public buildings where high temperatures and fire safety are big concerns. The material's Lamicoid Satin, or flat matte, surface ensures a professional look that's easy ​to maintain.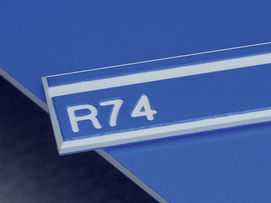 Signage That's
Tough ​to Resist
When you need to beat the heat, the choice is rugged and rigid Norplex-Micarta phenolic engraving stock that rises to the occasion along with the temperatures. Use this popular heat-resistant engraving material for pipe markers, valve tags and electrical control panels in engine and boiler rooms…or wherever hot environments are ​an issue.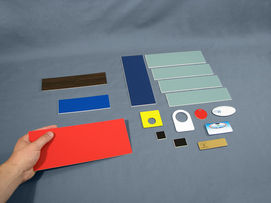 Special Shapes
Are ​Our Custom
Need a custom shape to make your message stand out or fit a certain space? Scott Machine will saw your materials for you – into popular blanks or special profiles that fit your exact needs. Our flexible options give you plenty of room for creativity with your rigid plastics. So let us help you size up ​your situation.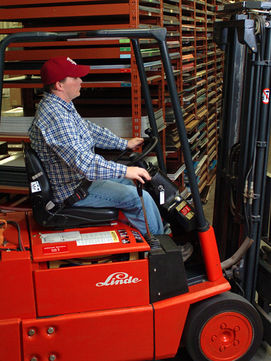 Our Shop Ships
Right ​to You
Tough Norplex-Micarta phenolic engraving stock is easy for us to ship, directly from our factory in upstate New York. Our experienced plant personnel make sure your order gets our full attention, from the time it leaves our warehouse till it arrives safely at ​your door.
Keep in mind that Norplex-Micarta engraving material is also an excellent substrate for vinyl letters. For more engraving stock tips and information, read our Friendly Tips Section after your download the Engraving Plastics Color Chart and Prices – and take advantage of all the different benefits of this durable stock.
It's American-made and delivered with friendly customer service, from ​Scott Machine!