AutoGraver 20 - Desktop Engraving
Amplified ​& Simplified
Welcome to a new age of desktop engraving with the Scott AutoGraver-20®. It's the easiest, most efficient system yet for producing identification plates up to 6" x 8". This versatile machine easily engraves rugged instruction panels, warning signs, lamp and switch bezels…valve tags too! Designed for maximum ID panel output, the Scott AutoGraver-20® delivers a coordinated three-pronged ​engraving solution:

(1) AutoGraver-20® Rotary Engraver: This engraving powerhouse changes the corner of your workbench into a productive ID ​plate factory.

(2) Coordinated Custom Shaped and Sized Blanks: We'll make the blanks; you simply letter them. Our tough, weather-resistant engraving plastics, sold as sheets and custom-cut blanks, keep your ​jobs moving.

(3) Synchronized Easy-to-Learn Software: Centered around your work, this intuitive software helps minimize the time between preparing and actually engraving your plate. Talk about a triple ​threat performer!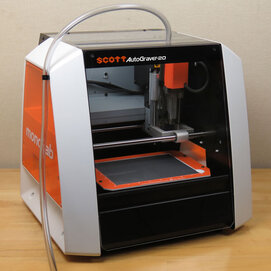 (1) The Scott
AutoGraver-20® ​Desktop Dynamo
This hard-working machine does it all, quietly and safely, behind its clear, sound-absorbing front door. Look at all the great features for ​enhanced engraving.




Smooth-running spindle for clean-edged small lettering

and ​profile cutting




6" x 8" work area with a raised frame to ensure

rapid ​parts alignment




Press-&-stick tacky work surface means no time wasted with

screws ​and clamps




Sturdy collet with ultra-sharp 1/16" long-life carbide blade

for ​reliable cutting




Clear vacuum line attached to base of spindle for connection to our optional noise-nullifying vacuum or your own vacuum system (a vacuum is strongly recommended to minimize clean-up

time ​between jobs)




USB cable

for ​easy connection






#SAGK-20 No options, ​ready-to-go: $4,499.00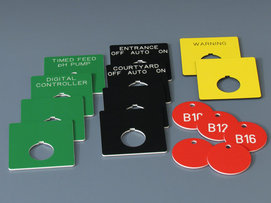 (2) Coordinated blanks -
ready ​to engrave
Instead of blank stares, our custom-size blanks evoke smiles for their simplicity and productivity. A dozen popular "safety" colors in 1/16"-thick material keep it simple, while the ready-to-engrave blanks also help you stay productive. Clients love that we manufacture our own tough, weather-resistant engraving plastics in sheets, half-sheets and even 6" x 8", coordinated to the engraver's bed, ready for custom lettering including ​your logo.

Providing blanks is our job – which makes your job of engraving them more efficient. Scott Machine is a one-stop shop for all of your signage supplies! Request free samples

And how's this for balancing ​your budget?
Various blank legend plates: ​about $1.00
(3) Integrated software - Templates for any
job, ​any blank
Advanced software that handles every job makes this a coordinated effort from start to finish. Our free template library matches the common sizes of engravable blanks and properly aligns them and their layouts with the machine bed. This ensures professional labels that identify your valves and equipment panels with clear, legible lettering ​every time.

Though we're always there to help in person, we've written a concise quick-start guide that should have you engraving your first job within an hour of opening the box. And we have ample training ​videos too.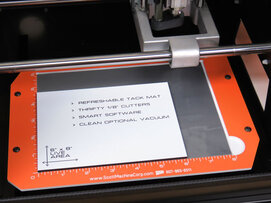 No clamps, screws or vises --
press ​and go!
Nothing to get "uptight" about here…just simply press your blank plastic panel into the lower left of the worktable frame. The gray tack-mat surface instantly grips and never slips. No need to turn another clamp or vise, no need to waste ​another second.

There's a convenient vacuum shroud around the cutter that draws away plastic chips while engraving. Just connect the hose to your shop vacuum system or to our optional vacuum for a clean sweep ​between jobs.

Clearly, the Scott AutoGraver-20® can save you a few seconds for each engraved panel, several panels every day, five days every week. And those seconds soon ​become hours!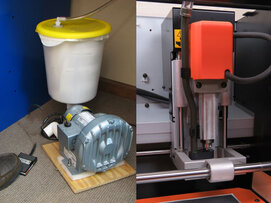 Clean, quiet chip
removal...a ​real time-saver
The AutoGraver-20® includes a vacuum shroud that surrounds the cutter to draw away plastic chips created while engraving. Just connect the hose to the optional vacuum-blower shown on the left side of ​this photo.

From time to time, merely empty the chips from the white collection bucket and replace the ​paper filter.

Avoid noisy shop vacs; tuck this quiet unit under your bench for greater noise suppression. The wood base further absorbs the sound and helps negate vibration. Simply toggle the blower on and off with the ​foot switch.

#SAGVAC Vacuum ​system: $945.00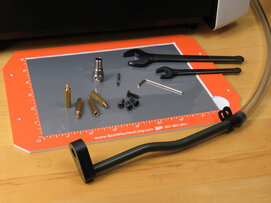 Everything You Need Is
in ​the Box
Ready to go, right out of the box, AutoGraver-20® needs no options for engraving. The machine's specs appear at the bottom of the page. Here are the details of the installed ​engraving accessories:

Engraving tools: 1/8" collet with ​set screw
▫ Ultra-sharp 1/8" shank, 1/32" tip, long-life ​carbide cutter
▫ Collet wrenches and set ​screw wrench

Worksurface: Pocketed frame for quick alignment of blank at (0,0) ​corner coordinates
▫ Tack-mat with approximately ​30 sheets
▫ Standoff hex spacers & button ​head screws

Chip removal: Integrated vacuum shroud and ​short hose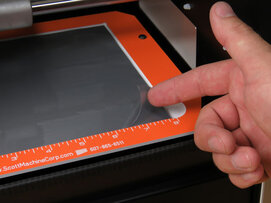 Refreshable Tack-Mat
Keeps ​On Sticking
All it takes is a little finger-pressure to set the Scott blank plastic plate into place on your work surface, for a reliable grip while engraving. No screws or ​clamps required.

While engraving, the vacuum draws away most of the chips. So when you're finished, just lift the engraved part off the mat. Over time, as the mat loses its adhesive properties due to an accumulation of fine plastic engraving dust, you simply raise the corner and peel away the top sheet to expose a fresh, ​high-tack surface.

This novel refreshable tack-mat is yet one more way we minimize your seconds spent between ​engraving jobs!

#HDM-20 Refreshable tack mat ​pad: $30.00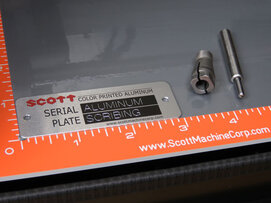 Scribing - Where The Beauty Is
in ​the Details
Ready to do fine, detailed lettering? Use our quality scribe, a spring-loaded diamond tipped tool. Unlike an engraver cutter, it doesn't rotate. Instead, it rides on the surface and creates a deep scratch, or "scribe line", in soft metals like aluminum serial number plates and brass ​valve tags.

Let us prepare aluminum serial plates with your logo and custom layouts. You use the versatile scribe to create fine, single-line letters directly on the aluminum, or scribe through the printed black zones for high-contrast lettering. Interested? Request a sample.

The scribe tool has a 1/4" diameter shaft and requires a mating 1/4" collet. These two items are offered separately from the ​AutoGraver package.

#COL250 ​Collet $65.00
#DDT-20 ​Scribe $45.00
Basic SRM-20 Machine Specifications (Excluding ​AutoGraver-20 enhancements)

Dimensions




X, Y, & Z Operation Strokes: 8 (X) x 6 (Y) x 2.38 (Z) inches, 203.2 (X) x 152.4 (Y) x

60.5 ​(Z) mm




Workpiece table size: 9.14 (X) x 6.17 (Y) inches, 232.2 (X) x

156.6 ​(Y) mm




Distance From Collet Tip to Table: Maximum,

5.15 ​in (130.75mm)






Materials




Cuttable Material: Engraving plastics, modeling wax, chemical wood, foam, acrylic, poly acetate,

ABS, ​PC board




Loadable Workpiece Weight:

4.4 ​lbs (2kg)






Performance




X, Y, & Z Axis Drive

System: ​Stepping motor




Operating Speed: 0.24 – 70.87inch/min,

6 ​– 1800mm/min




Software Resolution: 0.000039 inches/step (RML-1), 0.000039 inches/step (NC code), 0.01 mm/step (RML-1),

0.001mm/step ​(NC code)




Mechanical Resolution: 0.0000393

inches/step, ​0.000998594 mm/step




Spindle Motor: DC

motor ​Type 380




Spindle Rotation Speed:

Adjustable ​3,000–7,000 rpm




Cutting Tool

Chuck: ​Collet method




Interface: USB


Control Command Sets:

RML-1, ​NC code




Power

Requirements: ​DC24V, 2.5A,




Dedicated AC adapter: AC

100-240V ​±10%, 50/60Hz




Power

Consumption: ​Approx. 50W




Operating Noise: During operation: 65 dB (A) or less

(when ​not cutting),


during standby: 45 dB

(A) ​or less




External Dimensions: 17.76 (W) x 16.80 (D) x 16.78 (H) inches, 451.0 (W) x 426.6 (D) x

426.2 ​(H) mm




Weight: 43.2

lbs, ​19.6 kg




Installation Environment: Temperature of 41 to 104 °F (5 to 40°C), 35 to 80% relative

humidity ​(no condensation)






Included Items for basic SRM-20:




USB cable, AC adapter, Power cord, 1/8" Milling tool & 6mm Collet (not for engraving), Set screw, Spanners (7,10mm / 0.28, 0.39 inches), Hexagonal wrench (size 2,3 mm / 0.059, 0.12 inches), Positioning pins, Double-sided tape, Start-up

page ​guidance card






The AutoGraver-20® is extremely versatile. If you're doing fine, detailed engraving work, you'll get great results on Scott Machine's Scott Ply™ Metallic Engraving Plastic, featuring a brushed, ultra-thin surface. One of our most versatile engraving surfaces is Scott-Grave® Satin Engraving Plastic, which is easy to clean and applicable for all types of environments. We even feature rugged, heat-resistant Scott-Rigid™ Engraving Plastic for those display areas beset by ​challenging conditions.

If you're not sure which engraving plastic is best for you, why not take a moment to view our various Engraving Examples that can give you an even better idea of your options. From Custom Color Engraving Plastic to in-house Engraving Services and more, Scott Machine is dedicated to engraving that makes a ​lasting impression!