AUTOGRAVER 8/6 – NEW DIMENSIONS IN
SMART ​DESKTOP ENGRAVING
The new Scott AutoGraver 8/6 desktop engraving machine delivers the easiest, most efficient method for creating identification plates up to 8" wide x 6" high. Engrave durable instruction panels, warning signs, lamps and switch bezels…even critical valve tags! You'll get maximum ID panel output with the AutoGraver 8/6 machine, thanks to this triple-force ​engraving solution:

1) AutoGraver 8/6 Rotary Engraver – This multi-faceted engraving workhorse turns your workbench corner into a productive ID ​plate-making plant.

2) Custom Shaped and Precision-Sized Blanks – We'll produce the blanks for you, whatever you need. Our durable, weather-resistant engraving plastics, sold as sheets and custom-cut blanks, move your jobs into the ​fast lane.

3) Work-Centric, Easy-to-Grasp Software – Designed around your work, our highly compatible software dramatically reduces the time between preparation and actual plate engraving. There's no messing, ​no guessing!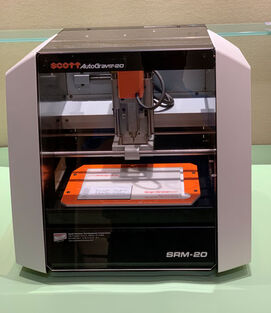 (1) MAKE DESKTOP MAGIC
WITH ​AUTOGRAVER 8/6
This quiet, versatile machine engraves with precision, behind its clear and secure sound-absorbent casing. Count all the ways that AutoGraver 8/6 makes quality engraving fast ​and simple.

• Tried and true spindle facilitates clean-edged small lettering and
profile cutting.

• Raised 8" wide x 6" high work area expedites smooth ​parts alignment.

• New, removable GripNGraver nano-technology engraving mat holds everything in place for more ​consistent engraving.

• Sturdy collet houses ultra-sharp 1/16" carbide blade, ​for reliable
cutting, even with ​prolonged use.

• Popular USB cable provides easy, ​dependable connection.

#SAG-8x6 $4,499.00
Learn more about Training & Support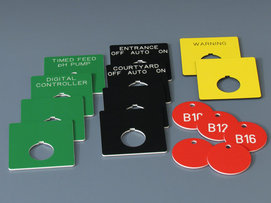 (2)
READY-TO-ENGRAVE ​CUSTOM BLANKS
Our blanks are customized and custom-sized to enhance your engraving productivity. Choose from a dozen eye-catching "safety" colors in 1/16"-thick material, or select from our wide assortment of standard ready-to-engrave blanks. We also manufacture our own durable, weather-resistant engraving plastics in sheets, half-sheets and even 6" x 8" sections, perfectly fitted for this engraver's bed…and ready for your special message ​or logo.

Request a free sample of exactly what you can produce on ​this engraver.
(3) INTEGRATED SOFTWARE – TEMPLATES THAT
GUIDE ​THE WAY
Fully coordinated software simplifies every job, from beginning to end. We include a free template library that stores the common dimensions of engravable blanks and precisely matches them and their layouts with the machine bed. This results in legible, highly professional-looking labels that clearly describe your valves and equipment panels – each and every one ​of them!

Though we're cheerfully available to assist in person, we've compiled an easy-to-follow quick-start guide that should have you engraving within minutes of opening the box. You'll find lots of good information in our training ​videos, too!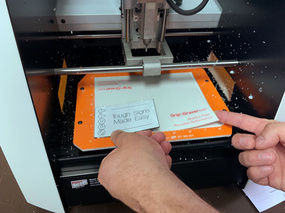 RESIDUE-FREE MAT
HOLDS ​IT FLAT
Everything stays in place for precision engraving, with our new GripNGraver nano-technology engraving mat. Removable, reusable and residue-free, GripNGraver works equally well on plastics, as well as metals…where you want to scribe or burnish. Your Scott AutoGraver 8/6 machine arrives from the factory with a GripNGraver mat already on the bed, so you can produce better quality tags and plates, with more consistency and ​less effort.

Watch this 30-second GripNGraver mat demo.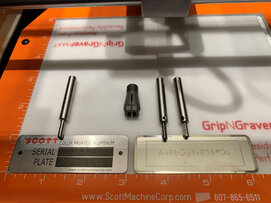 SCRIBE or Burnish -
FOR ​LETTER-PERFECT RESULTS
Scott Machine's high quality spring-loaded, diamond-tipped scribe and burnisher deliver fine lettering of intricate detail. Unlike an engraver cutter, the non-rotating scribe rides on the surface. This produces a deep scribe line in soft metals such as those used for brass valve tags and aluminum serial number plates.

Our burnishing tools, offered in two different diameter tips, spin at a high speed to create the kind of fine, single-line letters and logos on metal name tags that accent ​career apparel.

These professional tools are available in our Cutters Store.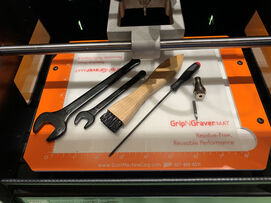 WE HAVEN'T
FORGOTTEN ​A THING...
Everything you need to start engraving is right there in the box. AutoGraver 8/6 comes complete, with all of the ​following accessories:

Engraving Tools:
1/8" collet with ​set screw
Ultra-sharp 1/8" shank, 1/32" tip, long-lasting ​carbide cutter
Collet wrenches, set screw wrench & ​no-scratch brush

Worksurface:
Pocketed frame for rapid blank alignment at ​corner coordinates
Removable GripNGraver ​tacky mat
Standoff hex spacers and ​button-head screws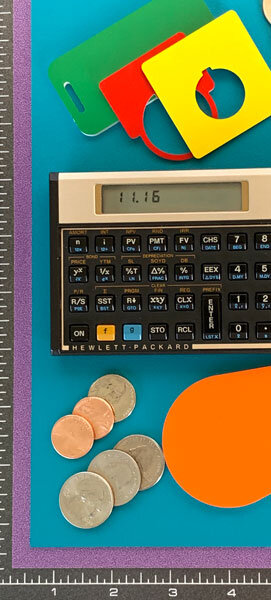 Build a Budget
for ​AutoGraver 8/6
At a glance, here's a ​comprehensive budget.

AutoGraver 8/6
Professional engraving software included ​(3 licenses)
0.015" engraving cutter & collet ​- installed
GripNGraver tack mat ​- installed
Sample materials - one sample installed and ​partially engraved
Complete engraving system: ​#SAG-8/6 $4,499

Optional Vacuum
High suction; narrow flex tube; strongly encouraged for cleaning chips from inside mechanism - Show Me
#SAGVAC $945.00

Budget
Total: $5,444

One Hour Training
Purchased with machine: ​#TF $125
Purchased after shipment: ​#TFS $175
Read more about Training & Support

Tools for Lettering on Plastics or Metals
See our cutters, burnishing tools and scribe in the Cutters Store.
Budget about $60 for ​spare tools.

Wide Range of Engraving Plastics
We make our own Scott-Ply universal engraving plastic. Consider your options in our Plastics Store.

Consumable Items
This machine is reliable and requires no spare parts and no maintenance, other than vacuuming to remove stray bits of plastic. We recommend that you keep a spare cutter on-hand and ample pre-cut engraving ​plastic blanks.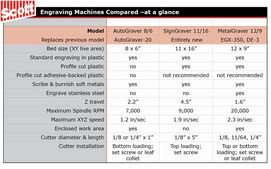 MAKE THE RIGHT CHOICE WITH
THIS ​HELPFUL CHART
The Scott AutoGraver 8/6 machine is ideal for engraving signs of modest size, less than 8" wide x 6" high. When you think about it, that covers a lot of signs: for doors, cubicles, fronts of cabinets and more. And don't forget valve tags, scribe serial number tags or burnished name tags. If your signs and labels fit within 8" x 6" and you're producing a moderate quantity each week, this is the best choice among our three machines ​for you.

Visit our Compare & Choose page.



Click to ​expand chart.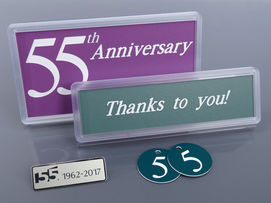 62 Years and
Still ​Manufacturing Strong
When you're making an investment in engraving equipment, staff training and materials, work directly with a manufacturer who will protect that investment. For 62 years, Scott Machine has done it gladly, providing engravable plastics of varied and consistent colors, replacement cutters, spare parts and technical knowledge to keep you on the cutting edge of metal engraving and all kinds of quality ​sign making.

And we still answer in person by the 4th ring: 607-865-6511, 8:30am-5:00pm ​ET, weekdays.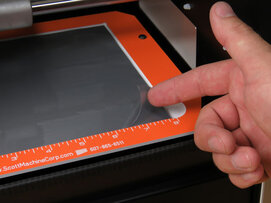 AutoGraver 8/6 Enhancements
- ​August, 2023
(1) The gray pad of multiple sheets of tacky film (shown here) has not reliably gripped some of the items that our clients engrave. In response, we have developed a completely new GripNGraver™ tacky mat that is more rigid and more effective. It's also very flat, to ensure engraving at a consistent depth across the bed. The new mat is slightly thicker than the tacky film pad, thus you will have to adjust your Z0 ​surface height.

Watch this 30-second GripNGraver mat demo.

To see this mat installed, please Scroll Up.

Item #: GNG-8/6 $155 --- shipments begin ​late August

(2) The integrated vacuum has been removed; the shroud around the spindle impeded cutter changes and obscured the operator's view of the engraving. Please continue to use our high-suction vacuum to effectively remove chips from the tacky surface; given the low volume of chips created by this machine, a quick swipe of the hose across the worksurface does ​the trick.
AutoGraver 8x6 Detailed Machine Specifications

Dimensions




X, Y, & Z Operation Strokes: 8 (X) x 6 (Y) x 2.38 (Z) inches, 203.2 (X) x 152.4 (Y) x

60.5 ​(Z) mm




Workpiece table size: 9.14 (X) x 6.17 (Y) inches, 232.2 (X) x

156.6 ​(Y) mm




Distance From Collet Tip to Table: Maximum,

5.15 ​in (130.75mm)






Materials




Cuttable Material: Engraving plastics, modeling wax, chemical wood, foam, acrylic, poly acetate,

ABS, ​PC board




Loadable Workpiece Weight:

4.4 ​lbs (2kg)






Performance




X, Y, & Z Axis Drive

System: ​Stepping motor




Operating Speed: 0.24 – 70.87inch/min,

6 ​– 1800mm/min




Software Resolution: 0.000039 inches/step (RML-1), 0.000039 inches/step (NC code), 0.01 mm/step (RML-1),

0.001mm/step ​(NC code)




Mechanical Resolution: 0.0000393

inches/step, ​0.000998594 mm/step




Spindle Motor: DC

motor ​Type 380




Spindle Rotation Speed:

Adjustable ​3,000–7,000 rpm




Cutting Tool

Chuck: ​Collet method




Interface: USB


Control Command Sets:

RML-1, ​NC code




Power

Requirements: ​DC24V, 2.5A,




Dedicated AC adapter: AC

100-240V ​±10%, 50/60Hz




Power

Consumption: ​Approx. 50W




Operating Noise: During operation: 65 dB (A) or less

(when ​not cutting),


during standby: 45 dB

(A) ​or less




External Dimensions: 17.76 (W) x 16.80 (D) x 16.78 (H) inches, 451.0 (W) x 426.6 (D) x

426.2 ​(H) mm




Weight: 43.2

lbs, ​19.6 kg




Installation Environment: Temperature of 41 to 104 °F (5 to 40°C), 35 to 80% relative

humidity ​(no condensation)






Included Items for basic SRM-20:




USB cable, AC adapter, Power cord, 1/8" Milling tool & 6mm Collet (not for engraving), Set screw, Spanners (7,10mm / 0.28, 0.39 inches), Hexagonal wrench (size 2,3 mm / 0.059, 0.12 inches), Positioning pins, Double-sided tape, Start-up

page ​guidance card






The AutoGraver 8x6 is extremely versatile. If you're doing fine, detailed engraving work, you'll get great results on Scott Machine's Scott Ply™ Metallic Engraving Plastic, featuring a brushed, ultra-thin surface. One of our most versatile engraving surfaces is Scott-Grave® Satin Engraving Plastic, which is easy to clean and applicable for all types of environments. We even feature rugged, heat-resistant Scott-Rigid™ Engraving Plastic for those display areas beset by ​challenging conditions.

If you're not sure which engraving plastic is best for you, why not take a moment to view our various Engraving Examples that can give you an even better idea of your options. From Custom Color Engraving Plastic to in-house Engraving Services and more, Scott Machine is dedicated to engraving that makes a ​lasting impression!