C2-125-060K
carbide ​engraving cutter
C2-125-060K engraving cutters offer the versatility of Scott Omni-Grind™ geometry, with the perfect relief angle to produce clean-edged, swirl-free letters in all of the popular engraving plastics, on a broad range of engravers ​and speeds.

Call us today. We'll answer in person by the 4th ring. You can also visit us at our convenient Engraving Cutters Store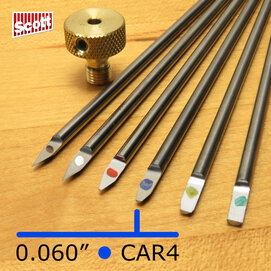 It's a Cut-and-Dried Case for Our
C2-125-060K ​Engraving Cutters
Engraving ​Cutter Specs:

Price: FREE with a purchase of at least $50 in custom-cut plastics - ​$20 value

Length: ​4 1/2"
Diameter: 1/8"
Tip ​width: 0.060"

Components and Geometry: Intricately-grinded solid micrograin carbide (superior ​to ​carbide-tipped)

Application: Well-suited for single-stroke 1/2" lettering, as well as multi-line or TrueType letters of approximately 1". You will find this tip especially useful for small signs and ​desk plates.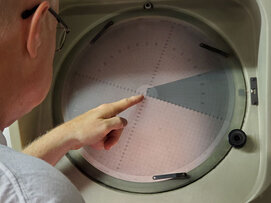 Our C2-125-060K Cutter Makes
an ​Emphatic Point
Thanks to our own Omni-Grind™ cutting geometry, your cutter point is precisely sharpened to the most exacting relief angle. Since these cutter tips are ground according to the material being engraved, there is a greater clearance behind the cutting edge when engraving plastic, than there is when cutting steel. As the material hardens, the angle of the edge decreases, providing increased cutting strength. The result is clean-edged, swirl-free letters in all engraving plastics, no matter the cutting speed or engraving ​machine type.
What's all the fuss about Scott Omni-Grind™ cutter geometry?

Actually, the reputation is well-earned. Scott Omni-Grind™ is our own unique cutter-tip technology that enables the C2-125-060K to cut equally well on our whole range of engraving plastics. With fewer cutters needed, "cutter clutter" is prevented, once and ​for all!


Is it true that solid carbide cutters are better than carbide "tipped" ones?

That's correct. Solid carbide rivals diamond as one of the hardest materials on earth. So the set-screw that holds the cutter in the engraving machine spindle knob will never mar the cutter, as it eventually would a steel-shank model. In addition, the carbide rod cutter won't rust if left unused in a drawer. So you can always easily slide the cutter into the brass knob at the top of the spindle, without ​any concerns.


Scott Machine Development Corp. is a respected American manufacturer.

Working from our upstate New York factory, Scott Machine has been an American mainstay of quality manufacturing for 57-plus years. People rely on us, year after year, for a variety of colored plastics, replacement cutters and spare parts, sign-making materials and technical expertise offered easily and willingly. For custom cutters right from the source, email us your specs and quantities for a ​prompt quote.

If you prefer to call us, we'll answer in person by the 4th ring, ready to talk about your custom cutter needs. Just call 607-865-6511, from 8:30am-5:00pm ​ET, weekdays.