SCOTT® ENGRAVING PLASTICS – CHOOSE YOUR OWN SIZES,
COLORS ​& TEXTURES
For decades, Scott Machine has been manufacturing the thriftiest, most weatherable, go-anywhere, do-everything rotary engraving plastic. Most of our clients engrave fewer than a dozen different sizes in about five or six different colors. If that's you, then this unique plastics store - featuring American-made, factory-direct engraving plastics - is for you! Our easy-to-browse store gives you so many more options than the common, standardized goods normally available to you through the large, impersonal ​e-commerce marketplace.

WE HAVE OUR WORK CUT OUT FOR YOU
Whether ordering your plastic in sheets or pre-cut blanks, you'll appreciate our competitive edge in pricing, convenience and quality. If you have capabilities for cutting your materials and require many different sizes, then order our 21" x 50" sheets…we can reduce your delivery costs by cutting them into half-sheets or quarters ​before packaging.

Need custom sizes, a multitude of the same sizes or lack the staff and time to shape your sheets? Our convenient pre-cut blanks offer the perfect option! Pre-cut blanks free up your staff for other jobs and reduce scrap in your workshop. No fuss, no waste, no problem. We can even provide them with rounded corners and holes or adhesive backing!

Check out our generous discounts and don't forget to download our Priced Color Chart, which also includes essential information about all types of ​engraving materials.
BLANKS
WITHOUT ​EVEN BLINKING
The choice is yours with Scott custom-cut engraving blanks…you design 'em, we cut 'em. And you can make all your selections from the comfort of your computer – right here! See how effortless it ​really is!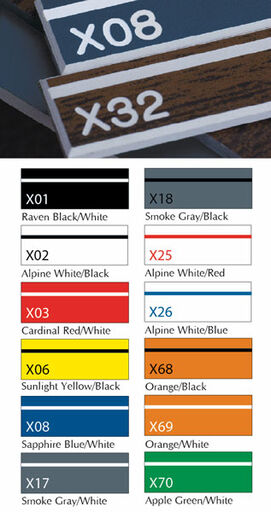 SCOTT-PLY™
MICRO-SURFACE ​MATTE PREMIUM


Engrave detailed bright white and

rich ​black lettering



Durability, both

indoor ​and out



Sheets 21" x 50", 1/16" 2-ply

and ​1/8" 3-ply







More

specifications ​and applications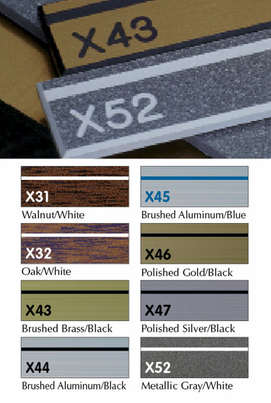 SCOTT-PLY™ MICRO-SURFACE
METALLIC ​& WOODGRAIN


Ultra-thin surface for fine detail work

Sleek brass or

natural ​wood appearance



Sheets 21" x

50", ​1/16" 2-ply



Polished Gold/Black pieces only (no sheets); Metallic Gray/White also available

as ​1/8" 3-ply







More

specifications ​and applications







SCOTT-GRAVE®
LAMINATED ​MATTE PLASTIC


Abrasion-resistant

surface ​enhances versatility



Ideal for indoor and outdoor use

Sheets 21" x 50", 1/16" 3-ply, selected colors in 1/8" 3-ply





More

specifications ​and applications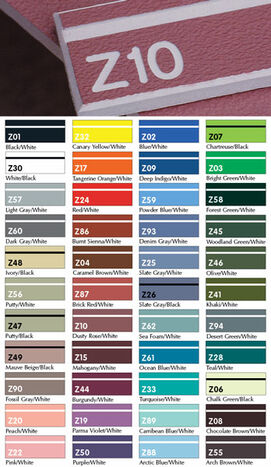 SCOTT-SPECTRUM®
TEXTURED ​ENGRAVING PLASTIC


Durable performance in

high ​traffic areas



Available in widest range

of ​contemporary colors



Sheets – temporarily limited to 11.8" x 16.5"

– ​1/16" 2-ply







More

specifications ​and applications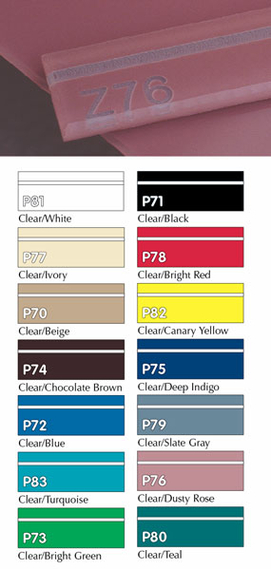 SCOTT-SPECTRUM® CLEAR
FOR ​REVERSE ENGRAVING


Material colored on back for engraving in reverse and

back-filling ​with paints



Letters seem to "float"

for ​high legibility



Sheets – temporarily limited to 11.8" x 16.5"

– ​1/16" 2-ply







More

specifications ​and applications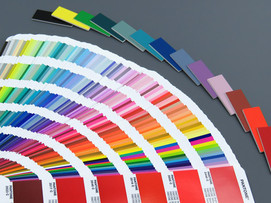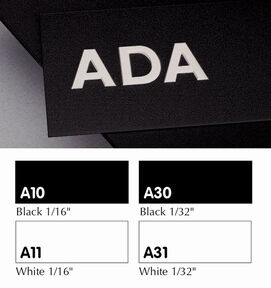 SCOTT-SOLID ADA
SIGNAGE ​BASE MATERIALS


Strong and versatile,

for ​long-term usage



High-contrast black & white

for ​ADA-compliant letters



Sheets 21" x 50", 1/16"

1-ply ​(solid color)




Shows ​no fingerprints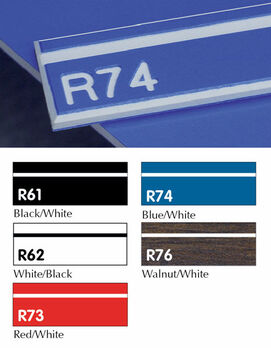 SCOTT-RIGID™ MATTE
PHENOLIC ​ENGRAVING SHEETS


Superior electrical resistance; suitable for

high ​temperature environments



Rare product, increasingly unavailable

from ​other manufacturers



Sheets only, no custom-cut pieces – 18" x 39", 1/16"

and ​1/8" 3-ply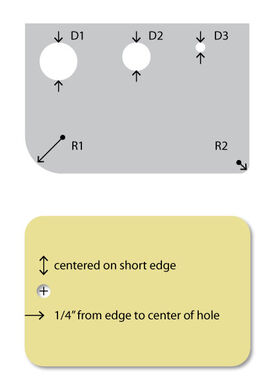 Rounded Corners & Holes -
To ​Your Specs
When you need them, specify round corners with ease, by selecting a radius from the "Radius" drop-down list in any of the ordering modules above. Among the popular choices are R1 = 1/8" and R2 = 1/4" (featured on the luggage tag, ​opposite below).

To specify holes, select the number of holes…typically 1, 2 or 4…from the "Holes" drop-down chart in any of the ordering modules above. Next, add a note about the diameter, as well as the location of the holes. Here's an example ​for you:

• One 3/16" ​diameter hole
• Center of hole 1/4" ​from edge
• Centered on "short" side of ​the piece

Want a closer look? Order one at our Free ​Samples Store.

▲ Top of Page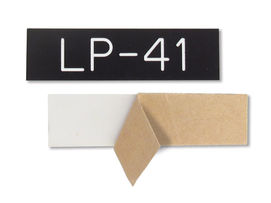 Stick with
Our ​Quality Adhesives
Hold it…with adhesive backing. Simply select "Adhesive" from the drop-down list in your selected ordering module, for our quick-peel, adhesive-backed blanks designed to give you an invisible industrial-strength hold. The minimum order for your adhesive-backed plastics must sum to at least 500 square inches. ​For example:

25 pieces @ 2" x 10" = 500 square inches, satisfying ​the minimum

Want a closer look? Order one at our Free ​Samples Store.

Please allow an extra 2-3 days for us to customize your cut plastic pieces with any of the options ​mentioned above.

FAQ: What type of adhesive? ​Weatherproof? Permanent?

▲ Top of Page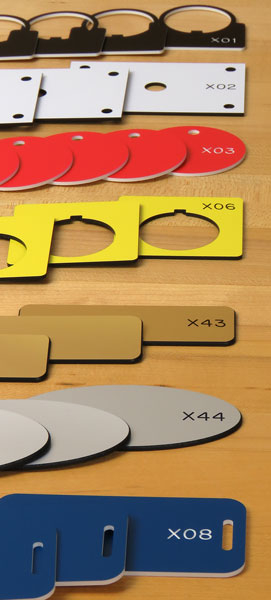 Discounts, Credit and payment
simplified ​for you
It's easy to purchase our quality engraving plastics – and ​economical too!

Credit Cards & Credit
You'll be asked for a credit card when you check out. If you already have a current card on file, or if you have already established credit with us, simply ignore that request. If you're a well-established company and seek an open account, just mention this in your note and we will send you a credit application. Most larger clients pay via ​ACH transfers.

Prepayment & Refunds
For large orders of custom-cut plastic blanks, we may require a 50% payment at the time we begin fabricating your product. Please order carefully, and thoroughly review the sales order that we send to you in reply to your order. The sales order is most important because it clearly defines the items we will produce for you, as well as your terms, shipping ​method, etc.

Minimums & Discounts
Minimum Quantities:
1. Minimum cost for any number of single size ​blanks: $10.00
2. Minimum cost for any ​order: $25.00

Quantity Discounts:
1. Identical ​sign blanks
150 blanks ​– 10%
300 blanks ​– 15%
500 blanks ​– 20%

2. Sheets – Single sheets, or ½-sheet and/or ¼-sheet ​order equivalencies
25 sheets ​– 5%
50 sheets ​– 10%
100 sheets ​– 15%
300 sheets ​– 20%

Efficient Shipping & Sheet Usage:
Remember…we regularly cut plastic sheets into ½ or ¼ sheets at no extra charge, to substantially reduce your ​shipping fees.

Special pricing may be quoted on uncommon sizes of engraving stock that produce ​excessive scrap.

Our goal is to make your ordering experience as easy as possible. We welcome ​your questions.

▲ Top of Page