C2-125-015K
carbide ​engraving cutter
C2-125-015K engraving cutters feature vaunted Scott Omni-Grind™ geometry, creating a perfect relief angle that produces clean-edged, swirl-free letters for all engraving plastics. Highly versatile, these cutters work on a wide variety of engraving machines and ​varied speeds.

Call us today, to order your plastics and cutters. We answer in person, by the fourth ring! Or, if you prefer, visit our informative Engraving Cutters Store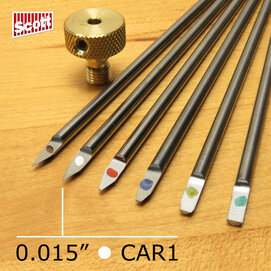 Our C2-125-015K carbide engraver cutter Hits
All ​the Specs
Engraving ​bit ​specifications:

Price: $20 - or free with $50 or more of ​custom-cut plastics

Length: ​4 1/2"
Diameter: 1/8"
Tip ​width: 0.015"

Material and geometry: Finely-ground solid micrograin carbide (not just ​carbide ​"tipped")

Application: Designed for single-stroke 1/8" inch lettering or multi-line or TrueType letters of approximately 1/4" height, often for purposes such as name badges, escutcheons ​and schematics.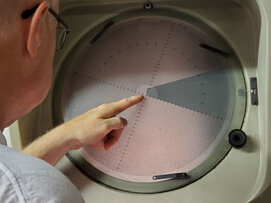 Ease Your
Mind ​with Omni-Grind™
The key features that set these Scott Machine engraving cutters apart are their solid carbide construction and their distinctive Omni-Grind™ geometry. This unique cutter-tip geometry gives you the flexibility to cut across a broad range of plastics without having to change engraving cutters. The result: less clutter and ​faster cutting.
What makes Scott Omni-Grind™ cutter geometry special?

Scott Omni-Grind™ technology was developed by our manufacturing team in upstate New York. It enables the C2-125-015K and other similar Scott engraving cutters to perform equally well over a wide range of engraving plastics, without the need to change cutters. No more "cutter clutter" or complicated changeovers to get the ​job done.


Are solid carbide cutters superior to those that are carbide "tipped"?

Yes, there are definite advantages to using a solid carbide cutter. Unlike ordinary steel-shank cutters, the set-screw that holds the cutter in the engraving machine will not blemish solid carbide, nor will a solid carbide cutter develop any friction-causing rust if left unused in a drawer for a period of time. So, better performance and durability are two of the ​main benefits.


Did you know that Scott Machine engraving cutters are made in America?

For 57-plus years, Scott Machine Development Corporation has stood as a pillar of American ingenuity and manufacturing prowess. We reliably supply consistent colors of plastic, replacement cutters, spare parts and one-of-a-kind technical expertise to customers across the nation – and even the world. We sell our metal engraving and sign-making products factory-direct, so you can count on single source responsibility. Just email your custom cutter specs and quantities to us for a quick, ​accurate quote.

Better yet, call us at 607-865-6511 – we answer in person by the 4th ring! Our convenient hours are 8:30am-5:00pm Eastern ​Time, weekdays.