C2-125-010K
carbide ​engraving cutter
C2-125-010K engraving cutters, designed with unique Scott Omni-Grind™ geometry, are accurately sharpened with the perfect relief angle to produce clean-edged, swirl-free letters in all engraving plastics, on a wide range of engraving machines ​and speeds.

Please call -- we answer in person! -- to place your order for plastic and cutters. Or, to purchase this and other cutters, please visit our Engraving Cutters Store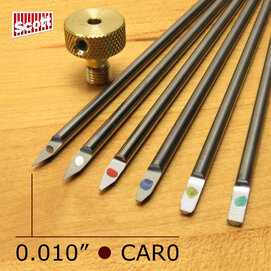 Look Closer at Our C2-125-010K
carbide ​engraver cutter
Engraving ​bit ​specifications:

Price: $20 - or free with at least $50 worth of ​custom-cut plastics

Length: ​4 1/2"
Diameter: 1/8"
Tip ​width: 0.010"

Material and geometry: Carefully-ground solid micrograin carbide (not merely ​carbide ​"tipped")

Application: Ideal for single-line 1/8" high lettering, typical of name badges, bezels on instrument panels and schematic diagrams. Get perfect results for line art or solid (filled) logos. Also choose this tip diameter for 1/4" high multi-line and ​TrueType lettering.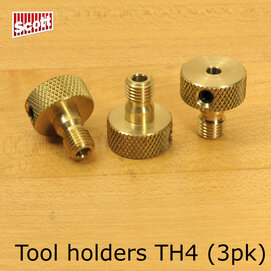 Get a Firm Hold
on ​Cutting Efficiency
For added convenience, put one of these handy tool holders on every cutter, and eliminate the need to adjust depths when changing cutters. We have all the devices you need to make engraving fast ​and efficient.
What's the benefit of our Scott Omni-Grind™ cutter geometry?

This unique cutter-tip geometry that we have developed allows the C2-125-010K to perform across the entire line of our engraving plastics. This means fewer cutters for more types of plastics – you eliminate cutter clutter, avoid the nuisance of too many ​cutter geometries.

Which is better, solid carbide or carbide "tipped" cutters?

The set-screw that holds the cutter in the engraving machine spindle knob will eventually mar a typical steel-shank cutter, making it harder to slip into and out of the spindle. Further, if a standard steel cutter sits unused in a drawer for a while, it can develop a fine coating of rust, causing more difficulty when sliding the cutter into the brass knob at the top of the spindle. These problems are prevented with a solid ​carbide cutter.

At Scott Machine Development Corp., can you say "American made"?

For over 57 years, Scott Machine has provided the best of American manufacturing. We are proud of our record in supplying consistent colors of plastics, replacement cutters, spare parts and technical knowledge that keep you on the cutting edge of metal engraving and all kinds of quality sign making. We sell factory direct, so when you have a technical question, you're dealing with the source. Need custom cutters? Just e-mail your specs and quantities and we'll gladly quote ​the job.

Best of all, we're here to talk with you about your custom cutter needs. We still answer in person by the 4th ring: 607-865-6511, 8:30am-5:00pm ​ET, weekdays.