We always
have ​something new...
Currently, we have staff working from home, while some crew members are fulfilling our ​essential orders.

Our staff has done a fine job of continuing to manufacture and ship our full range of products. And, most of the time, we still answer the phone in person! -- which is more important than ever now. Our operating status is updated weekly here: Today at Scott Machine

Please stay safe, and thank you for ​your business.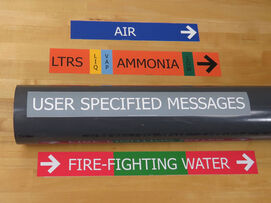 September 2021 - New Pipe Label Design
and ​Print Solution
Use our online design tools to create custom text on color-coded pipe labels appear. Then print them on certified BS5609 film, you know they're ready for all types of environmental conditions. Without the need for vinyl spools, ink ribbons or a single-purpose printer, Scott Machine's novel label printing approach not only saves you hassles, but also money. For example, your cost for a 2½"x 14" label? About $1 each. There's no subscription necessary for the first 20 labels, so why not take this industry-changing Scott-Writer® system for a spin and Create Labels of ​your own!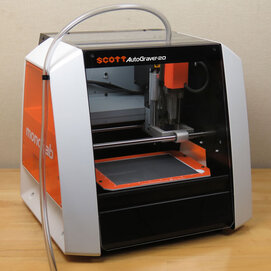 August 2021 - AutoGraver 20 - Desktop Engraving
Amplified ​​& Simplified
Welcome to a new age of desktop engraving with the Scott AutoGraver-20®. It's the easiest, most efficient system yet for producing identification plates up to 6" x 8". This versatile machine easily engraves rugged instruction panels, warning signs, lamp and switch bezels…valve tags too!
Learn More

#SAGK-20: $4,499.00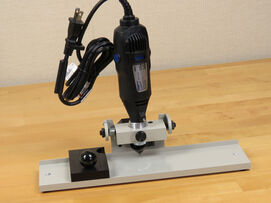 August 2021 - Accent name tags with
a ​beveled edge
Our quieter beveling machine trims away - "bevels" - the top edge of your name tag blank to expose the core color for an enhancing look. Enhance the edges of your engraved safety signs and office name plates with this versatile desktop ​beveling machine.

Pricing & ​shipping guidance:
SM98A plastic beveler with long-life beveling cutter ​- $949
Weight - ​9 pounds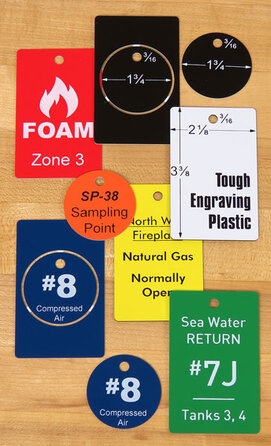 December 2020 - Valve tags that
identify ​and simplify
There's no end to the items you can mark with a colorful valve tag. And now identifying those elements is easier than ever, with a valve tag system that enables you to go beyond cryptic two-digit numerals and print detailed words, as well as numbers. Use our larger rectangular tags when you need to say more. And all it really takes to print a tag description is 10-2-AT…that's just 10 seconds – 2 cents worth of film – ​Any Text!

Pick up one of our economical, compact printers for your desktop, and you're in business! Watch How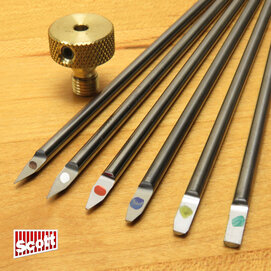 August 2020 - New
Engraving ​Cutters Store
Receive any solid carbide 4½" x 1/8" cutter for FREE when you purchase at least $50 worth of custom-cut pieces of Scott-Ply™ or Scott-Grave™ ​engraving plastic.

Simply call or write, and we'll include your free cutters with your plastics order (free cutters unavailable through this ​online store).

See detailed specifications and advice on choosing the right cutter for your task and your machine at our Engraving Cutters Store. Get a FREE cutter today!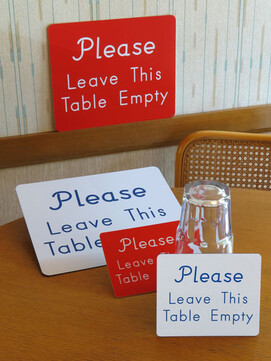 June 2020 - New
Compliance ​Signs Store
Choose from high contrast white & blue or red & white informational signs that are easy to install in seconds. Two convenient sizes, to keep your guidelines clear and your message ​on track!

For high traffic areas, the larger sign is preferred. Opt for the smaller size in locations where people are ​typically stationary.

Pricing, ​by size:
Medium: 4 3/4" x 5 3/4" ​– $4.50
Large: 9 1/2" x 11" ​– $9.50

Quantity Discount
Order 100 signs in any combination for a ​5% discount.

We're ready to make your signs. See detailed images and order at our new Compliance Signs Store.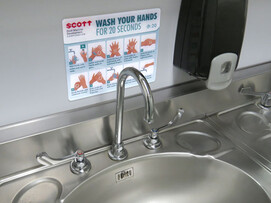 March 2020 - Subsurface
Printed ​Compliance Signs
Attractive, informative hand-washing signs have never been more timely. Order them in a variety of dimensions from our friendly, knowledgeable staff. You can offer helpful tips with your own custom wording, and personalize the sign with your recognizable logo. Our durable signs are water-resistant, simple to clean and easy to mount to any surface with ​double-sided tape.

Here's a printable copy of our Wash Your Hands sign. Use it as a reminder and send copies to others for ​their use.
Improved Brass and
Nickel ​Name Tags
What's new about such an old product? Well, part of what we do isn't new; we still use only real brass and real nickel for our name tags. These metals are easy to engrave, so you're certain to have letters and logos with well-defined edges and ​solid-black logos.

The new part? A complete family of lighter weight metal name tags with frosted surfaces and polished edges that dramatically frame your words. Choose from a variety of sizes! So you see, we're keeping what's best...and making it better at Scott Machine Development Corporation. Learn more here: Making Metal Name Tags

Prefer that we engrave your name tags for you? We offer overnight service for our engraved metal tags: Design & Order Name Tags Online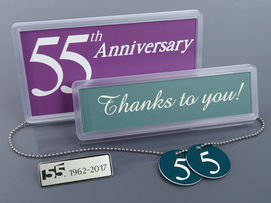 Celebrating More
Than ​55 Years
You've helped us fulfill our ​timeless mission:

Direct, ​Identify, Inform...
Everywhere, Everything ​& Everyone

Working together, we've provided hundreds of thousands of signs and name tags around the world. Using our equipment and materials, you've made signs that provide direction, panels to identify equipment and name tags that introduce us to one another. And this year's new products help us to meet your needs with the latest ​and greatest.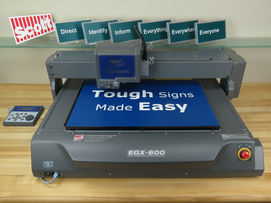 High-Production ​Engraving Machines
Thousands of clients have trusted in us for decades, beginning with our manual Scott Signgraver machines. Many of you evolved to using our Scott AutoGraver, and now we're expanding your upgrade choices with two new high-output engraving machines. More selection, more power, more opportunities to ​grow together.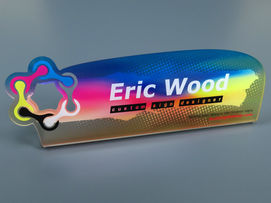 New ​Signmaking Partnership
Our clients ask: If I design signs and name tags in Adobe, can you manufacture my signs and name tags?
Today's answer: Yes, ​we can!

Capitalizing on this novel partnership -- your designers and our craftspeople -- you can create acrylic nameplates and badges that are as unique as the people they identify. Here are more examples: Reverse-printed Acrylic Nameplates

And check out our new site where you can see exactly how it's done: ScottSignPartner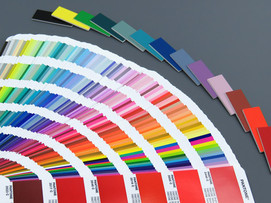 Custom
Color ​Engraving Materials
You've wanted to engrave door signs and desk plates that match your corporate colors - especially in real estate offices, dental care chains and bank branches where corporate branding is essential. And you've wanted to specify engraving plastics in eye-catching accent colors you can install along the tops of glass cubicle partitions and in ​naturally-lighted offices.

This month we're pleased to offer our updated Scott-Spectrum Match® engraving plastic. Learn more on this new web page: Custom Engraving Plastics
When we initially manufactured Spectrum™ engraving plastics in 1988, it was impractical to create small quantities of custom colors; now we can custom-color a ​single sheet!
All year long at Scott Machine, we'll introduce more eye-catching new products to help you Direct, Identify ​& Inform!