News During
the ​2020 Pandemic
We have staff working from home, while some staff are fulfilling our essential orders and others have the the day off. Our building is always locked and no visitors ​are permitted.

We're prioritizing our healthcare clients, knowing that you need warning signs, information signs, and other identification products to inform your staff ​and patients.

We've created a quick-ship range of coronavirus handwashing instruction signs and we're offering these signs at no profit to all of our healthcare clients. Examples and ordering instructions are shown here:
Quick Ship Healthcare Signage

As we strive to continue serving you, we have dedicated this page to keeping you updated on our operating status.
Today at Scott Machine

Please stay safe, and thank you for ​your business.
Improved Brass and
Nickel ​Name Tags
What's new about such an old product? Well, part of what we do isn't new; we still use only real brass and real nickel for our name tags. These metals are easy to engrave, so you're certain to have letters and logos with well-defined edges and solid-black logos.

The new part? A complete family of lighter weight metal name tags with frosted surfaces and polished edges that dramatically frame your words. Choose from a variety of sizes! So you see, we're keeping what's best...and making it better. Learn more here: Making Metal Name Tags

Prefer that we engrave your name tags for you? We offer overnight service for our engraved metal tags: Design & Order Name Tags Online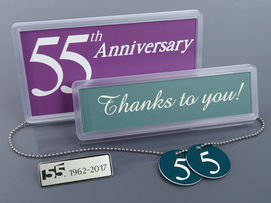 Our 55th!
You've helped us fulfill our ​timeless mission:

Direct, Identify, Inform...
Everywhere, Everything ​& Everyone

Working together, we've provided hundreds of thousands of signs and name tags around the world. Using our equipment and materials, you've made signs that provide direction, panels to identify equipment and name tags that introduce us to one another. And this year's new products help us to meet your needs with the latest ​and greatest.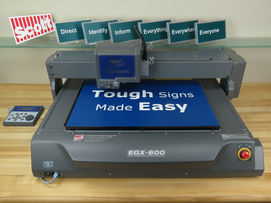 High-Production ​Engraving Machines
Thousands of clients have trusted in us for decades, beginning with our manual Scott Signgraver machines. Many of you evolved to using our Scott AutoGraver, and now we're expanding your upgrade choices with two new high-output engraving machines. More selection, more power, more opportunities to ​grow together.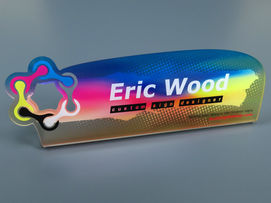 New Signmaking Partnership
Our clients ask: If I design signs and name tags in Adobe, can you manufacture my signs and name tags?
Today's answer: Yes, ​we can!

Capitalizing on this novel partnership -- your designers and our craftspeople -- you can create acrylic nameplates and badges that are as unique as the people they identify. Here are more examples: Reverse-printed Acrylic Nameplates

And check out our new site where you can see exactly how it's done: ScottSignPartner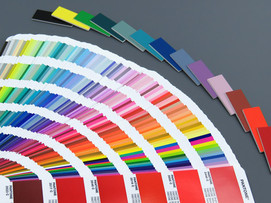 Custom Color ​Engraving Materials
You've wanted to engrave door signs and desk plates that match your corporate colors - especially in real estate offices, dental care chains and bank branches where corporate branding is essential. And you've wanted to specify engraving plastics in eye-catching accent colors you can install along the tops of glass cubicle partitions and in naturally-lighted offices.

This month we're pleased to offer our updated Scott-Spectrum Match® engraving plastic. Learn more on this new web page: Custom Engraving Plastics
When we initially manufactured Spectrum™ engraving plastics in 1988, it was impractical to create small quantities of custom colors; now we can custom-color a ​single sheet!
All year long, we'll introduce more eye-catching new products to help you Identify, Direct ​& Inform!