Signmakers Can Do It All with Scott-Grave®
Satin ​Engraving Plastic
Scott-Grave® Satin Engraving Plastic performs well with virtually all sign-making hardware. You can rotary engrave, shear, saw, bevel or drill it. This brushed engravable plastic material, which you can also score & snap or thermo-bend, cleans easily and bonds reliably with common adhesives, making it highly versatile. Order satin engraving plastic in 1/32" and 1/16" thick 2-ply or 1/16" and 1/8" 3-ply sheets, including 21"x 50" full sheets and 21" x 25" half sheets. As a budget guideline for you, the 1/16" 2-ply full sheet is just $47.60. You can visit our {Prices & Catalogs} page to see all of our economical pricing for these multifaceted ​engravable plastics.

This stylish satin engraving plastic is available in a wide choice of designer colors, which you can view at your leisure on our extensive Engraving Plastics Color Charts and Pricing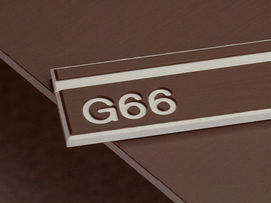 Satin Engraving Plastic Looks
Sharp, ​Works Hard
This sturdy satin engraving plastic offers an elegant look, yet travels in some pretty rough places. The brush, satin colored layer is 0.010" thick, making it a smart choice for key fobs, luggage tags and other applications where constant scuffing is a problem. It's also a favorite in industry where it's an ideal engraving material for warehouse signs, instruction panels, signage near loading docks – wherever bumps, bruises, wear and tear ​are common.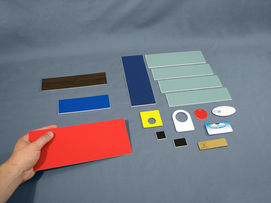 Make Creative
Signage ​Your Custom
Looking for sign blanks of various shapes that are engraving-ready for your sign engraving machine? We can pre-cut our Scott-Grave® satin engraving plastic into rectangles, squares or any custom profile you desire. For the sake of comparison, popular 2" x 8" blanks are just $1.15 each. Satin engraving plastic is your "canvas" for creativity…it's an excellent substrate for vinyl ​letters too.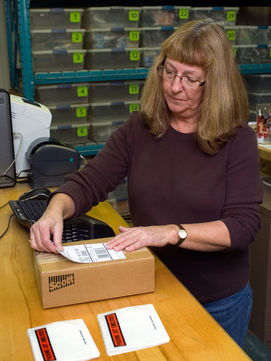 The best way to evaluate Scott-Grave® satin engraving plastic is to see it for yourself. Let us send you a free sample. You'll soon realize that it really is smooth as satin, tough as nails – the perfect combination for any ​signage environment.
Sign up today – all around your facility – using Scott-Grave® satin engraving plastic, easily engravable with even entry level engravers. Rugged enough for any application, it's the perfect platform for getting your message where it has ​to go.