Signmakers Can Do It All with Scott-Grave®
Satin ​Engraving Plastic
Scott-Grave® Satin Engraving Plastic performs well with virtually all sign-making hardware. You can rotary engrave, shear, saw, bevel or drill it. This brushed engravable plastic material, which you can also score & snap or thermo-bend, cleans easily and bonds reliably with common adhesives, making it highly versatile. Order satin engraving plastic in 1/32" and 1/16" thick 2-ply or 1/16" and 1/8" 3-ply sheets, including 21"x 50" full sheets and 21" x 25" half sheets. As a budget guideline for you, the 1/16" 2-ply full sheet is just $47.60. You can visit our {Prices & Catalogs} page to see all of our economical pricing for these multifaceted ​engravable plastics.

This stylish satin engraving plastic is available in a wide choice of designer colors, which you can view at your leisure on our extensive Engraving Plastics Color Charts and Pricing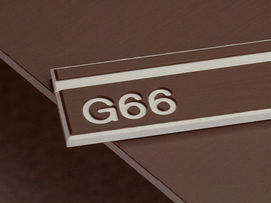 Satin Engraving Plastic Looks
Sharp, ​Works Hard
This sturdy satin engraving plastic offers an elegant look, yet travels in some pretty rough places. The brush, satin colored layer is 0.010" thick, making it a smart choice for key fobs, luggage tags and other applications where constant scuffing is a problem. It's also a favorite in industry where it's an ideal engraving material for warehouse signs, instruction panels, signage near loading docks – wherever bumps, bruises, wear and tear ​are common.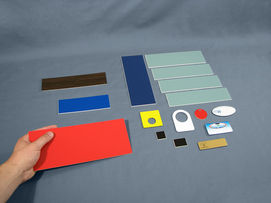 Make Creative
Signage ​Your Custom
Looking for sign blanks of various shapes that are engraving-ready for your sign engraving machine? Check them all out in our Engraving Plastics Store. We can pre-cut our Scott-Grave® satin engraving plastic into rectangles, squares or any custom profile you desire. For the sake of comparison, popular 2" x 8" blanks are just $1.15 each. Satin engraving plastic is your "canvas" for creativity…it's an excellent substrate for vinyl ​letters too.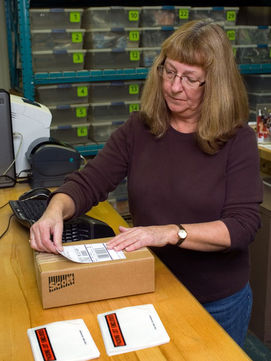 The best way to evaluate Scott-Grave® satin engraving plastic is to see it for yourself. Let us send you a free sample. You'll soon realize that it really is smooth as satin, tough as nails – the perfect combination for any ​signage environment.

In fact, we offer free samples of just about every plastic engraving surface in our inventory, since we manufacture most of what we sell in our own upstate New ​York facility.
Sign up today – all around your facility – using Scott-Grave® satin engraving plastic, easily engravable with even entry level engravers. Rugged enough for any application, it's the perfect platform for getting your message where it has ​to go.

Many people also ask about our Scott Ply™ Metallic Engraving Plastics that serve you well on fine detail jobs, or, for challenging environments, our rugged Scott-Rigid™ Engraving Plastic. Get real engraving versatility with our Scott-Ply™ Microsurface Engraving Plastic, and for signage displays in high traffic areas, ask about Scott-Spectrum® Textured Engraving Plastic.

Not sure which engraving plastic is best for your job? Why not take a look beneath the surface in our Engraving Plastics Guide, prepared to feed your knowledge and simplify your choices. Leave it to Scott Machine, and we'll help you make a lasting impression with everything ​you engrave.