COMPLIANCE SIGNS – Vital Signs
of ​the Times
During these uncertain times when business compliance is strictly monitored, utilize durable Scott Machine business re-opening compliance signs with engraved lettering, set into tough 1 1/16" thick plastic. Suitable for both indoor and outdoor applications, they attach to any surface with our double-sided tape. Wash the signs again and again, without any noticeable wear, and keep staff and guests savvy and safe. Download our Illustrated Order Blank.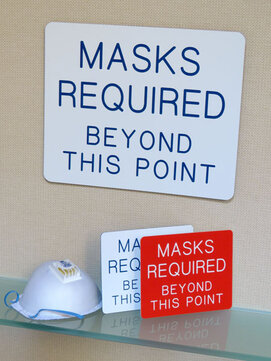 Simple to Buy,
Quick ​to Install
Choose from high contrast white & blue or red & white informational signs that are easy to install in seconds. Two convenient sizes, to keep your guidelines clear and your message on track!

For high traffic areas, the larger sign is preferred. Opt for the smaller size in locations where people are ​typically stationary.

Pricing, by size:
Medium: 4 3/4" x 5 3/4" – $4.50
Large: 9 1/2" x 11" ​– $9.50

Here's a list and an Illustrated Order Blank, to make it extra easy to order these ​ready-to-install signs.
We offer these tough and washable, engraved plastic signs, either with standard messaging or your own ​custom text.

Item # Standard Text
CS01 Masks Required Beyond This Point
CS02 Visitors Must Wear Masks
CS03 No Mask - No Entry!
CS04 No Outside Visitors Allowed
CS05 No Walk-Ins -- Please Call
CS06 Do Not Stand Here
CS07 Do Not Use This Urinal
CS08 Do Not Use This Toilet
CS09 Do Not Use This Sink
CS10 Sanitize After Each Use
CS11 Wash Your Hands Regularly
CS12 Maintain 6' Social Distance
CS13 Occupancy Limited to One Person
CS14 <-- One Way Aisle
CS15 One Way Aisle -->
Download Order Blank for ​Complete List

Sample order
10 CS01 Red ​Small $45.00

For fast, simple ordering, download our Illustrated Order Blank and keep your facility ​"on message".

Need Custom Text?
For your own wording, email us your custom text, along with quantity needed, red or white color, medium or large size. Custom-text signs include a $3 surcharge and a 10-piece minimum. We'll promptly reply with a quote and shipping commitment. Our phone, email & fax are here: Contact Us