Textured Engraving Plastic That Gives Signs
a ​Professional Touch
Scott Spectrum® Textured Engraving Plastic offers durable performance in high traffic areas, as it resists fingerprints and maintains a distinctive, professional look. This engravable plastic is nicely compatible with rotary engraving, shearing, drilling and other machining methods. Our 1/16" thick 2-ply sheets, measuring 21" x 25", are available for just $22.60, while popular 2" x 8" blanks offer great value at only ​$1.26 each.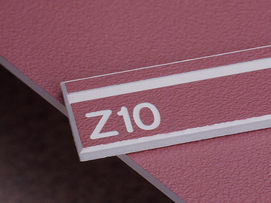 Get a Feel for Our
Textured ​Engraving Material
Talk about resourceful…our Scott Spectrum textured engraving material touches all the right buttons for non-glare, fingerprint-resistant performance. Its micro-thin surface makes it suitable for rotary engraving small letters and fine lines. Available in the widest range of contemporary colors, this flexible textured engraving material likes to spend time outdoors as well as in. No wonder it's such a popular choice in our Engraving Plastics collection.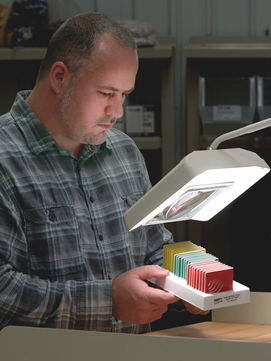 If you're short on time or tools, our skilled professional team at Scott Machine in upstate New York will be happy to precision cut name tag blanks and other customized shapes for you. You'll find many great options in our Engraving Plastics Store. The nice thing about textured engraving plastic is that it cuts smoothly - and our quality assurance team is always there to ensure superior results. If you're doing the engraving yourself, check out our Friendly Tips page for those who are new to the process; it appears on the back cover of our Engraving Plastics Color Charts and Pricing Handbook. With this sound advice, your sign engraving machine should deliver results that are a ​cut above!
While textured engraving plastic sheets are popular requests, we pride ourselves at Scott Machine on our versatility. So don't be shy…ask us about other engravable favorites like Scott-Grave® Satin Engraving Plastic or, for detailed work, our blemish-resistant Scott-Ply™ Microsurface Engraving Plastic. No need to worry about matching tones, with such a wide array of custom color engraving choices.

Whether you choose Scott Spectrum textured engraving material or any of our other quality engraving plastics, there's one constant…Scott Machine's commitment to delivering the very best product, backed by friendly and knowledgeable ​customer service.

Check out some of our engraving examples, for all the different signs and tags you can create. No wonder we say that precision is just an easy ​decision away.