Out of Production - Some spare parts &
tech ​support available
Some of these items were discontinued long ago and we have no spare parts. Others were discontinued recently and enhanced versions are ​now available.

Please click to review machines Machines Currently in Production.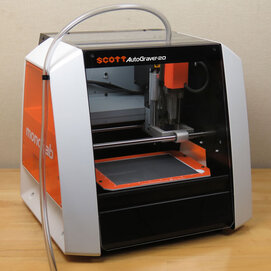 Replaced
with ​AutoGraver 8/6
With an engraving area 6" x 8", this machine converts a quiet corner of your workbench into an identification tag factory. Engrave tough instruction panels, warning signs, lamp and switch bezels, and valve ​tags too.

Use the same professional 2D engraving software that we've been providing for years. Legible 1/8" lettering 1/8"? Done! Press your engraving blanks (we make them for you!) onto the sure-grip tack mat, connect our optional vacuum for chip collection, send the file from your PC, then come back in a few minutes to open the door and retrieve your finished ​engraved plaque.

It's all here: professional software, 6" x 8" frame for instant zeroing and alignment, tacky mat, 1/8" collet with assorted cutters, vacuum line attached to base of spindle. Learn more.

Model #SAGK-20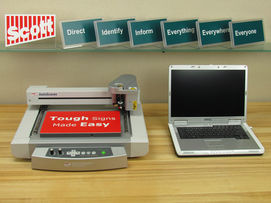 Limited Availability - Replaced
by ​SignGraver 11/16
Think about the sizes of the identification panels and signs you need. You may find that most of those sizes fit the AutoGraver's work area of 12" x 8 1/16". We have a range of 1/8" diameter cutters, scribes and burnishing tools, running at 5,000-10,000 rpm. See the many things you can create at our Gallery of AutoGraver Signage.

Model #SAGK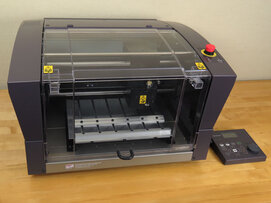 Replaced by
Enhanced ​MetalGraver 12/9
This is our fastest high-production machine…and what a package! The 5,000-20,000 rpm spindle hums along for lettering and for profiling custom shapes in plastic. With a workplace footprint of 12" by 9" x 1.6", all your tags - even stainless steel engraving metals! - and instruction signs are sure to fit. Learn more about what you can create ​with this
Desktop Universal Engraving Machine

Engraving machine and ​1-year warranty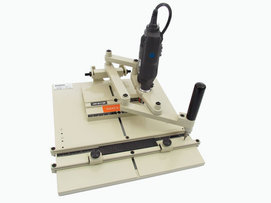 Limited Availability - Fixed Ratio
Small ​Engraving Machine
This compact machine is ideal for creating "first name only" name tags, valve tags, pushbutton I.D. plates and other small items with text of minimal length. It's also handy for changing text of similar lengths (e.g., Mark, Sara; #15-4A, Circuit 7B). Fonts and cutters are color coded so that even novices can engrave with
consistency. For the simple facts about this hard-working machine that sits
comfortably on the corner of your benchtop or desk, see our handy Priced Engraving Machine Catalog

#SM100B - choose font separately ​- $965
#SM100B1 - includes 3/8" font ​- $1,071
#SM100BK - four fonts; 2 cutters ​- $1,445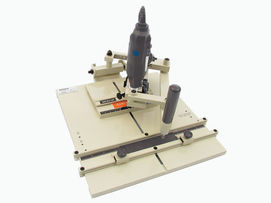 Discontinued - Variable Ratio
Small ​Engraving Machine
Though almost identical to the fixed ratio engraving machine, this model features a variable ratio arm. It can nicely handle name tags with first and last names, squeeze in extra letters with a smaller font to fit longer words in tight spaces (e.g., James Wollensky) and accommodate extended messaging, such as Valve 14,
Pump 3G. Take a closer look at the ​affordable flexibility.

#SM400 - choose font separately ​- $1,218
#SM400K - four fonts, 2 cutters ​- $1,692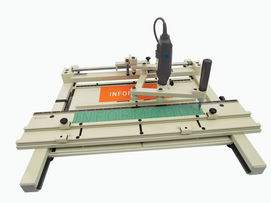 Discontinued - Fixed Ratio
Large ​Engraving Machine
This versatile machine delivers smooth, consistent engraving that even newcomers to the process can master. Use this machine when you want to engrave on larger door signs, desk plates, shelf signs in warehouses and other
large scale signage up to 10" high x ​18" wide.

#SM300 - choose font separately ​- $1,485
#SM300K - four fonts, 2 cutters ​- $1,960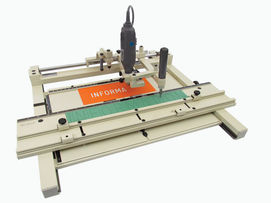 Discontinued - Variable Ratio
Large ​Engraving Machine
The variable ratio arm gives this engraving machine added capabilities for work on large sign blanks and safety signs with technical terms that require some compression (e.g., Low Pressure Return #3). Size up your next engraving job with confidence…and with this smart choice for sign lettering that requires added space or manipulation. Go ahead...choose this machine for quality ​large-scale engraving.

#SM500 - choose font separately ​- $1,887
#SM500K - four fonts, 2 cutters ​- $2,295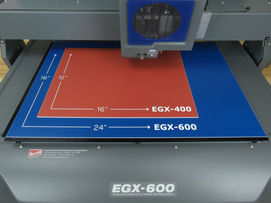 These versatile metal and plastic engravers differ only in bed size. Go ahead - click the image for a ​closer view.

Both rotary engraving machines...the EGX400 and EGX600...employ a gantry X-axis that allows you to place long panels on the bed for unusually large signs. The spindle speed can be varied between 8,000 and 30,000 rpm for engraving the widest variety of materials. Put either of them to the test, and get a higher grade ​of production.

#EGX-400: $10,995, with $500 free ​engraving plastics
#EGX-600: $13,995, with $500 free ​engraving plastics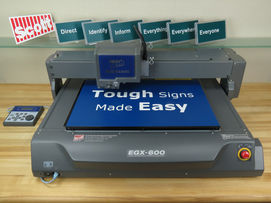 Discontinued:
EGX-400 ​& EGX-600
Here's the top end of the Scott lineup. These high-speed EGX-400 and EGX-600 computerized engraving machines can create durable signs, identification panels, warning labels and instruction panels for any large industrial facility, college campus ​or hospital.

Other productivity features common to both engraving machines include high-torque servo motors to swiftly move the head across the work-piece, durable carbide cutters in a high-rpm spindle and software to layout the entire bed. That's high output, even higher ​satisfaction level.
And every quality computerized engraving machine deserves equally great Engraving Plastics that assure you of professional-looking results. You want the ultimate in versatility? You can engrave, shear, bevel or drill our Scott-Grave® Satin Engraving Plastic.

Get Scott-Spectrum Textured Plastic for non-glare, fingerprint-resistant utility. Or if you're engraving signs for challenging conditions, try our Scott-Rigid™ Engraving Plastic sheets and custom-cut pieces, perfectly suited for your ​computerized engraver.

Get all your engraving equipment and supplies from one dependable source. Scott Machine gives you all kinds of cutting-etch choices for quality performance, from versatile engravable plastic sheets to the finest engraving machines ​and more.

You'll find a wide selection of Scott Sign-Mate sign holders too, in 11 sizes and five attractive colors. Traditional sign holders are offered in handsome wood and contemporary metal for wall or desk mounting. Need name tags or components for making your own tags? Just name it...we probably have it! We can even supply custom logos on the tags so all you have to do is engrave the ​name itself.

It's all here...precision beveling machines to accentuate your finished sign, scoring devices for cutting your sheets of engraving material to any size, plus a full range of ADA sign materials and much more. Scott Machine is your one-stop shop, with everything you need to make your signs the easy, ​professional way.