Optimize your engraving machine with
a ​strong supplier
Your engraving machine may be new and computerized, but you want your supplier to have a personal touch with years of experience. That's Scott Machine Corporation, where we offer guaranteed phone support for hardware and software training with every machine we sell. And remember...if you purchase $500 in engraving plastics during any year, that specialized training program is renewed - especially vital when job turnover is involved. With our own factory and people who answer the phone in person, we clearly believe that your new machine is only as good as the people ​behind it.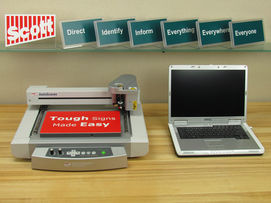 Expand your choices
with ​Scott AutoGraver®
Think about the sizes of the identification panels and signs you need. You may find that most of those sizes fit the AutoGraver's work area of 12" x 8 1/16". We have a range of 1/8" diameter cutters, scribes and burnishing tools, running at 5,000-10,000 rpm. See the many things you can create at our Gallery of AutoGraver Signage.

#SAGK: $4,515, with $200 free ​engraving plastics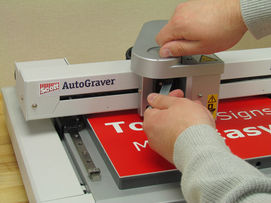 When you need
a ​hand...we're here
We make our sign engraving machines intuitive and easy to use, but if you ever have questions or need support, our friendly, knowledgeable team is ready to help. No surface-level chat rooms, impersonal emails or searching all over a website for a phone number; you can connect right to our factory, with a real voice at the other end of the line. So you need a hand? We'll extend ​one gladly.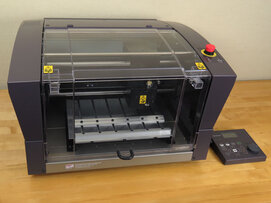 Great Things Come
in ​Small Packages
This is our smallest high-production machine…and what a package! The 5,000-20,000 rpm spindle hums along for lettering and for profiling custom shapes in plastic. With a workplace footprint of 12" by 9" x 1.6", all your tags - even stainless steel engraving metals! - and instruction signs are sure to fit. Learn more about what you can create ​with this
Desktop Universal Engraving Machine

Engraving machine and 1-year ​warranty: $6,395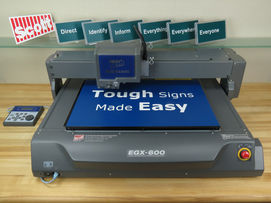 High Performance,
High ​Volume Engravers
Here's the top end of the Scott lineup. These high-speed EGX-400 and EGX-600 engraving machines can create durable signs, identification panels, warning labels and instruction panels for any large industrial facility, college campus ​or hospital.

Other productivity features common to both engraving machines include high-torque servo motors to swiftly move the head across the work-piece, durable carbide cutters in a high-rpm spindle and software to layout the entire bed. That's high output, even higher ​satisfaction level.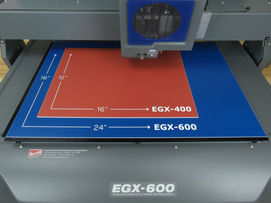 These versatile metal and plastic engravers differ only in bed size. Go ahead - click the image for a ​closer view.

Both rotary engraving machines...the EGX400 and EGX600...employ a gantry X-axis that allows you to place long panels on the bed for unusually large signs. The spindle speed can be varied between 8,000 and 30,000 rpm for engraving the widest variety of materials. Put either of them to the test, and get a higher grade ​of production.

#EGX-400: $10,995, with $500 free ​engraving plastics
#EGX-600: $13,995, with $500 free ​engraving plastics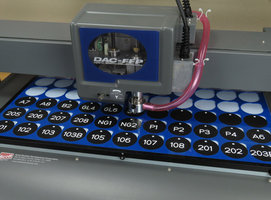 Design your tags, load 'em
up...let ​'em run!
Talk with us about a custom fixture for engraving high volumes of parts. In this example, you can press several dozen blank valve tags into the holes in the blue template. The tags are easily popped into position and held in place by the reusable gray tacky surface. Set up the software for automatic serialization, start the job...and simply ​walk away.

Our handy, optional vacuum system quietly removes dust and small bits of plastic created ​during engraving.

When you return, just lift each tag from the template, reload, ​and resume.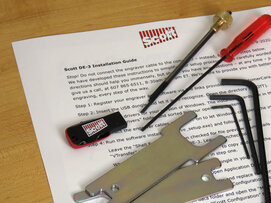 Comprehensive ​engraving package
We offer two versions of our straightforward, professional engraving software, with a large ​symbol library.

This full-featured engraving software maximizes production, with precision tool path algorithms that let you engrave the finest details with extreme clarity. You can even convert photographs into stunning etched graphics! Create all kinds of materials, from small badges to large wall signs, with this advanced time-saving tool. Now add in the weather-resistant engraving plastics that we manufacture and fulfill our slogan, "Tough Signs ​Made Easy".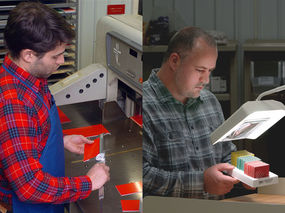 By the sheet or
by ​the shape
Our wide-ranging Scott Signgraving® materials are available with micro-thin surfaces, matte finishes, smooth or textured surfaces, in brushed metallics, wood grains and a variety of eye-catching ​custom colors.
Select legend plates in standard sizes or cut to your specifications. Whatever you need, we'll keep your signage program in ​great shape.
Get all your engraving equipment and supplies from one dependable source. Scott Machine gives you all kinds of cutting-etch choices for quality performance, from versatile engravable plastic sheets to the finest engraving machines ​and more.

You'll find a wide selection of Scott Sign-Mate sign holders too, in 11 sizes and five attractive colors. Traditional sign holders are offered in handsome wood and contemporary metal for wall or desk mounting. Need name tags or components for making your own tags? Just name it...we probably have it! We can even supply custom logos on the tags so all you have to do is engrave the ​name itself.

It's all here...precision beveling machines to accentuate your finished sign, scoring devices for cutting your sheets of engraving material to any size, plus a full range of ADA sign materials and much more. Scott Machine is your one-stop shop, with everything you need to make your signs the easy, ​professional way.