Optimize your engraving machine with
a ​strong supplier
Your engraving machine may be new and computerized, but you want your supplier to have a personal touch with years of experience. That's Scott Machine Corporation, where we offer free expert e-mail support and two hours of free scheduled phone support during your first year of ownership for hardware and software training with every machine we sell. With our own factory and people who answer the phone in person, we clearly believe that your new machine is only as good as the people ​behind it.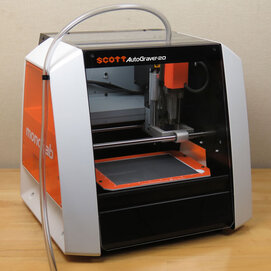 Scott AutoGraver-20 - Your
bench ​needs this!
With an engraving area 6" x 8", this machine converts a quiet corner of your workbench into an identification tag factory. Engrave tough instruction panels, warning signs, lamp and switch bezels, and valve ​tags too.

Use the same professional 2D engraving software that we've been providing for years. Legible 1/8" lettering 1/8"? Done! Press your engraving blanks (we make them for you!) onto the sure-grip tack mat, connect our optional vacuum for chip collection, send the file from your PC, then come back in a few minutes to open the door and retrieve your finished ​engraved plaque.

It's all here: professional software, 6" x 8" frame for instant zeroing and alignment, tacky mat, 1/8" collet with assorted cutters, vacuum line attached to base of spindle. Learn more.

#SAGK-20: $4,499.00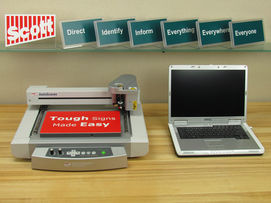 Expand your choices
with ​Scott AutoGraver®
Think about the sizes of the identification panels and signs you need. You may find that most of those sizes fit the AutoGraver's work area of 12" x 8 1/16". We have a range of 1/8" diameter cutters, scribes and burnishing tools, running at 5,000-10,000 rpm. See the many things you can create at our Gallery of AutoGraver Signage.

#SAGK: $4,999.00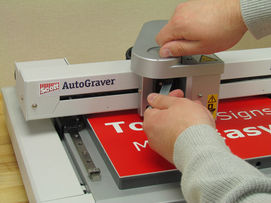 When you need
a ​hand...we're here
We make our computerized sign engraving machines intuitive and easy to use, but if you ever have questions or need support, our friendly, knowledgeable team is ready to help. No surface-level chat rooms, impersonal emails or searching all over a website for a phone number; you can connect right to our factory, with a real voice at the other end of the line. So you need a hand? We'll extend ​one gladly.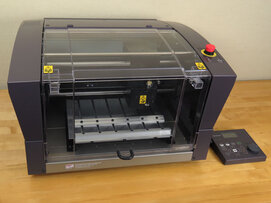 Great Things Come
in ​Small Packages
This is our fastest high-production machine…and what a package! The 5,000-20,000 rpm spindle hums along for lettering and for profiling custom shapes in plastic. With a workplace footprint of 12" by 9" x 1.6", all your tags - even stainless steel engraving metals! - and instruction signs are sure to fit. Learn more about what you can create ​with this
Desktop Universal Engraving Machine

Engraving machine and 1-year ​warranty: $8,100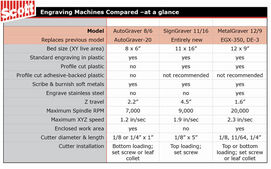 Compare your
Computerized ​Engraver Choices
Which engraver is best for you? Just answer these two questions and you'll be on the ​right track.

(1) What material are you engraving? Plastic, soft metal, ​hard metal?

(2) Next, think about the sizes of the items you typically engrave -- what's the largest size you ​engrave often?



Click any image for a ​close-up view.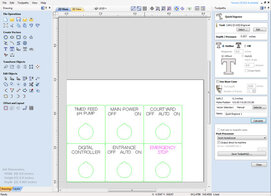 A software license to
new ​engraving freedom
Enjoy simplicity from beginning to end with the Scott AutoGraver-20. We send you the machine's engraving software license key and website link by email…all you do is click the link, download and install! You're free to install the software on three different PCs (three "chairs"), so it's easy to connect to your engraver in the workshop, to another copy running on your office PC and even your notebook for those days you work ​at home.

Talk about convenience! No cumbersome dongles to lose in the process, no finicky thumb drives to handle – and you can rest easy, knowing your download version is always ​the latest.

We've written a clear quick-start software guide and we also offer software technical support.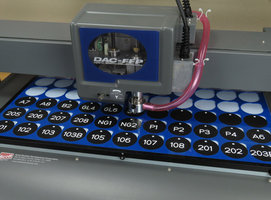 Design your tags, load 'em
up...let ​'em run!
Talk with us about a custom fixture for engraving high volumes of parts. In this example, you can press several dozen blank valve tags into the holes in the blue template. The tags are easily popped into position and held in place by the reusable gray tacky surface. Set up the software for automatic serialization, start the job...and simply ​walk away.

Our handy, optional vacuum system quietly removes dust and small bits of plastic created ​during engraving.

When you return, just lift each tag from the template, reload, ​and resume.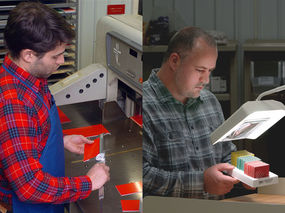 By the sheet or
by ​the shape
Our wide-ranging Scott Signgraving® materials are available with micro-thin surfaces, matte finishes, smooth or textured surfaces, in brushed metallics, wood grains and a variety of eye-catching ​custom colors.

Select legend plates in standard sizes or cut to your specifications. Whatever you need, we'll keep your signage program in ​great shape.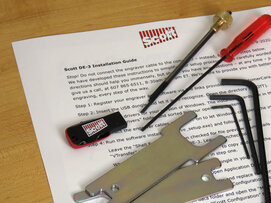 Comprehensive ​engraving package
We offer two versions of our straightforward, professional engraving software, with a large ​symbol library.

This full-featured engraving software maximizes production, with precision tool path algorithms that let you engrave the finest details with extreme clarity. You can even convert photographs into stunning etched graphics! Create all kinds of materials, from small badges to large wall signs, with this advanced time-saving tool. Now add in the weather-resistant engraving plastics that we manufacture and fulfill our slogan, "Tough Signs ​Made Easy".
And every quality computerized engraving machine deserves equally great Engraving Plastics that assure you of professional-looking results. You want the ultimate in versatility? You can engrave, shear, bevel or drill our Scott-Grave® Satin Engraving Plastic.

Get Scott-Spectrum Textured Plastic for non-glare, fingerprint-resistant utility. Or if you're engraving signs for challenging conditions, try our Scott-Rigid™ Engraving Plastic sheets and custom-cut pieces, perfectly suited for your ​computerized engraver.

Get all your engraving equipment and supplies from one dependable source. Scott Machine gives you all kinds of cutting-etch choices for quality performance, from versatile engravable plastic sheets to the finest engraving machines ​and more.

You'll find a wide selection of Scott Sign-Mate sign holders too, in 11 sizes and five attractive colors. Traditional sign holders are offered in handsome wood and contemporary metal for wall or desk mounting. Need name tags or components for making your own tags? Just name it...we probably have it! We can even supply custom logos on the tags so all you have to do is engrave the ​name itself.

It's all here...precision beveling machines to accentuate your finished sign, scoring devices for cutting your sheets of engraving material to any size, plus a full range of ADA sign materials and much more. Scott Machine is your one-stop shop, with everything you need to make your signs the easy, ​professional way.