SignGraver® 11/16 Specs, Prices
& ​Practical Usage
A benchtop engraving machine can be a productive workhorse in your sign-making area. But you should ask yourself some key questions ​before purchasing.

How much space do I need for my ​sign shop?
What's the largest sign I will need ​to make?
What's the cost for a small ID plate? For a large ​wall sign?
What arrives in the box and how do I assemble ​the system?

You also want to consider your software needs, how much and what kind of training is available and the overall amount that your budget allows you ​to spend.

The SignGraver® Model 11/16 engraving machine, introduced in early 2023, reflects Scott Machine's 50+ years of manufacturing high quality engravers. During that time, we have continually sought to produce machines that are not only extremely reliable, but also responsive to the real-world, day-to-day needs of sign making. The equipment is straightforward, practical and easily learned. Each component is designed around those objectives, as you'll see in the insightful ​story below.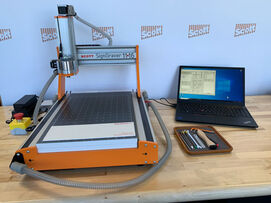 SignGraver® Equipment Fits Your Signs,
Bench ​& Budget
Let's quickly size up the key specifications for the Scott SignGraver® ​engraving machine.

This live work area handles all your facility's signs, from valve tags to safety signs:
Width 11.250; Height 16.125"; Z ​Clearance 4.500
(285mm x 10mm ​x 115mm)

SignGraver equipment fits conveniently on a 6' workbench, with room beneath the bench for the vacuum, wires ​and materials.

Here's the price for the equipment shown here (PC not included), designed to fit your budget:
# ​SSG-11x16 $5,900.00
# SAGVAC vacuum (strongly ​encouraged) $945.00
Learn more about Training & Support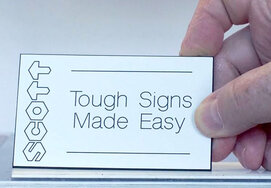 Engraving Materials Made Just for
Your ​SignGraver® Machine
One of the keys to quality engraving is in the materials – and for the SignGraver® machine, that means tough and economical. While other engraver technologies require costly engraving materials, Scott Machine manufactures affordable engraving plastics, specially designed for our engraving machines and custom-cut ​for you.

This custom-size Scott-Ply blank is about $0.80. Explore the costs of this and others in our engraving plastics store.

For a closer look, request a free sample today.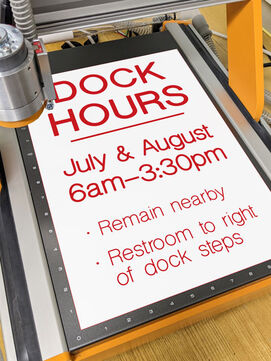 EXPAND YOUR SIGN
OPTIONS ​WITH EASE
Need to produce a larger sign that's weather-resistant and easy to see from a considerable distance? One that's fully customizable for any season, event or schedule? The SignGraver® engraving machine is up to the task. Combining it with one of our special all-climate engraving plastics up to 11 1/4" x 16 1/8" in size, you can create powerful signs where the viewing distance is at least 150 times the letter height…making a 2-inch letter clearly visible from 25 feet away. Go ahead, engrave a bold font message on one of our high-contrast plastics and achieve effective visibility from across the room or even in limited light ​manufacturing facilities.

And the cost for a large engraving panel of the size just mentioned? Only $13.00. When you create your own signs with a Scott rotary engraving machine, the sign and the cost savings are both ​clearly visible!

Find out more about your different engraving plastics choices.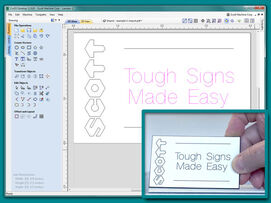 Software That
Strengthens ​Your Message
Your Scott SignGraver® machine features versatile software that enables you to craft the message or statement you want. Offering a variety of font choices conveying bold to soft, and everything in between, it gives you the flexibility you need to customize and optimize every sign. Ask about all of the options available to you, and make signs that ​effectively communicate.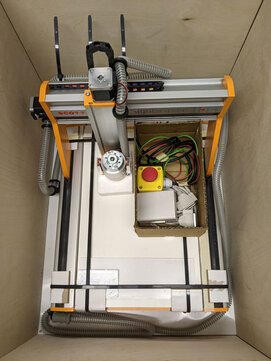 Direct From
Crate ​to Bench
Your Scott SignGraver® engraving machine arrives already pre-assembled, in the box. Simply connect the wires, install the software and complete the sign that we already half-engraved on the machine to show you that the equipment works. Here's what's in ​the box:




SignGraver® 11/16 engraving machine, with half-engraved sample sign

on ​the bed




GripNGraver™ tacky mat 4"

x ​11 1/2"




0.015" (installed) and 0.125" diameter ultra-sharp 1/8" x 5" long-life carbide cutters

for ​crisp-edged letters




Two software licenses: one for the professional design software (can be installed on three PCs) and a second for

machine ​manager software




Vacuum hoses: one connected to the spindle, another conveniently placed for cleaning up stray chips on your mat or workspace, and a third that empties into the main, low-noise optional vacuum system (strongly recommended during engraving and for minimizing clean-up

time ​between jobs)




Power supplies, cables, USB

cable ​to PC




Abundant samples of engraving materials

for ​easy-to-follow training






Dimensions of crate and skid: 28" x 22" ​x 30"
Gross weight: ​75 pounds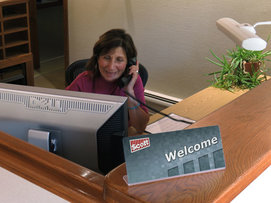 Support Whenever
You ​Need It
Your professional contact with Scott Machine doesn't end with the purchase of your SignGraver® engraving machine. It's just the beginning, because we provide one hour of free training, through WebEx or by phone. And besides our easily accessible Engraver Training and Support web page, get ready for our online Scott University training & learning system, currently under construction. Features like these sustain our ongoing mission to keep customers like you always supported, ​always satisfied.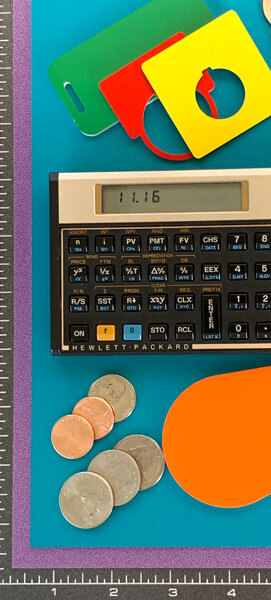 Build a Budget
for ​SignGraver 11/16
At a glance, here's a ​comprehensive budget.

SignGraver 11/16
Professional engraving design software included ​(3 licenses)
SignGraver machine manager software - new ​& unique!
0.015" engraving cutter & brass holder ​- installed
GripNGraver tack mat ​- installed
Sample materials - one sample installed and ​partially engraved
Complete engraving system: ​#SSG-11/16 $5,900

Integrated vacuum
# SAGVAC vacuum (strongly ​encouraged) $945.00

Budget
Total: $6,745

Training (Windows 10 ​& 11)
One hour scheduled in advance, via WebEx ​or phone:
Purchased with machine – ​#TF $125
Purchased after shipment – ​#TFS $175

Large hold-down-mat
Each mat is 11 1/4" x 8"; purchase two if you're engraving large signs, and place them one above the other on ​the bed.

Tools for Lettering on Plastics or Metals
See our cutters, burnishing tools and scribe in the Cutters Store.
Budget about $60 for ​spare tools.

Wide Range of Engraving Plastics
We make our own Scott-Ply universal engraving plastic. Consider your options in our Plastics Store.

Consumable Items
This machine is reliable and requires no spare parts and no maintenance, other than vacuuming to remove an stray plastic bits. We recommend that you have a spare cutter on-hand, and ample pre-cut ​engraving plastics.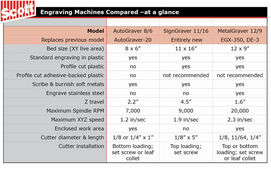 Compare your
Computerized ​Engraver Choices
Which engraver is best for you? Just answer these two questions and you'll be on the ​right track.

(1) What material are you engraving? Plastic, soft metal, ​hard metal?

(2) Next, think about the sizes of the items you typically engrave -- what's the largest size you ​engrave often?

Visit our Compare & Choose page.



Click to expand the ​comparison chart.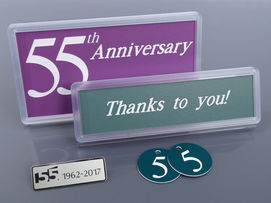 Celebrating 62 Years
of ​American Service
You want to know that your engraving investment is backed by a company offering solid credentials and personal service. And that's what you get every time, with Scott Machine, manufacturing American-made products for 62 years in upstate New York, where hard work is still a badge of honor. Count on us to proudly fulfill all your engraving and ​sign-making needs.

Call us for a friendly, personal response, at 607-865-6511, 8:30am-5:00pm ​ET, weekdays.
Though we've provided a comprehensive overview of the Scott SignGraver engraving machine here, we realize that sometimes additional questions arise. Feel free to call us because we still believe human one-on-one communications is the best way to solve problems and satisfy customers. We normally answer our phone by the fourth ring. If you happen to hear voice mail, please leave a message. During office hours, we respond within two hours. Your inquiries are ​always welcome!