The Best Name in ID
Plate ​Engraving Machines
It's easier than ever to engrave your own ID plates, asset tags and serial number plates on tough plastic panels, using a versatile Scott desktop engraving machine. Even novices can find their groove without any worries or wasted time. Let's look at the some of the attractive options available ​to you!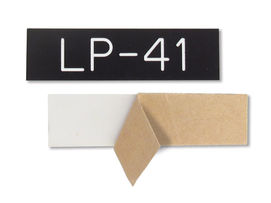 ID's that
you'll ​easily recognize
Take a look…here's the kind of quality ID plate you can engrave on-the-spot, in a tough 1/16" thick material with a durable, scuff-resistant surface. If you're lettering electrical equipment panels and other flat, smooth surfaces consider our easy-to-apply adhesive-backed materials for a hold that's invisible, but ​nicely secure.

Value Pricing:
1" x 3" x 1/16" Black/white ID plate ​- $0.30
With adhesive backing ​- $0.34
Quantity ​discounts available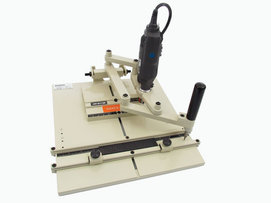 ID Plate
Engraving ​Machine Mastery
This compact ID plate engraving machine makes quite an impression in applications like ID plates, asset tags, valve tags, and other small items with minimal length text. It pulls double duty, changing text of similar lengths as well (e.g., #15-4A, Circuit 7B).
The color-coded fonts and cutters simplify the job for novices and experienced ​users alike.

To learn the finer details of this versatile machine that fits perfectly on the corner of your benchtop or desk, view our handy Priced Engraving Machine Catalog

#SM100B ​- $1,945
Purchase any font with your SM100B ​- $50
Ready to engrave, right out of the box ​- $1,995
#SM100BK - four fonts; 2 cutters ​- $2,195
Delivery: begins shipping ​November 1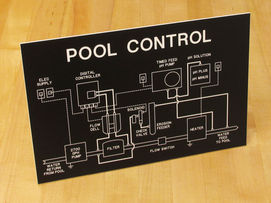 Results
that ​are Legend-ary
Custom legend plates are among the many different signage items that a quality computerized engraving machine can easily handle. This includes even more intricate patterns and impressions. So don't be intimidated by the detail of your switch plates. Scott Machine has the perfect plastic stock and engraving machine to do the job right – again ​and again.

Here's some budget guidance, using rugged Scott-Ply ​plastic panels:
4" x 6" x 1/16" thick, ​black/white $1.83
6" x 8" x 1/16" thick, ​black/white $3.33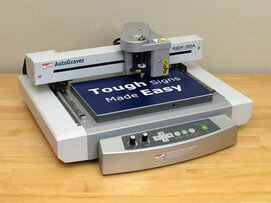 Computerized ID
Plate ​Engraving Machine
The Scott AutoGraver® computerized engraving machine engraves ID plates…serialized parts too…with fluid ease. You're always in control, whether engraving the piece you need, selecting from hundreds of font styles or choosing from an almost limitless number of sizes. We've bundled user-friendly Engravelab software with the machine so that – no matter your engraving experience – you can craft ID plates that look great with minimum effort. See all you can do at our
dedicated site:
Scott AutoGraver

#SAGK - includes software ​- $4,514
The quickest way to find the best engraving surface for your job is to ask for free samples of our engraving plastics. We can help with knowledgeable suggestions and provide several different alternatives so you can look forward to getting the best results ​every time.

Call us toll-free for your complimentary ​samples today!
Scott Machine is your full-service source for All Engraving Plastics. Our highly versatile Scott-Grave® Satin Engraving Plastic is universally popular for your I.D. plates, asset tags and more, as is our Scott-Rigid™ Engraving Plastic for times when you need something to stand up to difficult temperatures or environmental conditions. Or if you're doing reverse lettering, we have the answer with clear Scott Spectrum® Reverse Engraving Plastic.

Want even more variety? View our wide range of Custom Colors!

Find the solution to all your labeling needs from one friendly place. You can engrave your own ID plates, asset tags and serial number plates on tough, resilient plastic panels using a Scott desktop engraving machine that's designed to perform, built ​to last.