Find the Hidden Savings in Engraving Design
& ​Production Software
Engraving software is designed to have more features than necessary to produce any sign, tag or instrument panel. So, rather than selecting a software based on features that virtually all of them have, it's smarter to look at how each software affects the overall long-term cost of operation. Our unique software, free with each machine, lowers cost in three ​compelling ways.

1. Cost of Deployment – Scott Machine's SignGraver® software gives you ownership of three licenses…one for your desktop, one for the PC connected to the engraver and a third for your notebook, to take home. Store your jobs locally or in the cloud so they're available everywhere – and ​no dongles!

2. Cost of Learning – All of our software functions are straightforward, logical and represented by easily-memorized icons. No confusing workbooks, pricey instructional sessions or frustrating ​hotlines required.

3. Cost of Production – Most of our clients create a library of shapes and layouts, where only the text changes. Consistent sign panel size and colors suggest a message (welcome, warning or directional), even before the text is read. From this library, you simply open to your created template, edit as needed, save the file and save ​time, too!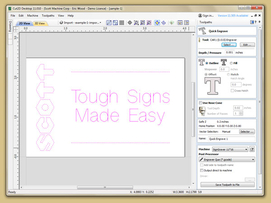 Before you begin your design, spend some time reviewing some of our helpful online videos. With more than 90 hours' worth from which to choose, you'll likely find an introductory video with examples that fit what you need. Our support group is enormous, too…25,000 members strong in the users ​forum alone.

This software has been designed with you in mind, though your network manager may need to assist during the installation if you do not have administrator permissions. If you are completely unfamiliar with using design software and operating engraving machines, please consider purchasing an hour of training and support.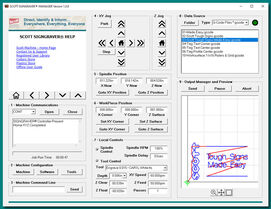 This time-saving software accepts your design, helps you set up the engraver and manages the operation, so you're free to walk away as it's engraving your words ​and images.

Simply press your blank sign panel onto the "tacky" engraver bed. Next, select cutters and feed rates, and set the depth of the engraving. When you're ready to engrave, view the tool path in the window, so that you are confident of where the engraving will occur on the work piece. We've strategically included these features to help you avoid engraving errors and ​spoiled parts.

Once the job is done, the engraver head retracts and stops, allowing you to return to a finished job that you simply lift off ​the bed.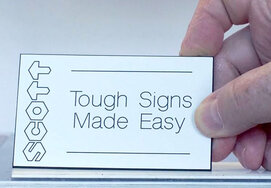 Just like that! Every job is quick and competent when using the Scott SignGraver engraving machine, from its simple software dynamics to the efficient tool path, quiet operation and clean, debris-free results. Turn your office desktop into a smooth-running sign shop, with minimal training ​and effort.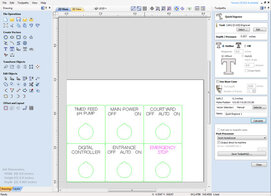 Productivity -- at your bench,
desk ​and home
Enjoy simplicity from beginning to end with Scott SignGraver equipment. We send the machine's engraving software license key and website link to you by email. All you do is click the link, download and install on up to three different PCs! You have the freedom to connect to your engraver in the workshop, to another copy running on your office PC – and even your notebook for remote "at ​home" work.

No cumbersome dongles to lose, no finicky thumb drives to handle – it's all there for you in the very ​latest version!

We've written a clear quick-start software guide and we also offer software technical support to keep your ​jobs humming.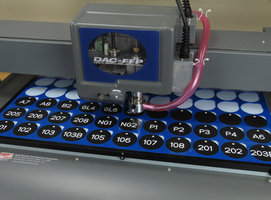 Multi-Task
with ​Unattended Operation
Talk with us about a custom fixture for engraving high volume parts. In this example, you can press several dozen blank valve tags into the holes in the blue template. The tags are easily popped into position, where they're held in place by the reusable gray tacky surface. Set up the software for automatic serialization (read more below), start the job...and simply walk away. The engraver motor turns off ​when done.

Our handy, optional vacuum system quietly removes dust and small bits of plastic created ​during engraving.

When you return, just lift each tag from the template, reload, ​and resume.
Understanding tool
paths ​and tools
"Filled fonts" create solid, broader letters with smooth edges, for bold, highly visible signs. The engraving cutter travels around the letter's outer border to engrave a perfect edge. By overlapping the strokes with a small cutter bit, the body of the letter becomes completely filled and well-formed. Serif fonts can be especially appealing. Watch the tool path in ​this video.

Side-by-side Comparison
We have close-up photos of engraving, scribing and burnishing on several metals to help you choose the approach that's best for your situation. View the comparisons.
Same tool path
-- ​Different tools
Here we're using the same tool path shown above, though with a ​scribing tool.

A scribing tool creates fine-line decorative letters for medals and jewelry. Or choose a burnishing tool to achieve a thicker line width, ideal for brass and nickel name tags. See how to ​create tags.
Coffee & Conversation --
Discover ​Advanced Features
Let's schedule time for a coffee and Webex. Soon you'll be engraving images like this one using our advanced ​software features.
More Relevant Software Means More Productive Sessions!

Because we've been engraving for over 50 years, we know which features you need to be more productive, and we provide these top three, among ​many others:

File Import:
It's likely that you already have files in raster or pdf format. In a few time-saving steps, most of these can be imported and converted into ​engraving files.

Data Merge & Auto-Serialization:
Do you have an Excel file containing text for hundreds of valve tags? Or a CSV file for dozens of serial number plates? Merely set up a template and stream your files directly into this software, then send it off to the SignGraver Manager for engraving. Combine this function with a full-bed template like the one shown above on this page, drop the blanks into the pockets, stream the file and simply ​walk away.

Auto-Size: Do you need to engrave many signs that have the same size, but variable content? Choose the auto-size feature, and your text will automatically adjust to fit the engraving window on ​your blank.

We build in all of our features for strategic reasons – namely to save you time, effort and errors. This enables you to do more with your sign system and provide the very best messages that Direct, Identify & Inform. We're happy to discuss your special high-volume jobs, and develop both hardware and software templates that enhance ​your productivity.

Software Compatibility - What Operating Systems and Engravers are Compatible and Supported?

For a comprehensive answer, please read our: Support Policies