C2-125-125K
carbide ​engraving cutter
C2-125-125K engraving cutters offer the unique cutting flexibility of Scott Omni-Grind™ geometry, sharpened to the perfect relief angle for clean-edged, swirl-free lettering in all engraving plastics. Equally efficient on a wide range of engraving machines and speeds, these cutters lead the way in durability ​and reliability.

To purchase this and other cutters and materials, you can also visit our Engraving Cutters Store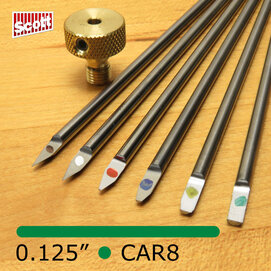 From Top to Bottom - Our
C2-125-125K ​Engraving Cutter
Engraving ​cutter ​specifications:

Cost: $20 – Now free with a $50 purchase of ​custom-cut plastics

Length: ​4 1/2"
Diameter: 1/8"
Tip ​Width: 0.125"

Material and Geometry: Precision-ground solid micrograin carbide (not simply ​carbide ​"tipped")

Application: Perfect for creating 1" single-line lettering or 2" multi-line or TrueType, which makes it well-matched for profiling or engraving larger signs viewed from ​a distance.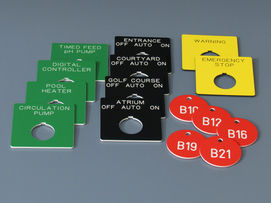 The Profile of
a ​Superior Cutter
Featuring our unique Omni-Grind™ cutting-tip geometry, the C2-125-125K cutter is designed with parallel sides for smooth profiling and engraving, as shown on the bezels and tags displayed here. This special cutting technology helps create clean edging, no matter the cutting speed or style ​of machine.
What makes Scott Omni-Grind™ cutter geometry such an innovation?

Through this unique cutter-tip geometry, cutters like the C2-125-125K perform equally well across the full spectrum of engraving plastics, machines and speeds. Thus, there's no need for multiple cutters and the resulting ​"cutter clutter."


Which is the better choice…solid carbide or carbide "tipped" cutters?

A solid carbide engraving cutter, like the C2-125-125K, is a far better option because the rod is made of extra-tough, non-bendable carbide. With a typical steel-shank cutter, the set-screw that holds the cutter in the engraving machine spindle knob will eventually mar its surface, creating difficulty when sliding the cutter into and out of the spindle. The standard steel cutter can also develop light rust if left unused in a drawer for a period of time. A solid carbide cutter will never present these types ​of problems.


Scott Machine Development Corp. – more than 5 decades of American pride.

Scott Machine has, for more than 57 years, created quality products from our factory in upstate New York. That sense of American manufacturing pride permeates everything we supply, from custom plastics, to replacement cutters, spare parts and technical savvy. Get your products straight from the source – factory direct. Email us anytime, with your custom cutter specs and quantities, for a prompt and fair ​price quote.

Need to talk? Call us, at 607-865-6511, between 8:30am and 5:00pm ET weekdays, and we'll pick up in person by the 4th ring for a friendly ​business conversation.