Flexible Schedules
for ​Interesting Jobs
Customize your flex-time scheduling; partial work-from-home; full-time and part-time
We operate during weekday business hours, 8:30am-5:00pm and we're closed on most holidays and all weekends. Our full-time jobs are 40 hours/week and our part-time positions are about ​20 hours/week.

For staff who have inconsistent obligations at home, we can discuss a schedule that's compatible with school hours, or consider changing the length of the work-days during the week, etc. Let's consider tailoring a schedule that matches your ​unique preferences.

Benefits & Wages
We'll review wages, benefits, paid vacations and holidays, etc., based on your personal requirements and ​career talents.

Are we a good match?
There's abundant opportunity to learn and grow with us, though a solid foundation of skills is required to be a successful candidate for any of these positions. A drug test may be required. We have a drug-free, tobacco-free (all forms of tobacco and vaping), ​gun-free workplace.

Ready to take the next step?
Send your resume via ​e-mail to:
job22 @ scottmachinecorp.com (Remove ​the spaces.)

Or, use our Post ​Office address:
Scott ​Machine Corp.
PO ​Box 88
Walton, ​NY 13856-0088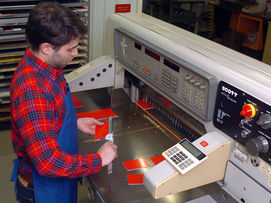 Production
tech ​- opportunties
Each client has unique requests, so there's always something new for you to manufacture and ship every day. You ​should demonstrate:
-- Consistent respect for safety, both for you and for those ​around you.
-- Confident use of measuring devices, e.g., calipers and micrometer; ability to ​interpret drawings.
-- Some experience with computer-controlled machines (hardware and software), industrial printers or some other contemporary ​manufacturing process.
-- An eye for detail, to ensure that orders are fulfilled accurately, on time, via the correct carrier, and packaged to prevent damage ​in transit.
Discover more about us
Before you send your resume, please review this site to discover what we do and whom we serve. Our corporate accounts are nationwide and international, too. The name tags we produce offer nice finishing touches to professional career apparel at airports, hotels and more; our versatile machines create durable signs on-the-spot, at industrial ​facilities worldwide.